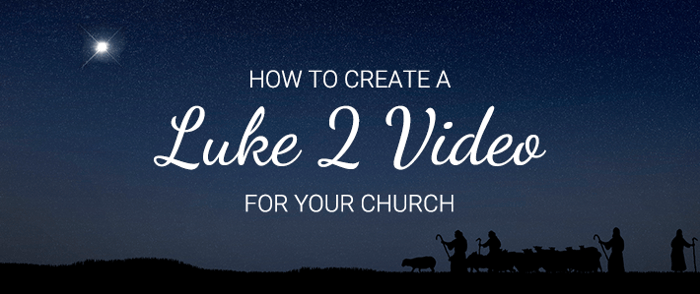 Two of my favorite things are creative ideas and Christmas. So, it's not surprising that a Luke 2 video caught my attention recently. Upon hearing this idea from friends who serve at First Trinity Lutheran Church in upstate New York, the wheels began turning about how we could replicate the effort in my church. Here's our game plan for this community video project:
Equipment needed:
Cell phone video recorder or basic digital video recorder
Simple video editing software (Windows Movie Maker or iMovie)
Willing and enthusiastic participants of all ages!
1. Brainstorm a list of different groups and individuals to involve.
Here are some general suggestions to get you started:
Homebound members
Sunday school classes
Confirmation students
Youth group
Sunday morning and weekday Bible study groups
Missionary families with a connection to your congregation
Church staff
Leadership and council members
Day school students
2. Be creative!
Use the biblical text as your guide and tell this most wonderful story accordingly. Look at your brainstorming list and see where different groups, individuals or families make sense within the narrative. For example, when it comes to the words first shared by "a multitude of heavenly host" in verse 14, consider using a clip of a large group exuberantly saying the oft quoted words "Glory to God in the highest, and on earth peace to men on whom his favor rests." Pull out the nativity scene and Christmas program costumes for added flair.
3. Figure out who's saying what.
Divvying up parts can be handled a couple of ways:
Have each participating group or individual read or recite the whole passage (pro: this gives you a lot of footage from which to choose; con: increased filming/sorting/editing time).
Divide the passage into verses or chunks and make specific assignments (pro: more concise for participants and the filmmaking team; con: limits options in creating the final product).
4. Shoot the videos!
This is a great opportunity to involve others. Pastors and others who visit homebound members can involve those we might not often have opportunity to hear from. Encourage families to gather around their Christmas tree and submit their own video. Teachers can record their class taking part in the project. You can even put out a general call for video submissions and involve folks who might have otherwise slipped off the radar!
5. Upload and edit.
Keep the length of transitions in mind, along with the overall flow of the material. Check out these tips for making videos and enjoy the putting-together-of-the-puzzle phase.
6. Add finishing touches.
Details enhance the overall impact of a project and can communicate a great deal. Include an opening/title page and a closing greeting to round out the video.
7. Share it!
Once you've edited the footage and sewn all of the clips together, you have a fun, faith-based family video that tells of Jesus' birth! So use it in ways that do just that—tell the good news!
Incorporate it into a Christmas worship service.
Post it on your website.
Share the joyous message through social media.
Here are a few other things to consider before you get started:
Do you prefer that the entire Scripture passage is presented in the same translation, or does a variation in translations, presented by multiple voices, "add character"?
Try to limit the amount of ambient noise when recording.
Manage potential visual distractions by being aware of the video's composition and framing.
The nativity narrative found in Luke 2 is one we've all most likely heard countless times, yet it never grows old. Technology affords us the opportunity to deliver the unchanging story in a new way. How fun it is to do so in a way that brings people together, while emphasizing that the good news and great joy of Jesus' birth is for all generations!
Have you or your congregation ever taken on a project like this? Share your process and final product in the comment section below!
---
If you liked this post, subscribe to our blog and receive notification about new posts!