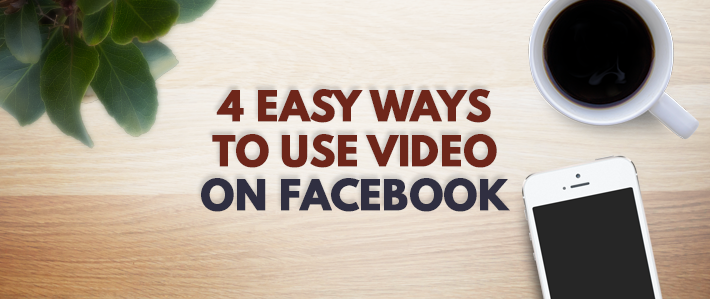 There are so many option when it comes to the world of content creation. For church workers, trying to figure out where to even start can be a daunting task. Maybe some church workers just feel like they don't have that much time to invest in making a long video documentary or designing a massive infographic. Creating content, however, doesn't need to be that scary of a process.
As the body of Christ, we have the most important message ever to share, and should look for any opportunity to share it. So while quality is important, not everything we share has to be at the level of da Vinci. Often times, the more simple your content, the more relatable it will be to your community. Here are a few easy ways to get content out there on Facebook using video.
Record Morning Devotions
I've seen several pastors doing this lately, and I think it's a brilliant idea! Many pastors write devotions and Bible studies that they email out daily. Each morning when you get to work or when you're at the breakfast table, pull out you phone, prop it up, go live on Facebook, and read or talk about that Bible study or devotion. You can share a thought on the verses you read, even get into current events, or share how you can approach your day through the lens of these verses. This is a really simple way for your Facebook friends to hear God's Word each morning.
Live Q&A With the Pastor
Sometimes we have questions about our faith and about what the Bible has to say on certain hot topics of the day, but don't have a good opportunity to ask those questions. Doing a live Q&A with the pastor on Facebook will give that opportunity. Just announce ahead of time that you'll be doing this and tell people to think of some questions they're curious about. When you go live, they can submit their questions to you in the chat and you can spend time answering those questions. It might be a good idea to have some topics on hand to talk about, in case you have a lull in your follower's questions.
Share Member's Stories
Each life in your congregation has a story. They all have ways that God is shaping them and directing their lives. Sometimes all it takes is for you to pull them aside and ask if you can share their story. Generally, we humans love talking about ourselves, so you'll probably have some good success with this. An easy way to make it happen is to just pull someone into a quiet area in the church after your service and record them on your iPhone as you ask them some questions. You may want to do a little bit of editing using an app like iMovie, but you could even just share the entire interview. The idea is to just be real.
Post Snippets from Last Sunday's Sermon
Many churches already record their church services. One more easy way to share content on social media is to just pull snippets from that sermon out and share them as short videos on Facebook. It's far more likely for someone to watch a two minute video on one point of your sermon, rather than re-watch all 40 minutes. Find a few key sections to cut out and share them through-out the week to help your members remember what they learned on Sunday. Just be sure that you're aware of any copyrighted material that you might be using in your sermon.
There are so many ways that we can use video to share the message of the Gospel. Finding quick easy ways to do this will add an extra layer to what pastors do in Bible studies and worship services. What are some ways that you've seen video in use in church? Share your ideas in the comments.