Increase church office efficiency.
Download our free ebook to find out how your church office can run more smoothly.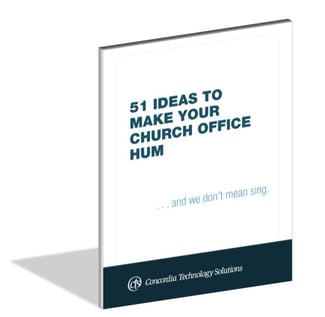 Church offices face issues of time every day:
bulletins need to be done by noon, mail needs to be sent out by three, and the newsletter has to be compiled before the end of the day.
Your church office can run more quickly—you just need the right tips.
Prioritize
Optimize
Maximize
Minimize
This ebook will expand on the above ideas and give a few more examples, equipping you to make your church office hum.
Your church office shouldn't be satisfied with the status quo or the excuse "This is how we've always done it." Implement our ideas to discover the difference that a few changes can make!