Training Manuals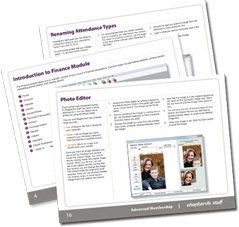 Learn the ins and outs of the software at your own pace with Shepherd's Staff training manuals, each full of software screenshots and helpful hints.
Purchase training manuals online or call 1.800.325.2399 to order.
$25
Introduction to Membership

Leads you through the basics of this module in entering people and household data, adding activities/skills/training, creating subgroups, generating reports, and more.

$25
Advanced Membership

Learn about the main menu utilities, including backups and security. Get more out of the Membership module with information on mail merges, reports, and volunteer management.

$25
Attendance

Teaches how to add events, enter attendance, track absentees, management enrollees, and more.

$25
Contributions

Learn how to manage the contributors, pledges, offerings, and giving statements of the church.

$25
Scheduler / System Administration

Discover how to manage calendars and events, rooms and keys, contacts, equipment, and ministry routes. Learn the different aspects of the software's utilities section, including basic networking and printing.

$25
Finance

Begins with an overview of basic accounting principles. Create a chart of accounts and enter transactions in the form of checks, deposits, and journal entries. Shows each report in the Finance module and explains how to use the Finance utilities.

$125.00

Complete Set of 6

Buy all six training manuals and save $25 off the regular price.