Shepherd's Staff 2018


Feature Pack 1
Standard Edition (with or without Finance)

Small Church Edition (with Finance)

Small Church Edition (without Finance)

---
Read download and installation instructions.
If you are downloading the feature pack using Windows 10 and you see a smart screen warning, click the "More Info" option. Then click "Run Anyway".
Potential warnings you may encounter are below. Click the image to enlarge it.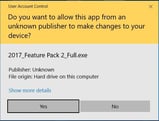 If you have any questions or need help installing the file, please contact our software support team at support@cts.cph.org or 800.346.6120.