Earlier this week, we released several updates to Church360° Members, including a significant upgrade to permissions and an exciting new feature!
Improved Permissions with New Criteria
We've received a lot of requests for more detailed control when defining user permissions. We reviewed all the feedback and made some big changes. Now you can separate who manages tags, smart groups, pledges, and more! We even let you hide ages and birth years.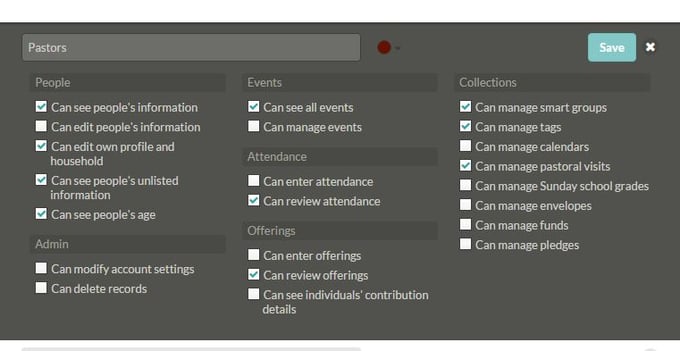 Conversion to Permission Roles
User permissions used to be based on Permission Groups. Each group had a set of permission levels and each person was assigned to one group.
We heard from our customers that some users were more complicated than that! They didn't fit into just one group. In those cases, we had to suggest making a new group for that one person. This method created a lot of clutter, so we decided to help clean it up.
We've changed Groups to Roles. Now when you set permissions for a Church360° Members user, you can assign them one or more pre-defined (yet customizable!) roles.
People in your congregation fill many different shoes; one person might serve as both an elder and as a volunteer in the church office. Each of these roles will have different responsibilities, and anyone with multiple roles will receive the most access either of those roles allow.

Introduction of Custom Fields
Many churches track information that is somewhat unique to their church. In most cases, Tags work great for tracking this type of data, but some information just doesn't work well as a tag! So we added Custom Fields to Church360° Members.
This much-requested feature lets you tailor your member profiles with information unique to your congregation. Administrators may create up to five custom fields, choosing text, date, or list.
To get started:
Go to General Settings in the Admin area
Scroll down to the bottom of the screen where you will see the heading Custom Fields
Click Add Field
Choose a name for that field
Select a type (either text, date, or list)
Choose a visibility (which permission roles can see this field?)
Click Save
After you add, edit, or delete a field, make sure to click Save!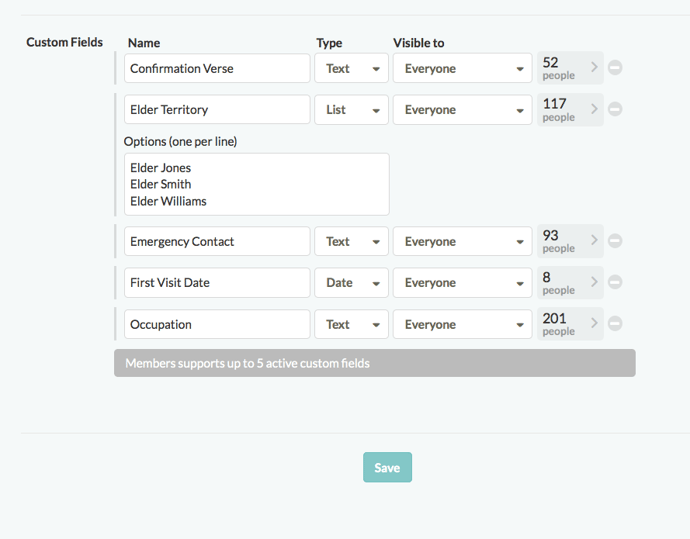 New Columns in People View
In the People view, we've added columns for "Received by" and "Received on."
Additional Mailing Label Template
We also added a new mailing label template on the People view. The Avery® 5351 Address Labels have 33 labels on each sheet, and the labels are 1" x 2-13/16". Please note: USPS Intelligent Mail barcodes will not print on Avery® 5351 labels.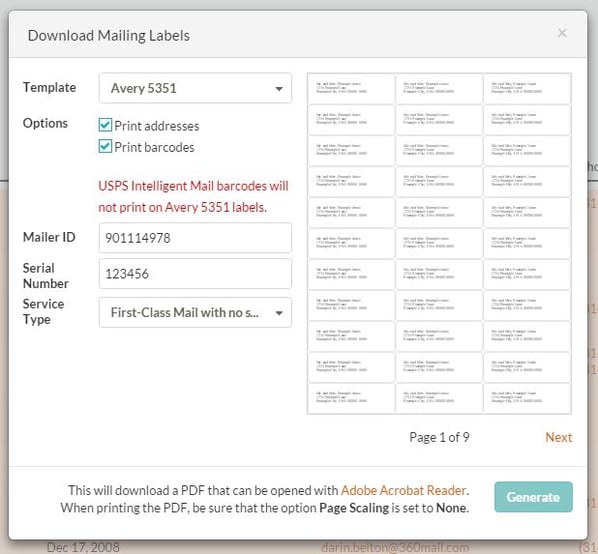 That's it! We hope this update makes managing your church with Church360° Members more enjoyable. Keep that feedback coming—email us at support@cts.cph.org with your suggestions.
To receive product updates on a regular basis, please subscribe to our blog! You can choose to receive updates on an instant, weekly, or monthly basis.