We've added a .docx export to Church360° Members! This update will make it easy to export and edit Church Directories, Attendance Sheets, Mailing Labels, and Events.
Church Directories
From the People view, go to the download menu and select Church Directory. Navigate through the steps to choose the size, theme, and formatting options you desire. You will be able to review your selections on the download step. Once you are ready, just click generate and the report will be be prepared for you.
After the directory has been downloaded to your computer, you can customize your directory to meet your church's needs. You can edit personal information such as phone numbers and emails without affecting a person's record in Church360° Members.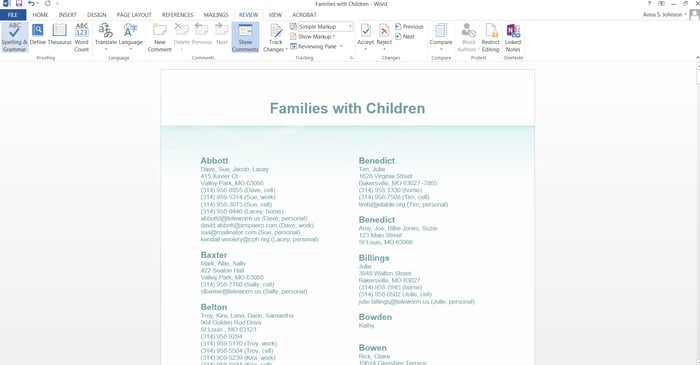 Attendance Sheets
From the Attendance view, select your desired attendance group from the drop-down menu. You can create an attendance sheet based on any of the smart groups and tags in Church360° Members! Once you have selected your desired group, just head over to the download menu and select attendance sheet. Your attendance sheet will begin processing right away.
While the information is being compiled from Members, the button will let you know while it is working and then turn green once your attendance sheet is ready. After the file is downloaded, you may view it and make any necessary changes in Word before you print. This feature is beneficial for adding one-time attendees or late registrants to your event attendance sheets.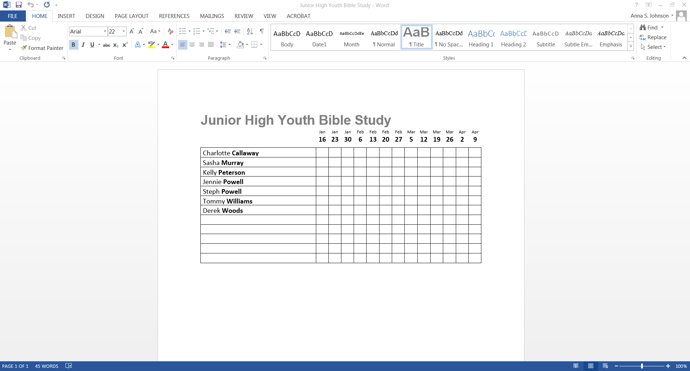 Mailing Labels
From the People view, navigate to the download menu and select mailing labels. Select your label template and other information as needed. If you would like to print USPS barcodes on your mailing labels, we also provide you with the file to download the barcode font for your computer. You may also preview each page of the mailing labels using the next and previous options. Once the labels are ready, click on the green download button to send the file to your computer and open in Word.
You can also use this export print name tags and other labels for church events! Just deselect the Print Address and Print Barcode options and the labels will generate with only the individual names. Then change the font size, type, and alignment for your labels in Word.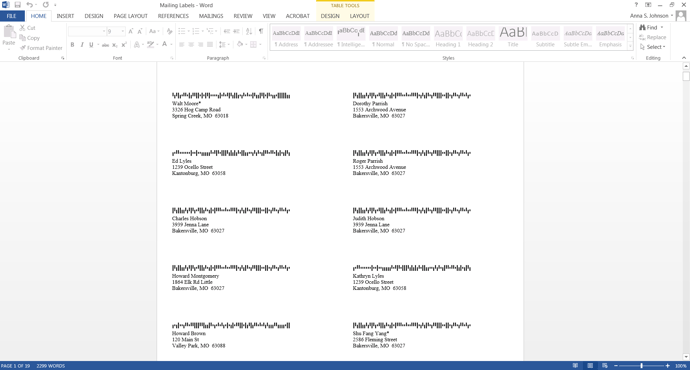 Events
Go to the Events view and select the calendar(s) from which you wish to print events. You may select multiple calendars from the list. After you've selected your calendars, click on the download menu and select Microsoft Word (docx). Your download will automatically appear in the downloads bar and your download folder when ready. Click on the file name to open your new events calendar in Word.
Use this feature to add information from your Church360° Members calendars to your monthly church newsletter or weekly bulletin!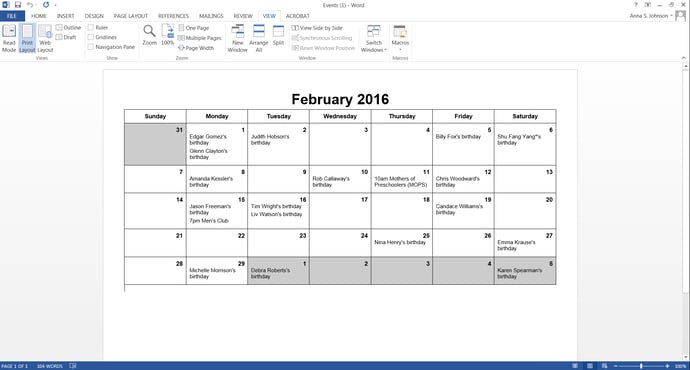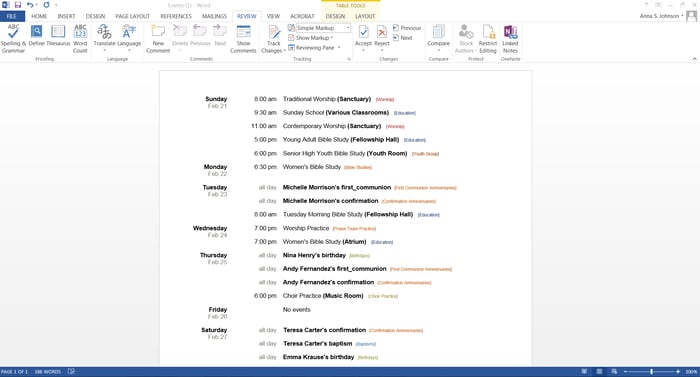 We hope that you enjoy these updates to Church360° Members! Your feedback is highly valued, and we are eager to hear ideas about ways to make our products better for your congregation. If you have any questions, comments, or suggestions, please contact our support team at support@cts.cph.org or 1.800.346.6120.
To receive product updates on a regular basis, please subscribe to our blog! You can choose to receive updates on an instant, weekly, or monthly basis.