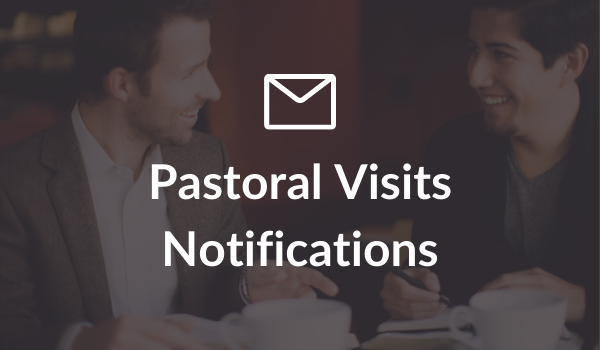 Pastoral Visits have always been a useful tool for tracking actions that have occurred in the past. However, with the introduction of email notifications and reminders for scheduled visits, they can now be used for future actions.
Once you, as a Church360° Members user, have opted-in to receive notifications, you will receive an initial notification email upon being assigned to a pastoral visit, as well as a reminder email on the day the visit will occur.
Opting-In to Notifications
Here is how to opt-in to these notifications:
Sign in to your Church360° Members account.
In the top right corner of the screen, click on your profile image, then click User Settings.
To the right of the label "Pastoral Visit Notifications," check the checkbox.
Click Save.
Receiving Notifications
Here is how to test out the notification:
While still signed in to your account, click on the Settings cog in the top right corner of the screen next to your user profile, then click Pastoral Visits.
Add a pastoral visit for a date in the future, setting yourself in the "Visit by" field.
Click Add Visit.
Almost immediately, in the email that you use for your login credentials, you should receive an email from automail@360members.com that looks something like this: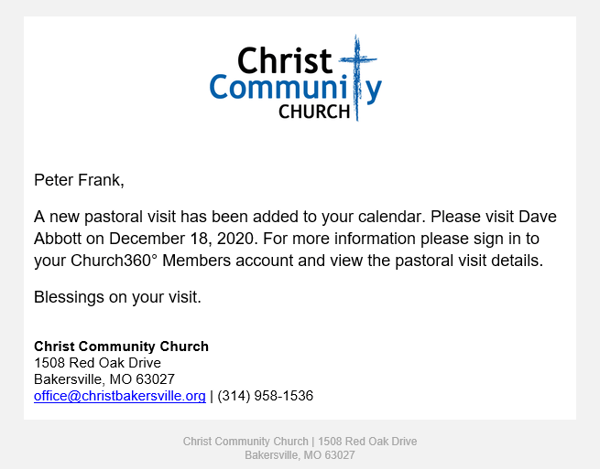 Additionally, you will receive a similar reminder email first thing in the morning on the date of the pastoral visit.
You will receive notifications in the same way if someone else assigns you to future pastoral visits, so they can be used to assign visits to other people.
What if I am not a pastor?
The pastor does not just complete pastoral visits; they are any activities in the area of pastoral care.
What if I am not visiting the person?
Pastoral visits are a great way to track any actions that support pastoral care, including phone calls, emails, greeting cards, or conversations at church.
---
We hope you enjoy using the pastoral visits notifications in Church360° Members! If you have any questions about how to use it or suggestions about improving it, please contact CTS Software Support at support@cts.cph.org or (800) 346-6120.