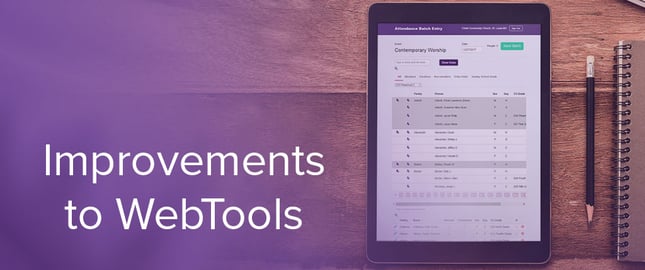 We recently rolled out updates to Shepherd's Staff WebTools to save you time and assist your accuracy in regular ministry tasks.
If you're not familiar with WebTools, it's a secure web portal that allows volunteers to record attendance and offering information, saving time for church staff. All the information can be easily synced with Shepherd's Staff on the church computers. WebTools is only available with an active support contract.
Attendance Batches
Attendance-taking in real time has become faster and easier! Names can now be sorted in the order they are normally entered. No more typing in the same names every week or searching through alphabetical lists.
A volunteer can open WebTools on a tablet and look around the church, selecting names as they see people. Because people tend to sit in the same spots, names that are frequently entered together will appear on the list next to each other. Once a name is selected, it disappears from the list. Guests can be listed in the notes section, and these notes transfer into Shepherd's Staff when the attendance batch is imported at the church.
Additional updates: The Attendance Batch list and entry screens now display a person count, and the interface for adding and entering batches is simplified.
Offering Batches
Batch totals: The Offering Batch list and entry screens now display the total amount of the batch, split out into check and cash totals. This lets you quickly see how much was given and helps you fill out deposit slips and loose-change reports.
Number of unique envelopes: On the Offering Batch list, the new "Envelopes" column lists the number of unique envelopes included in the batch. This way, you know how many people contributed during each service or event.