The next version of Shepherd's Staff includes a simplified method for entering attendance batches. This will become available in September 2018, when an entire new Attendance module will be released.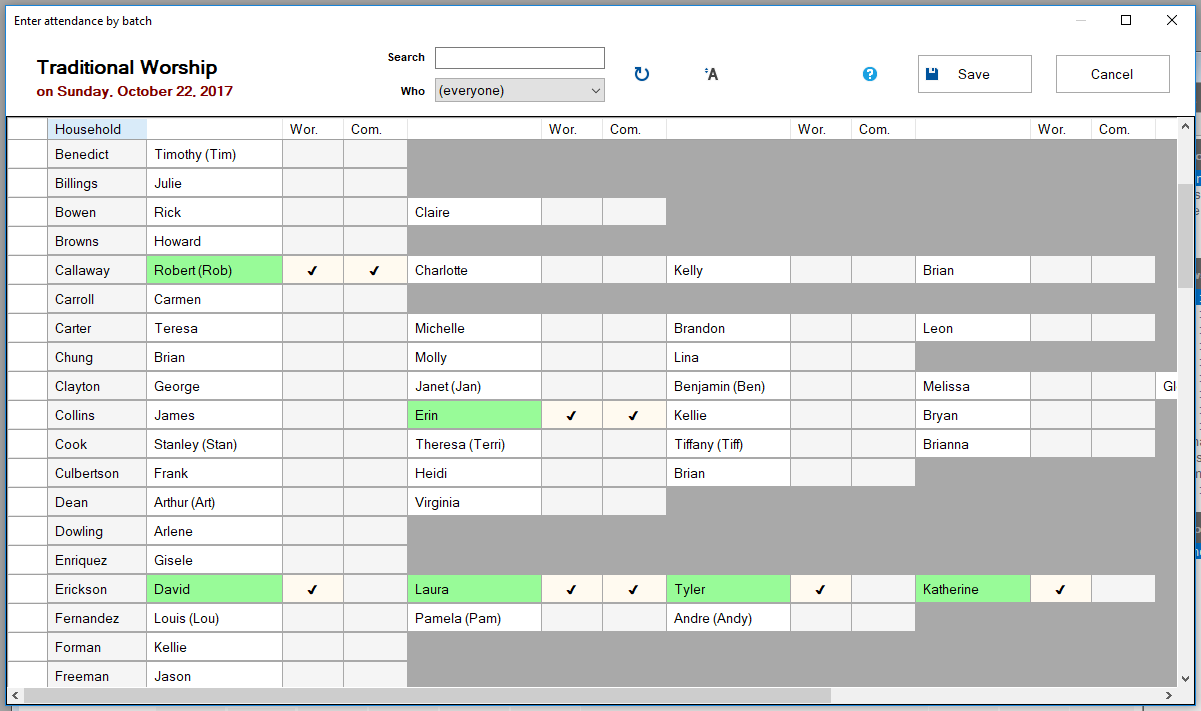 Household Members Listed in One Row
In the new method, all members of a household are listed in a single row. This makes it faster to scroll through the entire list, which speeds up attendance entry.
The column on the left shows the household name. The first names of everyone in the household are listed after that, with check boxes (in the above sample) to mark Worship attendance and Communion participation. Click on a person's first name to add just that person to the batch, or click on the household name to add everyone in the household. Click again to remove them.
If you only have one type of attendance assigned to an event (such as Sunday School), then no checkboxes appear, and you simply add or remove people by clicking on their name.
To distinguish between people with similar names, hover the cursor over each name. This displays additional details, such as their full name, age and Sunday School grade.
Keyboard Navigation
If you prefer using the keyboard to navigate, you can use the intelligent search feature to quickly locate a household or person. Pressing either the spacebar or the numbers 1 through 9 on the keyboard selects or unselects an individual.
Other Options for the Attendance Batch View
This new entry method is also ideal for use on a touchscreen Windows laptop, and the font can be scaled larger to make it easier to select names using your finger.
In the soon-to-be-released version, you can still use the original attendance batch entry method if you prefer it, and you can switch between the current one and the new one. And don't forget that you can use WebTools to enter attendance from anywhere you have an Internet connection.