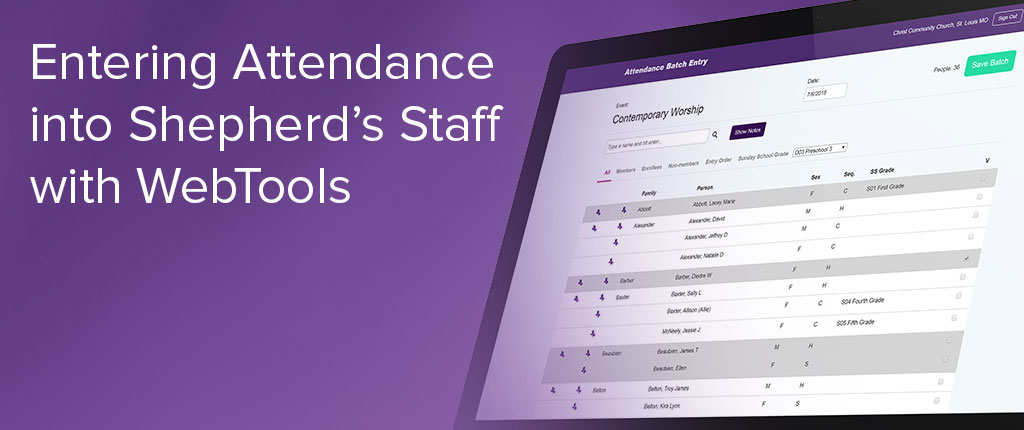 WebTools makes it possible to enter attendance while you are away from your church computer. Volunteers can enter attendance from home or even use a tablet to track it during a worship service or event. This saves ample time for your church office!
Adding People
In an attendance batch, members can be added individually or as an entire family unit to save time. You can use the search bar to quickly pull up individuals or households. The tabs for "Members", "Enrollees", "Non-members", "Entry Order", and "Sunday School Grade" allow you to categorize the list of names.
Note that guests cannot be added within WebTools, but they can be listed in the Notes section and added into Shepherd's Staff later. The notes will transfer over when the batch is imported into Shepherd's Staff.
Tracking Communion Participation
In attendance batches for worship services, all confirmed members are automatically marked as communed. This way, attendance-takers need to only un-select those not taking Communion, and this saves time. You can un-select someone by clicking the pen icon next to their name, then unchecking the Communion box.
Creating an Attendance Batch
Here is how to create an attendance batch in WebTools:
Once you are logged into WebTools, click on the Attendance tab.
Click "Add a Batch".
Select a date and an event, then click "Continue".
Click the purple icon next to the household name to mark the entire household as attended, or click the icon next to an individual's name to mark the individual as attended.
When you are finished adding attendees, click "Save Batch". This will save the batch and return you to the home screen.
Next to the batch you just added, click "In process" to change the status to "Ready". This will allow you to import the batch into Shepherd's Staff.