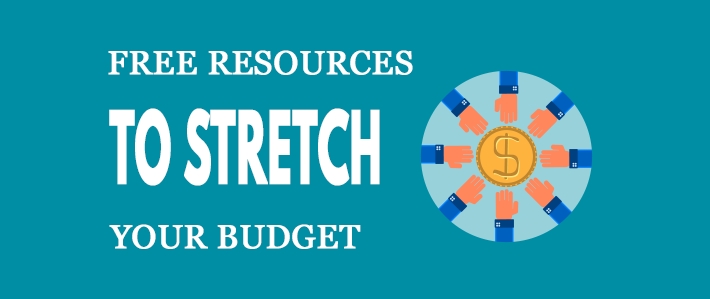 When my husband and I were younger, we served as teachers in Southeast Asia. As part of our orientation, we were given the book Where There Is No Doctor, which taught us things like how to amputate our own limbs or assist someone having a baby. Fortunately, we never had to use that book for any medical procedures! Some years later, we moved to another location and I was asked to teach several literature classes…without textbooks. Somehow, I made do and ended up cobbling together a passable syllabus and materials.
In my current job, I'm working on my communications budget for the coming year and have been overwhelmed at the amount of useful services and sites that are "only" $9.99 a month or $50 a year and trying to decide where and how my budget dollars will be best used. For every service I consider spending money on, I've tried to see if there are any alternatives that will do the same or similar work for free. I've also gotten requests from churches asking for recommendations on how to do more and better communications work with little to no expense, either because their church has little to spend or because resources for communications isn't a top priority for the budget committee. What does a church communicator with few resources but a lot of work need? My own version of Where There Is No Doctor would probably be Where There Is No Communications Budget.
Canva for Nonprofits
First, it's important to know that anyone can sign up for a free and fully functional version of Canva, an easy to use, online design tool. But the upgraded version called Canva For Work has some features that are not available to users of the basic, free version of Canva. There are several benefits to Canva For Work:
Upload your own fonts
Access to many premium elements (illustrations, photos, and templates)
Adding in team members to share your brand kit (pre-set fonts and colors)
The "magic resize" option, which lets you make one base design and then remix it into any sizes you need with minimal editing
Canva offers, "eligible not-for-profit organizations a free subscription to Canva for Work for team sizes of 10 members or less" through their program called Canva for Nonprofits. Premium images and design elements are not included in Canva for Nonprofits (even a paid account doesn't include all of their elements), but it will allow you to work with and share designs with others in your office and set your brand kit.
Sign Up for All the Emails
There are a large number of websites and content creators that charge for their content, but are willing to send you free things every week or month if you are willing to sign up for their newsletters. Every week, I get dozens of free photos, fonts, vectors, brushes, and music files that I can use with my work. This can be a good way to test out a site and determine if you really want to sink money into a paid subscription. Often these are things that are not available from their website for free. A few I have signed up with and decided to stick with include:
If you're concerned about the state of your inbox when you give your information out, consider setting up a dedicated address for this type of subscription. Also, double check the rights they give you (read the fine print) concerning what you can or can't do with their free files.
Follow Content-Rich Accounts
There are many Lutheran churches and organizations that post excellent social media content daily. The Lutheran Church—Missouri Synod is made up of 35 districts, many of which are very active online. Concordia Publishing House, Concordia Technology Solutions, Lutheran Hour Ministries, THRED, both the St. Louis and Ft. Wayne seminaries and many more offices all produce content that you can share. If you don't have time, budget, or the inclination to make graphics or videos to share, look at what your fellow Lutherans are offering before you purchase content. Keep in mind that it's good etiquette to share posts directly from the source page, rather than download them and post them again yourself.
Follow Concordia Technology Solutions
CTS frequently offers free e-books on ministry and technology, several blog posts have highlighted topics like free and discount online resources for churches, and several posts have offered free graphics for social media. Sign up for their mailing list and get that useful content delivered directly to you.
What other helpful resources have you found to stretch your communications budget?
---
Learn more about the use of technology in your church by subscribing to this blog!