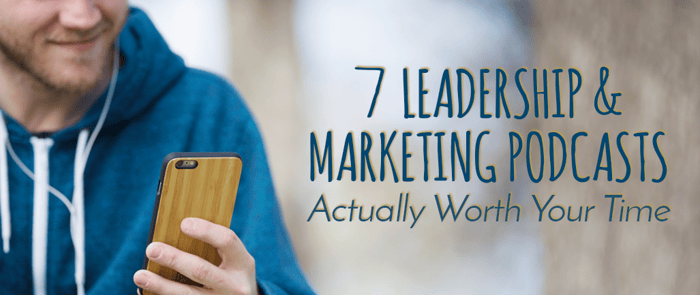 Stitcher is a free app you can use to browse through and listen to podcasts. The Sticher website boasts over 65,000 podcast shows. That's years of content.
Katy Munson already took us through how podcasts make consuming content simpler than ever before.
When I began listening to podcasts, I tried a bunch of different sources. I'd recommed the same approach to you. Browse through and select 10 podcasts that look interesting to you. Then start listening. In the car, on the plane, at your desk. Wherever, whenever.
I try to diversify what I listen to in order to push myself to think differently: about communications, about work, about relationships, about the world around me.
Find the trusted voices, the ones that make your brain hurt in a good way. For me, I had to cut out a few of my favorite marketing blogs. They were just throwing the kitchen sink at me. It wasn't helping.
Here's what I did instead. I trimmed my trusted voices to about 5.
---
Here's my list of trusted voices. Your list may/will/should look different.
I am held in a constant state of intrigue with Tim Ferriss. This is the guy that wrote The 4-Hour Workweek and went on to write several other books related to the "4-hour" concept (Body & Chef). He is always in motion: learning, doing, experimenting, enhancing, failing, and trying again. His podcasts don't follow "the rules" of podcasts (e.g. they must be 18.5 minutes long, must cover one topic).
Tim's episodes bring in brilliant minds from all walks of life: Seth Godin in marketing, Mike Rowe on life lessons, Kevin Costner on building a career, athletes who defy death, wine experts, comic strip writers, etc.
Why you'll like Tim:
Put simply, each episode throws a big ol' watermelon of knowledge straight into my face. If we're honest, we need that in our life. He is my favorite curator of the productive, creative, efficient, and challenging experiences.
My favorite episode so far?
Tim's interview with Seth Godin. It's two hours of two great minds just relaxed and flowing, and I loved it.
Warning: some vulgarity may intermix into his podcasts; you've been warned.
Pat is a great guy and a family man. If you take the time to listen to him, you'll feel like you played capture the flag with him when you grew up. You just want to be friends with him.
Pat makes his living by exploring new ways to develop recurring revenue. He tests ideas, fails a lot, but ultimately has found success in building a random assortment of online businesses. Now he's sharing his knowledge with all of us. Pat's knowledge is delivered in the form of books, blogs, and best of all, podcasts.
Pat is another guy who strives to bring the best brains to the table to share their knowledge with us.
Why you'll like Pat:
He talks about startups and marketing. He brings in experts on content marketing, community building, a dash of self-improvement, and honing your strategic efforts to do more with less.
My favorite episode so far?
Hard to choose one, but I really enjoyed his talk with Neil Patel on content marketing. Pat also walks the talk and posts his income reports on his website. Proof that his concepts work are all right there. Plus, you'll learn from great minds in the process.
The is a one-and-done podcast series led by Seth Godin. This is a multi-day instructional series, where Godin brought in young entrepreneurs and taught them the path toward a successful product launch. His "Ship It" resource is mentioned more than once, and I highly recommend you have it on hand as you work through the series.
Why you'll like Seth:
Seth Godin is a brilliant marketer, blunt in his advice, but loveable in his passion for his craft. Startup School is a must-listen for anyone looking to launch a new anything: business, app, book, church, ministry, etc., etc. You'll glean a lot from his instruction and be able to apply the concepts in the weeks and months ahead. I can't wait to go through it again.
My favorite episode?
You have to listen to this podcast series from start to finish to get the most out of it.
This is Harvard Business Review's weekly podcast featuring leading thinkers in business and management. The show boasts top-level guests, including many best-selling authors and renowned business leaders. When I'm looking to amp up my leadership skills, creative process, and workflow, I tune into Ideacast.
Why you'll love HBR:
It's calm, cool, and collected. In a refined manner, it approaches team dynamics, strategic decision-making, and a host of other business-management topics. You'll leave each episode thinking, "Well, I hadn't thought about that aspect before." It'll help you develop into a better leader.
My favorite episode?
#517: How to Say No to More Work. Why? It's critical we learn to say no more often. Multitasking isn't a thing—check the science. And I believe focused energy increases the likelihood of breakthrough innovation.
5. Social Media Examiners Marketing Podcast and Show
Marketing Podcast—The podcast is a weekly feature with the top experts in social media marketing. These 45-minute episodes are usually helpful, but I don't always find the time to go back.
Show—The show consists of 10-minute quick tips for marketing your organization. Oftentimes these quick tips can be applied immediately into your tactical strategy. They are typically simple tweaks that can enhance your social media game.
Why you'll like Social Media Examiners:
You'll be able to apply tactics immediately. You'll even feel emboldened to try things like social media contests and Facebook Live.
Each episode feels like they're reading a blog post, which I actually don't mind—I can get my need for conversation by listening to the shows mentioned above. I also prefer absorbing information by listening, because it's hard to skim ahead in this medium.
My favorite episode?
20+ Social Media Hacks and Tips From the Pros. 8 minutes of quick tips—what's not to like?
---
Also, here are some church communication podcasts worth a solid shot.
I would be remiss if I didn't mention a church-specific podcast I've enjoyed. The Ask Darrel Podcast is run by Darrel Girardier, digital strategy director for Brentwood Baptist Church in Tennessee. The format is simple: you submit a question you have about church communication and Darrel answers (or finds someone with the right answer).
Why you'll like it:
Darrel is a practitioner; he's actually out there doing the work of church communication.
My favorite episode so far?
#49: Building a Digital Content Strategy. I just love hearing people talk about this stuff. Without a doubt, you'll get at least one gem out of this 18-minute episode.
This is recommended solely because Jay Kranda graciously spoke with me on the phone for 90 minutes and he blew me away with the online ministry of Saddleback.
I can't wait to dive into this show. The show hosts are Nils Smith and Jay Kranda, both experienced in building online communities. Nils, innovation pastor at Community Bible Church in San Antonio, Texas, has led the online ministry to reach over 15,000 people each week. Jay serves as online campus pastor for Saddleback Church in Lake Forest, CA. The online service is critical to Saddleback's vision and, with over 20,000 online campus visitors each week, Jay has learned a lot about what it takes to build and manage community online.
Why We'll Both Like It:
These guys live and breathe online community building. I'm sure there are several takeaways in each episode.
My Favorite Episode?
I've only listened in on the Snapchat related episodes, but I love their insight. One you may enjoy? I often get asked for resources on social media volunteers. This could be your ticket: "Volunteer Guidelines for a Social Media Ministry: Episode 132"
---
All right, your turn.
Those are my trusted voices and a few bookmarked podcasts thrown in for future listening.
What are your go-to podcasts for professional and personal growth? Which podcasts help you in your work as a church communicator?
Make it easy on me and include one or two of your favorite episodes from their series. I will literally listen to your suggestions. :-) Thanks!
---
Want to receive notifications about more content like this? Subscribe to this blog, Technology & Your Ministry.