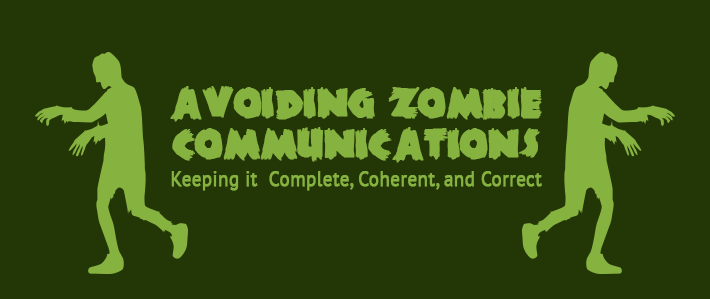 Zombie communications reduce the ability of your information to be communicated in an effective and reliable manner. As the information travels down the pipeline, it becomes less and less effective, reducing your message to nothing more than nonsensical words. They can become an epidemic, traveling across all lines of communications. Zombie communications can destroy the collaboration between various departments within an organization. It's that serious.
What zombie communications are and how to avoid them
Zombies: Fictional, lifeless, beings that cause nothing but trouble and can't communicate (typically).
Zombie communications: Messages that are not very helpful, leaving recipients wondering what's being communicated and making them hungry for more information.
The goal of any communication is to inform: inform about events, educate on particular issues, pull together collaborative efforts, and highlight achievements. It is the responisibility of the originator of a communication piece to keep it from turning zombie.
Any writer knows these six questions: Who? What? When? Where? Why? and How? Answer all these questions in each and every communication, and you will avoid producing zombie communications. You want to ensure that your communication pieces don't disconnect through various channels, intentionally or not.
Whether your specific communication is intended for one person, a group, or the public, the planning process is the same: make it complete, coherent, and correct.
Completeness
An important component of any communication piece is to be complete and answer as many important questions as possible.
Example: You have to create a flyer for an event
Create the flyer as if the intended reader is a total stranger and knows nothing at all about you or your event. Answer all six questions. Don't assume your readers will know anything about the event.
Who? State who is invited (e.g., parents, children, public).

What? State what the event is and who is sponsoring and benefitting from it.

When? Include dates and times. If your event advertising spans time zones, include the time zone of the venue.

Where? Give the complete address; always include the city and state. Directions are always good to have.

Why? Is this a fundraiser, celebration, or informational meeting? Be clear so people know what to expect.

How? Include items like dress codes, what to expect, and an itinerary.
I have seen flyers without times and locations, making them ineffective zombie communications that destroyed any interest people may have shown in attending the event.
More to include:
When requesting information from others, provide return addresses and deadlines.

Include legends on all graphs.

Include contact information for questions.
Special request from your District office to congregations:
Please provide more information than the name of your congregation when you contact us. Saying you are from "Trinity" or "St. John's" or "Immanuel" requires us to do some sleuthing to determine the exact congregation.
Coherency
Your communication piece has to be understandable to all. While you may have the intention of it being read by specific individuals, know that others may come across it and read it too.
Your communication piece shouldn't disconnect itself through various channels. It should be usable whether channeling though email or snail mail.
Avoid starting your communication piece "in the middle of the story." Provide background information.
Avoid statements that assume your reader knows the complete situation. Writing something out of context, such as "do away with them," can create a crisis. Imagine if some unintended reader saw this communication! Were you speaking about people or outdated records? While this may seem a funny point, it brings a more serious one. Provide the full information so that anyone seeing your communication piece understands what you are saying.
Correctness
Nothing can create a communication apocalypse faster than incorrect information. Check, double check, and triple check information such as dates, time, facts, and names.
More to triple check:
Webpages. Check links for disconnected information.

Lists. Zombie communication lists include outdated information such as emails or phone numbers. Having multiple communications lists disconnects the information. Have one source.

Spelling. Using the incorrect term/spelling of a word will tell readers that you are not serious about the communication.
More
Here's a tip for your Facebook Page: The purpose of using social media is to share information. Some postings have very strict privacy settings, and others will not be able to share your good news and announcements if the settings are too strict. You can adjust the settings post by post.
So, as you create your communication messages, review these tips for each piece. After all, you don't want to be the one responsible for the apocalypse of communication at your congregation. Mwahahaha.
What are your pet peeve zombie communications?
---
Want to receive notifications about more content like this? Subscribe to this blog, Technology & Your Ministry.