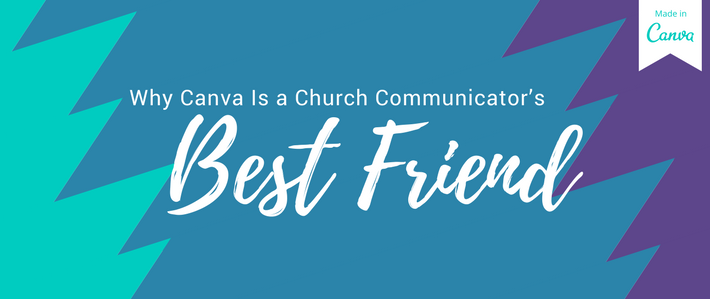 Oh Canva, how do I love thee? Let me count the ways. . . .
Okay, so Elizabeth Barrett Browning I am not. I do, however, have a long list of reasons why Canva is a church communicator's best friend. Like many, my first introduction to Canva's superpowers was learning how to create those really beautiful, crisp, professional-looking social media graphics. But there are so many other ways Canva can be used in your congregation's communication efforts! In fact, Canva is such a well-rounded resource that it won the title in CTS's communication-tool championship last year. The best news? You can use Canva for free! They do have a paid version (which churches may be able to subscribe to for free), but the free access is really quite incredible. (Note: within all versions of Canva, there are both free and paid design elements and templates. They're pretty clearly marked with "free" or "$", so there shouldn't be too much confusion.)
Before I jump into my list, check out the "Create" page on Canva's website. This is a great resource, not only for ways to utilize Canva but also for clear and creative visual communication ideas. (Tip: consider setting a timer for a few minutes of exploring, lest you get sucked down the rabbit hole and realize your afternoon is half over.) Given the breadth of its capabilities, this web-based software can be used to create specific design elements or entire projects. Creations can be downloaded as PDFs, PNGs, JPEGs, or GIFs (still in "experimental" form), so they play well with others.
Another reason Canva has champion status among church communicators is that it can be used to learn! They have tutorials and courses that teach design basics, like how to use color, shapes, fonts, images, and more. Oh, and these tutorials are free.
Okay, now onto a handful of ways to use Canva in congregational life beyond social media!
Weekly Announcements Folder
(Custom template: 1344 px X 816 px)
This is the news section of the bulletin—you know, the dates, events, blurbs, and statistics everyone looks for. Larger documents can become a bit cumbersome to design in Canva, but this two-page layout works quite well. My church switched to Canva for our announcements as an alternative to a more traditional desktop publishing software and we haven't looked back.
Annual Reports
(Canva infographic template; Canva newsletter template)
Amp up your annual (or monthly, or quarterly) report game by communicating stories and statistics in a visually engaging way. Canva's infographic and newsletter templates are a winning pair! Create and download the infographic as a PNG and then upload it into a newsletter layout.
Logo
Whether you're designing a logo for your congregation, a particular event, or another specific area, you can use one of Canva's readymade designs or start from scratch on your own! Don't forget to check out the Canva design tutorials on logos.
Brochures
These trifold brochure templates take the guesswork out of figuring out how to divide the document when you're designing. They keep text and images in balance for a beautiful and informative finished product.
Slideshows/PowerPoint Presentations
(Canva templates for both standard and widescreen presentations)
Create custom background templates to use in PowerPoint, Google Slides, ProPresenter, and the like. You can use these for your congregation or a specific ministry area, class, event, or sermon series. You can also create entire presentations in Canva, although this can be tricky when it comes to last-minute edits and updates, as you have to download a new file from Canva and replace it within the presentation software.
Special Event/Informational Materials
(Canva card templates; Canva invitation templates; Canva ticket templates)
Whether it's a postcard for your annual fall education kick-off, an info card describing your family ministry offerings and meeting times, or an invitation to your church's fiftieth anniversary celebration meal, Canva has plenty of designs from which to choose.
Custom Stationery
(Canva letterhead templates; Canva card templates)
Create a custom letterhead that is consistent with your congregation's style, along with cards or postcards to have on hand when you want to drop a quick note in the mail.
Magazines
Looking for an alternative to a monthly newsletter? Use Canva to try out something like this quarterly magazine. Share stories, pictures, birthday and anniversary lists, and other content that's important to your church family.
Business Cards
(Canva templates for standard 3.5" x 2" cards; custom template for other dimensions)
Next time you see a great deal on Vistaprint for 500 business cards but aren't quite satisfied with the layouts they offer, create your own in Canva and upload the design! Go beyond the traditional use for business cards, and create single-event invites for holidays like Christmas and Easter to share with your community, or create bookmarks to go along with a special Bible study.
Calendars
Custom calendars can be a neat way to connect church and home. Include important dates in the seasons of the Church Year, and share different parts of your church family's life.
Pictorial Directory
A pictorial directory is kind of like your congregation's family album. These yearbook templates make the do-it-yourself route a bit more accessible.
Image Editing
Canva's main gig is not image editing, but if you are in need of a way to bump up the contrast or do another basic photo-enhancing task, Canva can be a helpful tool.
Website and Email Design Elements
(Use custom templates based on your website/email design)
Looking for a header or badge that fits the feel of your church's website or email template? Canva can do that! Click on the "use custom dimensions" button, plug in the size needed (best to use pixels in this instance), and design away.
The best way to learn how you can use Canva in your church communications is to set up an account, get in there, and play around. So what are you waiting for? Go, have fun and create!
Do you use Canva for things other than social media? Share your ideas, challenges, and successes with us in the comments.
---
Watch a live conversation with Katy as she talks more about using Canva at her church.
Live on Facebook Thursday, February 8 at 11:30 a.m. (CST)