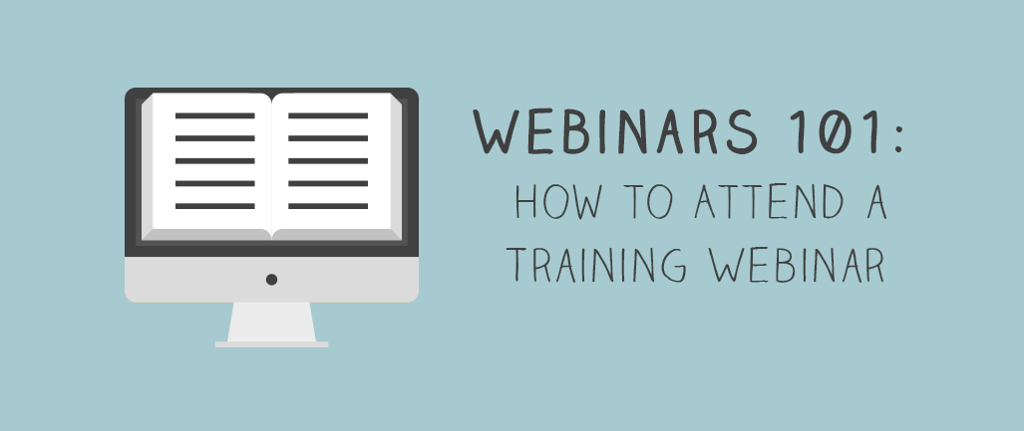 Here at Concordia Technology Solutions, we've used webinars for many years to offer training opportunities on our products and about technology in general. But if it's the first time you're attending a webinar, it can be a little confusing!
To help get you started, here are the basics of attending a training webinar.
What is a webinar?
A webinar is an online version of a traditional seminar, and it can serve a variety of purposes. It might be a training class, a software demonstration, or simply a presentation information, such as product updates.
Just like at an in-person seminar, there is one or more presenters, visuals aids, and, of course, many attendees. Sometimes the number of attendees is limited, and sometimes it is not. It happens on a specific date and time, but you can usually access a video of the webinar after the fact.
For more insight, visit our YouTube channel to view some of the videos of webinars we have hosted in the past.
Why should I attend a webinar?
Webinars are a great way to stay informed and keep your skills up to par. Here are some of the benefits:
1. Affordable
Many of our webinars are completely free. For those that do cost, attending is less than what it would be for an in-person seminar—especially because it eliminates the time and travel expenses of getting here!
2. Convenient
You can attend webinars from the comfort of your home, at your office, or on the go on your tablet.
An added bonus: Webinars are generally recorded, so you can even view it on demand if the time and date of the actual event doesn't work for your schedule.
3. Educational
Webinars are a great way to learn how to use new software, to find new ways of using technology to support your ministry efforts, and to keep you informed about new, emerging technologies.
Registration is easy peasy!
As a customer, you will receive invitations to CTS webinars by email. You can also register on our website. This is true of most webinars—you might receive an email notification, but you can usually register on their site as well. On the CTS website, you can find out about webinars on each product by navigating to the product and then selecting the training tab.
To register, click on the registration button and fill out a short form. After you've done this, you'll receive a confirmation email with directions on how to attend. Our confirmation email also gives you the option to add the webinar as an event on your calendar.
Be sure to check the time zone! Since geography is not an issue with online webinars, people from any where can attend. The one hang-up is making sure you know what time the webinar will be hosted according to the clock on your wall.
Common Questions
Here are a few of the questions I commonly receive before the start of one of our webinars:
Do I need to install software before attending the webinar?
No, you will simply view the presenter's visuals through the internet browser, so you do not need to install additional software.
When I click on the link to join the webinar, it doesn't work. Why is that?
We host our webinars through GoToWebinar at a specific time and date. You will only be able to join the webinar using that link 15 minutes prior to its start time.
Will I be able to ask questions?
Yes, you can type your questions into the Questions window throughout the presentation. Our presenters will answer them at the end of the session.
Do I need to take notes?
You can certainly take notes, but keep in mind that a recording of it will always be available on our YouTube channel afterward for those who attended. We will also give you access to the slides from our presentations.
---
Potential GoToWebinar Audio Issues and How to Fix Them
At Concordia Technology Solutions, we use a platform called GoToWebinar to host all of our webinars. Occasionally, some attendees will have trouble with the audio while other attendees can hear the presently without problem. In those cases, it is likely something wrong on the device of the attendee who cannot hear. The following are potential issues and solutions.
The wrong audio mode might be selected in the GoToWebinar app. When you are in a session, you are able to specify which audio mode you use to connect to the audio conference (depending on which modes the organizer made available). It's possible that the default mode you joined with is not the one you want, and that you need to manually switch it.
If you want to connect with your mic and speakers, make sure Computer Mode or Internet Mode is selected.
If you want to connect with your telephone, make sure Phone Mode is selected.
The volume of your speakers might be turned down too low. Try turning up the volume gradually until you can hear something!
There might be a problem with your telephone service provider. If there is a problem with your telephone connection, it might be an issue with your service provider. We cannot provide troubleshooting support for your service provider, but we can suggest that you try connecting via mic and speakers instead.
The organizer might not have provided Phone Mode as an option for the session. While GoToWebinar provides users with multiple options for connecting to the audio conference, it is up to the organizer to decide which audio modes are available in each session.
GoToWebinar might be playing sound through a headset instead of speakers. If you have a headset plugged into your computer or device but you are not currently wearing it, GoToWebinar might be using it as your audio output device instead of your speakers. Either put on the headset, unplug the headset or see Test Your Mic and Speakers (VoIP) to learn how to specify which device to use as speakers!
You might not have any speakers plugged into your computer or device. If you're sure you have speakers plugged into your computer, it's possible that GoToWebinar hasn't detected them. You can check your mic and speaker setup and even test your audio devices. See Test Your Mic and Speakers (VoIP) for more information.
If you are using a computer, the wrong audio output device might be selected. You can specify the audio device you want to use for your speakers in your computer's settings.
Open the computer's Sound settings.
On the Playback tab, select the speakers that you want to use.
Click Set Default, then click OK.
If you are using a Windows computer, then your Volume Mixer might need adjustment. While in session the GoToWebinar Sound Check operates as a separate component from the GoToWebinar desktop app itself. As a result, it is possible for the GoToWebinar Sound Check volume to be on, while the GoToMeeting app itself is muted. Windows has a volume mixer included which allows in addition applications to be muted individually.
Open the Volume Mixer (on Windows, right-click the Volume icon in your system tray and select Open Volume Mixer).
Under the GoToMeeting entries, make sure the Volume icon isn't displaying as muted. Try moving the slider higher to see if it affects the volume.
If you are using a Windows computer, then your speaker setup might need adjustment. Windows allow you to configure the Sound Control panel to allow for multiple speaker arrangements. These settings may need to be adjusted if you cannot hear sound through GoToWebinar.
Open the computer's Sound settings.
On the Playback tab, select the speakers that you want to use. If it is not displayed, then make sure it is plugged in.
Click Configure.
Under "Audio Channels", try using a different audio channel setting.
Click Test to ensure your arrangement is working correctly.
Click Next > Next > Finish.
If you are using a Windows computer, then your audio sample rate settings might need adjustment. On rare occasions, the audio settings in Windows may not be registering sound at the frequencies that GoToWebinar is transmitting sound from.
Open the computer's Sound settings.
On the Playback tab, select the speakers that you want to use. If it is not displayed, then make sure it is plugged in.
Click Configure, then go to the Advanced tab.
Under "Default format," select a different sample rate. Keep trying different options until you are able to hear sound.
If you are using a Windows computer, you may need to update your audio/video drivers. Outdated drivers can cause interference with the application. Please ensure that you have installed any available driver updates for both your audio and video cards.
Open the computer's Device Manager.
Expand the Sound, video and game controllers section.
Right-click your device and select Update Driver Software. Then follow the wizard as prompted, then repeat for all devices in the section.
Note: If there are no available updates, then it is recommended that you manually download the driver update by visiting the manufacturer's (Driver Provider) support page and searching by the driver version number listed. You may also check for an update from Microsoft by running Windows Update.
---
Subscribe to this blog to learn about future training webinars on using technology in your ministry! Check out this blog post to view our last webinar, "Why Pastors Should Blog."