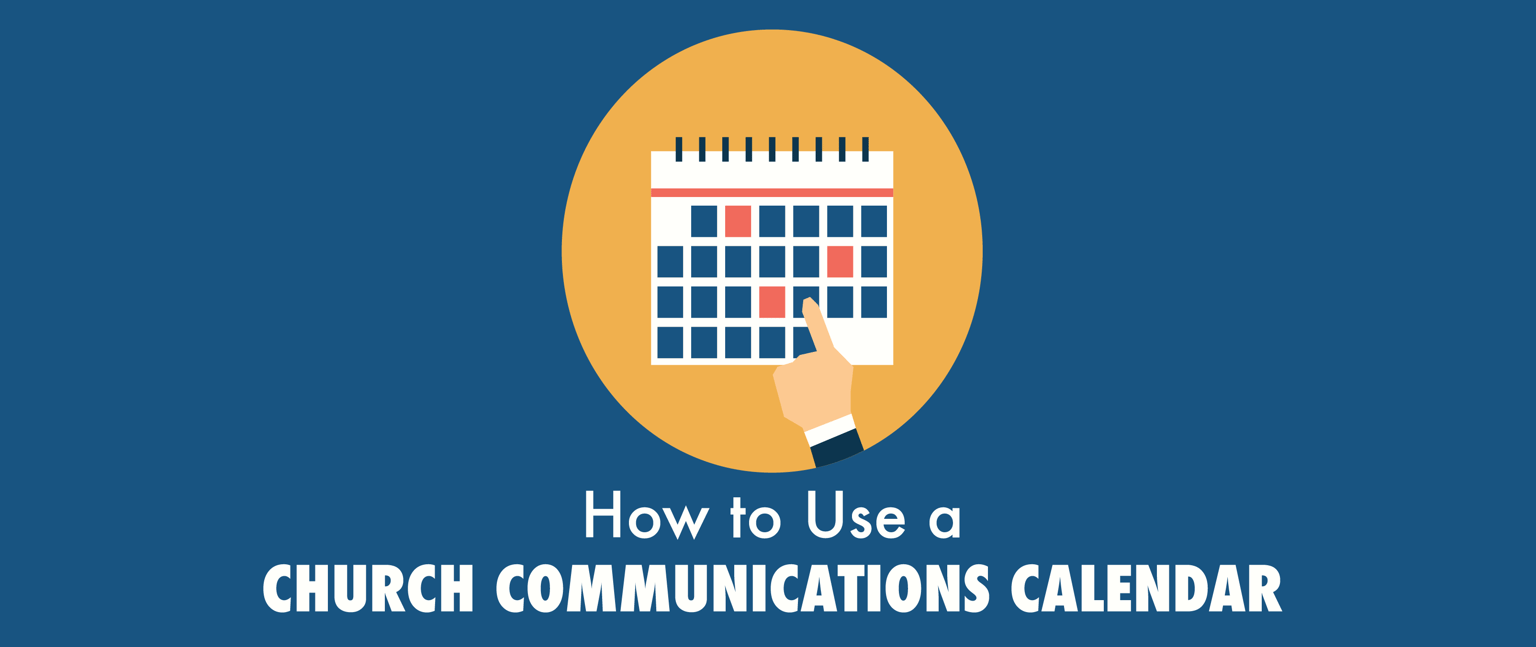 Does this ever happen to you?
You walk into your office and the first thing someone asks is "What's on your schedule for today?". Or, as you drive into work, you're wondering what is waiting for you to do.
As communicators, we have certain "to-do's" every day/week/month. And what about the youth director who finds himself in need of communicating a bible study meeting to his group and asks you for your help in distributing the communication? Plus, you know there's times when that urgent communication needs to go out ASAP.
Church communications can include everything from the church bulletin, school newsletter, special events, website and social media. When areyou possibly going to get enough time in your already too busy day to do these things? This is where your communication calendar comes in. How and when they are planned and coordinated will impact their effectiveness. Here are some ways to manage the everyday communications in your church.
Getting Started
The main goal of a communication calendar is to enable you to do your planning upfront for your regular communications and to ensure your communications get ample time to produce a quality product. A communication calendar is a very simple to use tool that will take the stress and panic out of completing the ongoing tasks that come along with managing church communications.
It is important to recognize, that as the communications manager, all regular communications for your congregation be coordinated on one calendar. By coordinated, I mean scheduled. This includes the church and school (if there is one attached to the church). Here's why. Suppose your church newsletter, your school newsletter, your youth newsletter, your volunteer newsletter – all were distributed on the same day. Information overload for those that may receive them all! So, if you do have multiple communications on a regular basis, schedule them at different times.
What To Include
One definition of communication, according to merriam-webster.com is "the act or process of using words, sounds, signs, or behaviors to express or exchange information or to express your ideas, thoughts, feelings, etc., to someone else". Whew…that says a lot. And it is. Here are some common ways congregations communicate – and I'm certain I missed a few:
So, if these are the ways congregations communicate, each communication should be included in your plan.
How To Organize
This is a matter of preference but here are some common ways to organize your calendar:
By Channel: Each major communications channel such as your newsletter, website or social media.
By Audience: You can also organize editorial calendars by audience to include groups such as parents, youth, church workers.
By Program: You can also organize calendars by program if you have several different programs. This would include programs like youth, general congregational information, school, confirmation, etc.
By Responsibility: There may be different people responsible for different communications, but everyone should be on one calendar to avoid overload whenever possible.
With any organizational method, you can list your dates across the top, method down the side, and fill in the blocks with specifics about the content you'll deliver there. And you don't need a fancy program to support it. A simple Excel Spreadsheet will work just fine.
Why a Calendar
A plan helps keep the communication team on the same page and your messaging consistent. Once you have planned what you are going to publish and when, you need to make it common practice to review your communication calendar and complete the items you have written. Set time to review what needs to be done so you don't forget what you have planned. When you have completed something, cross it off or highlight it. This action can actually make you feel good!
Don't think though that just because you have a communication calendar you have to stop spontaneous posting, if something pops up that you think is important for your congregation to know about, publish it. Just don't get into the habit of doing this.
A communications calendar helps keep you on track, acknowledges the work being done and can be used as a measurement tool for the effectiveness of your communications. So next time someone asks, "What's on your schedule for today?" you can show them.
---
Looking for more great content like this? Follow the link to get more tips on building your church communications strategy.