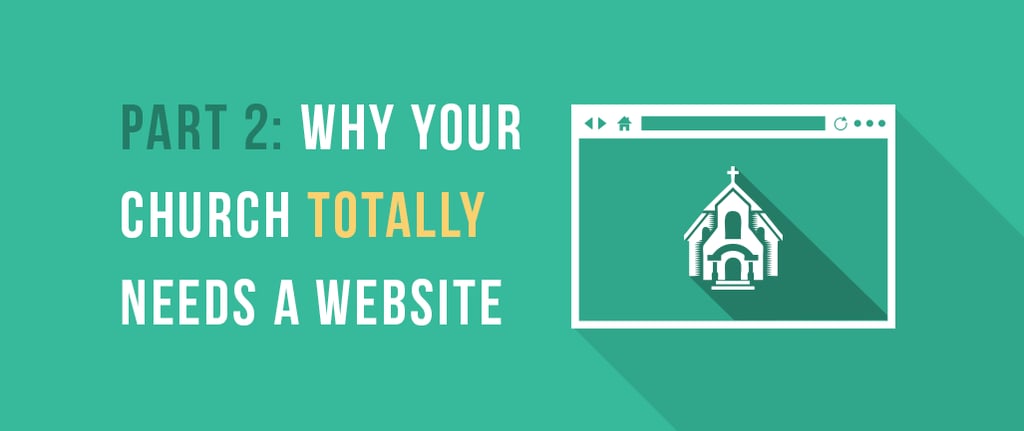 In my last post on Tuesday, we explored reasons why your church doesn't need a website. I talked about how important it is to choose our communication mediums so that they reflects our audience and our message. For example, unless you already have a website that functions as a social communication hub of your church, you don't need that kind of website.
But you totally need a website.
First Impressions
Many, many people today start all sorts of new things by looking online. Whether it's looking for a place to eat, somewhere to shop, a new car, or a place of worship, people begin their research on the web. That means one of the first impressions a new visitor will have of your church is your website—and it's important to make the best impression you possibly can.
So, what do people outside your church need to know about you? That's actually a pretty tough question because it's so easy to get "What do they need to hear?" confused with "What do I want to say?" Something that seems pretty important to those inside the church won't matter at all to a visitor, while other things that are essential to a visitor, we might overlook.
Start by Considering Their Questions
Let's think for a moment about an example couple, Jonathan and Carrie. They're a young couple in their mid-twenties, new to your area, and looking for a church home. Carrie's expecting their first child in a few months, and they'd like to find a place to have their baby baptized. They come to your website and want to know . . .
1. Who are you?
Name and branding are key. You should generally have only one logo, with possible variations for different ministry groups.
2. Where are you?
Make it easy to find your map, ideally with a link to Google Maps, which is easier for mobile navigation. Remember, a large percentage of web traffic is mobile today, and that's increasing every year.
3. What do you believe?
Carrie just wants the basics, thanks. Jonathan is pretty savvy in this area, but he'll probably ask those questions in person.
4. What time is worship?
I'm always amazed when I can't find this information on a church website, but it happens!
5. What is worship like?
Should I expect to chant with a pipe organ or sing with a guitar?
6. What should I wear?
There's nothing quite as uncomfortable as being over or under dressed in a new place. Pictures can help provide this information without needing anything as formal as a "how to dress" section.
7. Where do I park?
This is especially important if you're in an urban setting. Regardless, though, if you have special parking set aside for visitors or expectant moms, let them know ahead of time.
8. How do you make a difference in our community?
Are you guys the ones always handing out water bottles on hot days? I KNEW I'd seen your church name before . . .
9. Is there room for us to make a difference?
Younger generations are especially interested in knowing where they can contribute and be valued in your congregation. While they want a bit of anonymity at first, they want to know how they can contribute to something that matters down the road. A "How you can get involved" link can go a long way toward plugging folks in.
Make It Easy to Find Information
Visitors to your church website want to find the information they are looking for quickly and easily. If you have a bigger site with a great deal of content, consider putting together a page solely for those folks thinking of visiting and making it prominent on the home page.
By locating all of the information they want to find in a central place, you'll help ensure their first experience with your church is a positive one and hopefully the first of many.
---
Learn more about connecting with visitors online! Downlod our free ebook "9 Strategies for Engaging Visitors with Your Church Website" by clicking below!