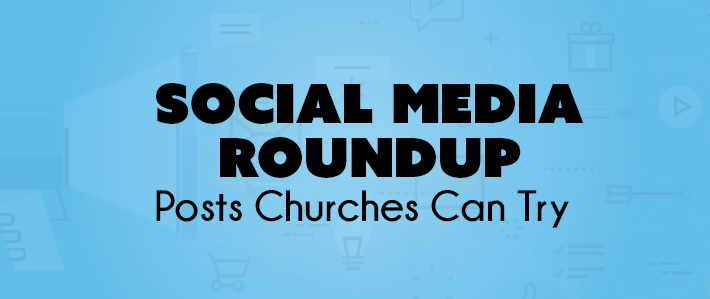 If you oversee scheduling social media posts for your church, you may sometimes feel like you're staring at a blank canvas each week. Either that or the canvas has so much paint on it you don't know what you're looking at anymore. If this is you and you're looking for a refresh, here are some ideas for your social media calendar.
In this blog roundup, I sought to discover what the experts offer as ideas for church social media posts. Without further adieu, let's dig in.
by Beau Coffron on the That Church Conference blog.
Verse Image Graphics
Question of the Day
Share a post from another channel
Promote your events
by Brady Shearer on Pro Church Tools
Images
Quotes
Questions
Video
Resources
by Adam McLaughlin on Church Marketing Ideas
Behind the scenes images
Prayer requests
Testimonies
Worship song set lists
by Kendall Conner on The Creative Pastor
Sermon preview
Hymn lyrics
Countdown to special event
Video clip from Sunday's message
Holiday posts
Ask questions about what people enjoy
by Travis Walser on [twelve:thirty]media
Stories
ReContent - encourage your community to post to social media and share their posts!
by Darrel Girardier on Youth Specialties
Fill in the blank posts
Behind the scenes photos
Throwback Thursday
Share outside resources for families
Embed a Spotify plalist
Caption contest
How about your church?
What types of posts are successful for you? What type of content gets the most shares? How about the most comments? Likes? Loves? Let us know what's working in the comments below!