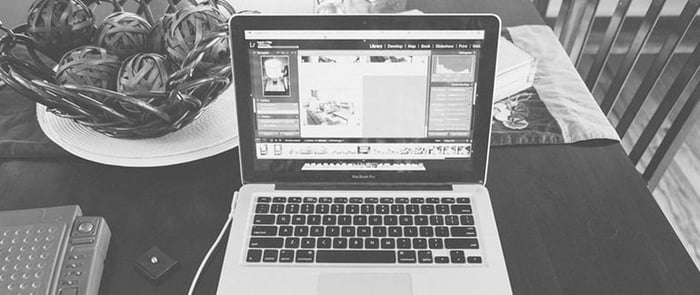 Whenever my parents are expecting visitors, my mom cleans. She cleans the bathroom, the living room, the kitchen, and, when I was a kid, she even asked me to clean my room! My response? "But mooooooom, the guests aren't going eat dinner in my room!" Mature, I know.
Now that I'm an adult, I get it. I like my house clean too. And, just like your house (or your church), your website should be clean and uncluttered. Luckily, this kind of cleaning doesn't require Clorox or rubber gloves—just a few quick tips. You can simplify your website in no time!
Websites should be easy to use, intuitive, and clean—so, before you even consider putting flashing lights and lots of bright colors on your page, think about whether you'd put a neon sign outside of your church. If not, don't do it here either.
In order to keep your website clean and functional, consider these three things: layout, copy, and graphics.
Layout
When it comes to site layout, you'll hear this word again and again: clean.
"Don't be afraid of white space!" says Peter Frank, manager of Concordia Technology Solutions. "Remove the clutter, cut down the amount of copy, and keep things in places that make sense."
Remember to make sure it doesn't take too many clicks to get to any point on your site. People's attention spans are short, especially online. If it takes too long to get information, they will go somewhere else. Remember, the back button is only a click away.
When the Internet first became popular, the concept of clicking on a link was somewhat foreign to computer users. It was necessary to start with introductory phrases such as "Click Here" or to spell out the URL. Reduce the amount of clutter by skipping the directions and just displaying the link. Use formatting to make apparent what you want the user to do.
Copy
And while you're removing unnecessary instruction, work to keep the amount of copy on a page to a minimum. Don't say in 10 words what you can say in 8. Not only does short copy keep the users' attention, but less text also cuts down on the visual clutter.
It's also important to choose simple words. Keep your writing at a layperson's level. Speaking too theologically may alienate visitors or even some members. Side note: Also use this philosophy when choosing a domain name—it should be easy to spell and remember!
Graphics
When it comes to choosing graphics and buidling the look and feel for your site, remember that word "clean." Avoid using more than 2–3 fonts, and stick to fonts that are easy to read. Also, make sure to use consistent colors throughout your site.
Choose photos that are up to date, high quality, and engaging. Find pictures of people, if you can—not just photos of the front of your church building. And keep in mind that clip art was a nifty new feature in the '90s, but it's best to leave it there and out of your design.
One final suggestion: keep your website simple (and interesting) by using blogging capabilities wherever possible. Most blogs have an organized structure that shows only minimal, necessary information. If you choose content wisely, you can keep your website looking nice and clean.
This blog post is an excerpt from our ebook "Crafting Excellent Church Websites." To download this free ebook, which outlines even more ways to perfect your website, click the button below!