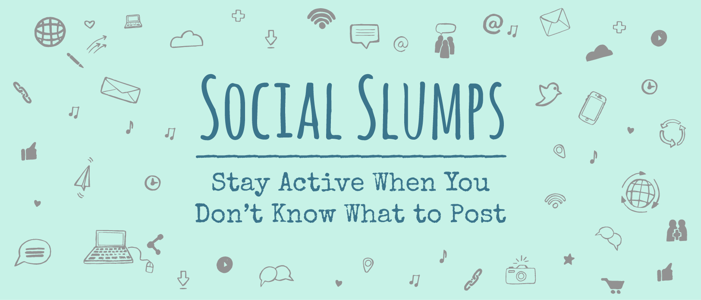 VBS is done, there aren't any holidays any time soon, and nothing exciting seems to be happening this week. You've heard experts say you need to post daily to keep interesting, but you are stumped. What can you post about to keep your church active in everyone's social streams when you can't think of anything to share?
Use Daily Blogging Prompts
Many bloggers who rely on their sites to generate income will blog daily. You might not be trying to generate revenue like them, but you can still make use of popular daily blogging prompts and even see how many of them you can give a Lutheran twist. A quick search online for "daily blog ideas" will give you many more suggestions, including lists of words like, "fear, hope, trust," and many more that you can pair with Scripture verses or lines from hymns and sermons.
Start a series of posts to follow for a month or even a year, posting a snippet from catechism lessons to refresh everyone's memory, or a fact about Martin Luther and the Reformation once a week for the time leading up to the 500th anniversary of the Reformation. Prompts like these can be a good guide to keep you posting and get others to join in for interactive content, especially if you close with a question that can generate replies.
You've probably seen posts using hashtags like #ThrowbackThursday or #SelfieSunday when people post pictures of their childhood or themselves. Many of these daily prompts can be tailored to fit your church.
Try out #MusicMonday by adding a line from a hymn from the service the day before, or #MartinLutherMonday with a short quote or fact about Martin Luther.
Is your church undergoing any construction? Show pictures of the progress each Tuesday and tag it #TransformationTuesday.
On #WisdomWednesday you can quote from Proverbs, or try #WellnessWednesday with some advice from a parish nurse.
Highlight older photos of your building or your congregation's events with #ThrowbackThursday or #FlashbackFriday. #ThankfulThursday can be a chance to follow up on answered prayer requests.
If your pastor, staff, or youth group likes to pose for silly photos, try #FridayFunday.
Post an Eye Catching Image
Posting a sermon quote or a Bible verse from one of the recent readings is a great way to keep people's minds on what they've heard or prepare them for what they will hear in church or Bible study. Instead of posting it as an update in plain text on your page, spice it up a bit. Adding an image to your post helps it stand out, and can generate 39% more interaction than posts without images. Put the verse in the image and you have a post that is attractive and easy for your followers to share.
How do you do that if you aren't a graphic design expert, or without spending a lot of money on expensive and complicated software? Use a site like Snappa or Canva. There are many sites that give you access to royalties-free images at no charge, just for signing up. One favorite, Freely Photos, focuses specifically on images that would be needed by churches. Other sites that charge for stock photos, like Lightstock, offer regular free high quality photos if you sign up for an email newsletter.
Does your church or group have a logo? Consider adding it, along with the simple version of your website's URL, to the picture. Sites like Snappa and Canva will also let you design images in various sizes appropriate for Facebook, Twitter and Instagram posts, which will help you make sure your photos fit the website.
On the LCMS Nebraska District Facebook page, I posted a photo a day during Advent and Lent, combining a verse, an image, and our logo. These posts generated a lot of engagement and gave our followers something to share with their friends or congregations as well.
As Amanda Lansche wrote in her blog post, "10 FREE Social Graphics (and How to Make Them!)" be sure to limit the number of words in your image, use images with space for words, and keep those words readable. It gets easier with practice, so don't be discouraged when it takes time to make something that looks right to you.
Store Up Ideas for a Rainy Day
Have a few extra minutes today? Found a great photo that you know would complement a Bible verse during Lent? Take time now to write up a few posts or design a few images for later. Keep them on hand for later, or better yet, use a social media scheduling app like Hootsuite or Buffer and schedule a few weeks of posts at a time.
If your church or school's Facebook presence is set up as a Page instead of a personal account, you can also schedule your posts by clicking the small arrow next to the Publish button to access the Schedule option in a post.
Good News: Short Posts Get More Interaction
Perhaps the best news of all to help you conquer that post when you are stumped for material is this: shorter posts on Facebook tend to have 60% more engagement than longer ones. Keeping things short also helps them not get cut off and put "under the fold" with the "See More..." tag.
Have you had success with getting yourself out of a posting slump? Do you have a set of daily or weekly prompts to share? Let us know in the comments below.
---
Learn more about the use of technology in your church by subscribing to this blog!