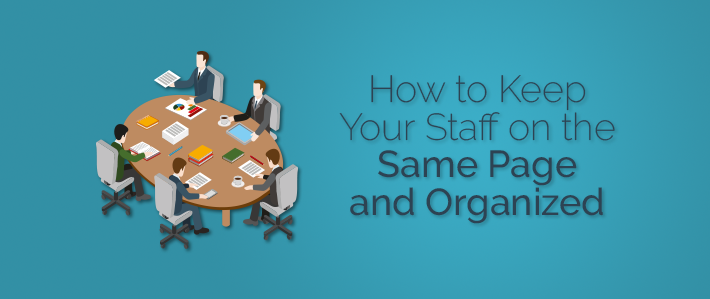 Whether you are speaking of corporate staff or church workers, keeping staff organized and on the same page is critical to the success of your mission.
Is everyone on the same page?
For a congregation's church workers and staff, the basics lie within your congregation's mission.
A congregation's called church workers do have their calling to serve. And, indeed, many of your lay workers may too. However, your church workers' callings must align to the overall mission of your congregation. Here are three mission statements from congregations in the Northern Illinois District:
The mission of "XXX" is to equip Jesus' disciples to engage the world through faith.

The goal for all of us at "XXX" is worship, connect in community and serve using our gifts to make a difference in the community and the world.

"XXX" Lutheran Church's mission is to connect people to a real loving relationship with God through Jesus Christ in the power of the Holy Spirit and with each other in a contagious Christian community and with their calling of servanthood in the world.
Each worker must keep the congregation's mission at the forefront of what they do and why they do it. Ask, "Why are we here?" Each responsibility, leadership role, or task must be designed to carry out the mission. Nothing more. Nothing less. If it does not do that, you are carrying out tasks that actually take away from your mission because you are missing opportunities and misusing time and talents.
Here are some examples of church workers' alignments to mission based on the mission statements above:
Small Groups Leaders "equip Jesus' disciples to engage the world." The leader needs to equip church membership (disciples) to go outside the church walls.
Teachers at a school "using gifts to make a difference" utilize their God given talents to their fullest potential to really make a difference.
Children's Ministers "connecting people to a real loving relationship with God" means that all of what they say and do with the children is loving. In their communications, in their relationship with the children, in the materials and stories, a real loving relationship needs to be the focus of all they do.
Congregations' staff members should meet as a group to discuss how each individual staff member will carry out the mission of the congregation. Together as a group, they can build themselves as a real team on a real mission! They can collaborate together and share ideas – together as one.
Staying organized
So your staff is on a mission! But, like any mission, there needs to be a plan, follow through, and follow up.
Each ministry leader can develop a plan for their group that aligns with the overall mission of the congregation. If there is support staff, they should be included in the planning. This provides them with opportunities to grow, see their role as important and that their opinions count. All of these things this will contribute to a highly engaged staff. And a highly engaged staff will forge ahead with mission!
For tips on developing a plan take a look at three other posts I've written on the subject: Implementing a Program Review Process, Determining the Vision behind Your Programs, and How to Use a Church Communications Calendar.
With the main plan comes follow through. That normally refers to the nuts and bolts of getting the job done. There is more than nuts and bolts though when you speak of keeping staff on the same page.
Staff stays on the same page when they are engaged. Major factors that lead to staff engagement include:
Encouragement

Commitment to quality

Having the necessary tools

Knowing what is expected
When your staff is provided with these things, they tend to be engaged with the mission.
Following Up
Finally, follow up on what is being done. Monthly staff meetings provide quick feedback on what is going on and why.
Include metrics in your staff meetings, if at all possible. You can look at your outreach activities, Sunday school enrollments, church attendance, anything that relates to the mission itself. These, however, may not be just numbers. Stories of new believers, things that did make a difference in someone's life, God moments are all real outcomes of your work that could be a part of your mission.
Keeping your staff organized and on the same page will help your staff ensure they are doing the right things, the right way and for the right reasons.
---
Looking for more great content like this? Subscribe to the CTS Blog Technology & Your Ministry!