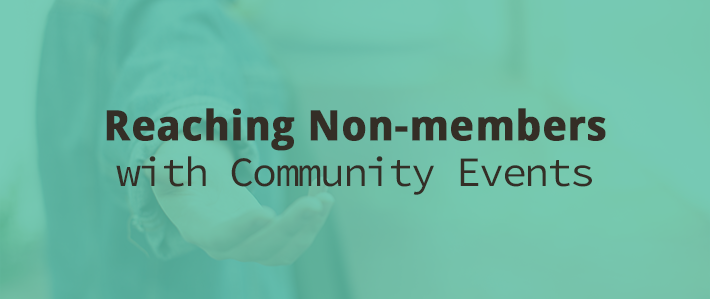 The trends of how people first connect with a congregation have changed over time. It is important to explore these trends and adapt with them. In this blog post, we will cover how these trends have changed over time, and a current way to reach individuals in your area—through community events.
How Methods Have Changed Over Time
In my experience, inviting non-members to attend Sunday school was how membership numbers increased. It was common for members to invite their friends, co-workers and new neighbors to attend Sunday school class with them. This trend was so popular that attendance for worship would actually be lower than Sunday school attendance.
The trend then shifted to attending worship service first and people no longer inquired about which Sunday school class they should attend. Members began to invite newcomers to join them for worship service and worship attendance in most churches grew larger than Sunday school attendance.
New Method of Reaching Non-members
The latest trend of how people first connected with a congregation involves service and mission. This trend has become especially popular with young adults.
For many young people, inviting friends who aren't members to "come to my church" typically isn't the most comfortable invitation to make or the one most likely to receive a positive response. Rather than asking friends to come worship, many young people felt more comfortable inviting their friends to join them for a service project sponsored by the church. For young adults, a sense of commitment to help their peers seems stronger than their excitement to visit a new church.
This new trend has become even more effective with the use of social media. Posting pictures and videos of individuals at a community service event falls in line with the other images found on social media sites. The youth, as well as a growing number of adults are accustomed to sharing their activities with the world through social media. This trend and the images shared can also serve as a recruiting tool for non-members to connect with your congregation.
Here a few tips on how to reach non-members:
Plan community service events
Some examples are food, toy and clothing drives as well as providing back to school supplies to children in the community. Schedule these events throughout the year and have a planning committee map out the details.

Inform your members that this is not a church-only event
Encourage members to invite people they know to attend the event, even if they are members of another church. Stress the importance of community outreach and giving back to the community.
Dedicate a person to share the event from the church
Ask someone to take pictures and videos of the event attendees. Make sure the pictures taken are shared on social media sites.

Encourage people to share on their own
Whether done on their Twitter, Facebook, Instagram or Snapchat accounts, create a hashtag for your event that everyone can attach to their posts. This will assist in making non-members aware of your community service.

Do a follow-up testimonial of this event and encourage members (and non-members) to participate in the next one.
Ask participants to provide positive feedback from your event and receive their permission to post it. Make sure you include both written and video testimonials you can post online.
Taking this approach will allow you to have a balance of using both personal invitations and social media to reach non-members. Your church's mission can be communicated through invitation and broadcasted to the world through social media. Ultimately, it is important to engage the people in the community to assist in their walk of faith.
In the comment section below, share what methods your church uses to reach non-members. What kinds of community events has your church hosted? How have you shared the experience on social media?