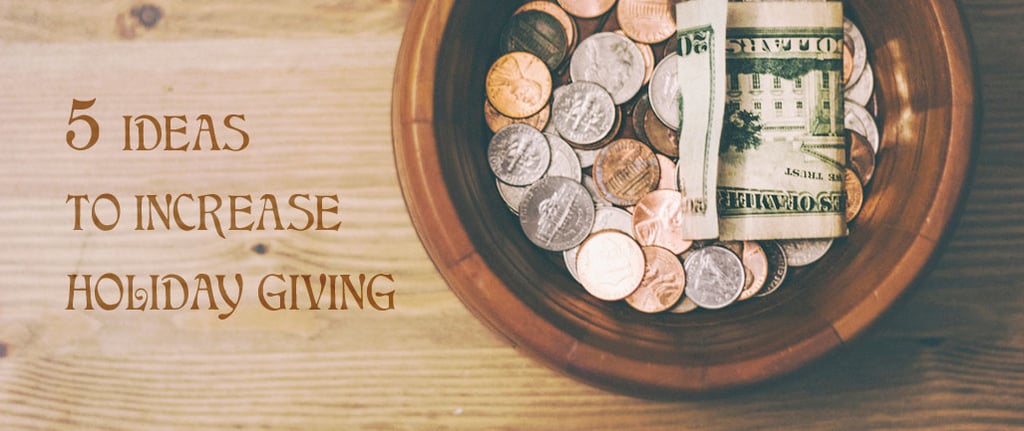 Nonprofits, including churches, see a huge influx of donations and gifts during the month of December. With this in mind, it's important for churches to talk about giving this time of year!
This can be done on social media, through email or a letter, on the church website, or in the church newsletter. By starting the conversation, you'll increase the likelihood of people giving to your church (and it's Christ-centered mission) when the desire to be generous strikes!
So why is December the big month for generosity? Well, for starters, our culture places a major emphasis on holiday spirit and giving during the holidays. It puts everyone in a charitable mood! The end of the year is also a practical time to give since donations made by December 31st are tax deductible.
Here's how your church can tap into that holiday spirit and into this practical mindset with five simple ideas:
1. Tell your story.
Tell the story of your church and its mission. By conveying how much you genuinely care for your members and for the community, you'll give people a reason to want to support your church. They will identify with you and your mission to share the love of Jesus.
Connect giving with your purpose as a church, and help them understand what their contributions can do to make a difference and further ministry.
Use a combination of words, pictures, and video. Visuals and references to your ministry in 2015 will evoke memories for your members and show non-members what your church is all about.
2. Get people into the mindset of giving.
By sponsoring an event or campaign to help your congregation give back to the community, you'll inspire a mindset of giving and generosity. When the offering plate comes around during worship, that spirit of giving will bleed over. People are much more willing to support a church that clearly exists to serve God's people and share the Gospel!
Try organizing a group to volunteer at a food pantry (be sure to call ahead!) or adopting a family and asking for donations from your members. You can even advertise this event or campaign on social media with a specific hashtag.
3. Talk about specific needs.
Your church probably has a laundry list of miscellaneous needs. But no one knows about them unless you ask!
Share a list of specific things your church would like to buy, such as a new sound board or software for the office. Or, ask for donations like books for the Sunday School library or a couch for the youth room.
Think of it as the difference between giving someone cash for Christmas or a special present you know they'll love. The latter is a lot more fun! A Christmas wish list will help people understand what the church actually needs—more than any other time of the year, you just might get it!
4. Update your members on church finances.
Celebrate giving! Send a letter to share an annual report with your members to update them on the state of the church's finances. This is a great time of year to show the impact of their contributions. And, knowing the numbers will give them a better idea of the church's needs.
Appeal to their practical side as the year draws to a close by clearly asking them consider making a tax-deductible donation to your church before December 31st.
5. Make it easy to give.
Make sure it's easy for people to give! Provide envelopes in the pews in case your members forgot theirs at home. And think about easy online giving, too! Include a clear call-to-action on your church home page and make the process simple. Optimize your online giving for mobile, too, so that your congregation can give right from the pew during offering rather than needing to remember when they get home. This is one time when you want people using their phones during church!
If you're interested in setting up online giving for your church, check out this link to learn more about eGiving.