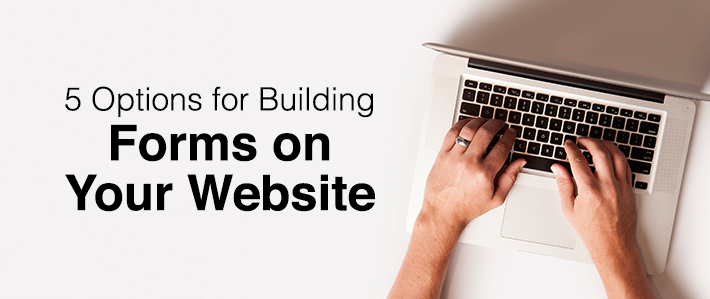 Whether it's an event registration, contact information update, photo contest entry, guest feedback, or prayer request, you'll make your life a lot easier if you deploy a form to collect information.
#1 Reason to Use a Form Builder
The number 1 reason to utilize a form on your website? By deploying a web form, you will standardize the way you receive information.
If you've ever tried to collect an event registration by having folks email you, you've seen why standardizing information is best for your sanity. Forms organize the information transfer process. Rather than hunt and peck registration emails for pertinent information, most form builders will send you a neatly organized email with information sorted by headers, not to mention you can preprogram the Email Subject line, which will make sorting emails MUCH easier.
Here are a few form builders to get you started.
Plugins Specific to Your Content Management System (CMS)
Whether your church uses Church360° Unite, Wordpress, Drupal, or another church website provider, most CMS have a preferred webform module of some type.
Wordpress Form Builders
Form Maker (80,000+ active installs) offers a free version for Wordpress users, but you'll need to upgrade if you want to expand the builder to include integrations with services like Dropbox or MailChimp. If you're looking for a basic form, this would be great option.
Drupal Form Builder
Webform (504,800+ active installs) for Drupal is fantastic and offers a lot of customizable options. It's by far the best option available for church sites on the Drupal platform, and it's free.
Free HTML Form Builders
What is an HTML form builder? It's any form builder that can be created and then embedded into the code of just about any website. These free form builders, should you like them better than the CMS options, can even be used in Wordpress and Drupal.
Google Forms
Google Forms is the best free form builder you'll find. It's great for event registrations, polling, quizzes (yes, assign points to questions!), collecting contact info, and more. It's simple to use and set up is a breeze. All you need is a Google account to get you going.
Because it's a Google product, connecting submitted information to Google Sheets is easy. Once in Sheets, you'll be able to analyze, sort, calculate, and do just about whatever you'd like with the information. Embed a Google Form anywhere, by completing the form, clicking Send, and choosing the "< >" option to view the HTML code you'll need to copy and paste.
Wufoo Forms
Wufoo Forms is the next up. It offers a free version for 3 forms and 100 entries. This may automatically rule it out for your church, but if you're needing a quick and easy form I actually prefer the setup of Wufoo to Google Forms. It's drag & drop interface makes form creation fast and easy.
If you're looking for a form builder that could "expand" to additional features, consider Wufoo. Wufoo offers upgraded plans that gives you File Uploads and Payment Integration, which means you could turn it into a photo contest entry form OR an event registration system, as needed on a month-by-month basis.
JotForm
JotForm is similar to Wufoo Forms in that it offers 100 entries per month, however, with JotForm you get up to 5 forms. You can also collect up to 10 payments per month through PayPal with the free plan. JotForm has a number of premade templates that you can get your form up and running a lot quicker. Because they complete form is already thought through and built, it may also remove anxiety you might have about forgetting to include an important field.
JotForms form widgets could also take your form to the next level. The "Take Photo" widget, for example, allows a user to take a photo with their device whether it's a mobile phone, laptop, or webcam. The "Smooth Signature" widget allows you to collect an official signature from the person submitting the form.
If you're looking to upgrade, JotForm also offers discounts for nonprofits and educational institutions.
---
Optimize your church website and forms with Church360° Unite! Embed forms, create groups, share your church calendar, and update your website in minutes.