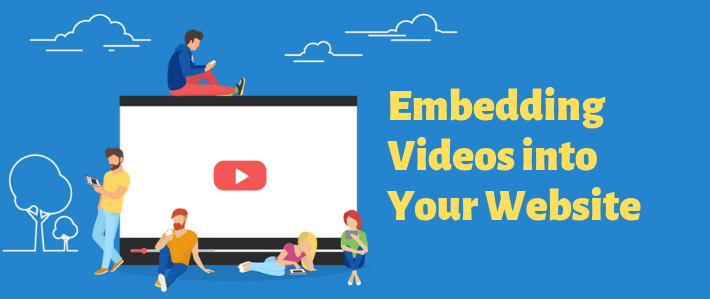 I love how diverse our churches are. Of course, we all have the Gospel in common, and we also share many similar rites and ceremonies, but the way we dress, the type of music we use, and the way our churches operate varies greatly depending on our context.
Because of this diversity, many people head to the Web when looking for a church, to check out churches' websites to see which church will be a good fit for their family. We need to have some way to communicate online who we are and what differences we have from the church down the road. You could do this with a few paragraphs explaining what makes you different, but I think a more effective way is to fill your website with videos of your church.
The only issue with putting video on your website is that videos that are uploaded directly to your website take up a lot of room and make your site slow. One of the best ways to get around that is to upload your video to a video streaming site and embed that video into your website. In the following sections, I'll explain what types of videos to use on your site and how to get them there.
What Does It Mean to "Embed" a Video?
For those of us who aren't the most tech savvy, this process might sound pretty intimidating, especially if we don't even know what it means to "embed" a video. Really though, it's not as complicated as it might sound. To embed a video on your website, you first upload the video to a video service such as YouTube or Vimeo. These services do all the hosting and processing of your videos for you, so you don't need to worry about all of the behind-the-scenes details. Those services then provide you with a snippet of code to copy into your website. This code provides your site with an Iframe (Inline Frame), which embeds one html document inside another. This process differs from linking to a video, which sends people away from your website to another site. Embedding the video will instead pull the content to your site so you can keep people engaging with that content on your website.
Which Video Platform to Use
If you're hoping to get into sharing videos online, you'll have a bit of decision-making to do. The biggest decision you'll have to make is which video-hosting service to use. While there are a lot of options, the two best and most used are YouTube and Vimeo. Both are great services and would be fantastic options, depending on what your needs are. You'll need to look through some of the pros and cons of each to decide which would best fit your church's needs.
Vimeo Pros
YouTube Pros
Vimeo Cons
YouTube Cons
Who Are You?
Again, one of the main things people are looking for on your website is a sense of who you are as a church. Most church websites have an "About" page. Some churches share videos to that page to give a clear picture of what their church is about. Just as people watch movie trailers to understand what a movie is about, people can be helped by short, three-to-five-minute trailers on your church's website. You could give a video tour of your building, share clips from your worship services, interview members, and talk about your different ministries. That way, people will not only get information about your church but will also get to know some of the faces and names of people they might meet if they attend.
What's Going On at Your Church?
Another great way to use video on your website is to share information about what's going on at your church. Perhaps you have a ministry for young mothers and you'd like to involve more moms in the community. You could create a quick video that tells what the ministry is about, who it is for, and why young mothers should come. Your members could then send a link to that webpage to their friends, inviting them to join. This would be a great way to promote all of the different ministries your church has to offer your community.
Worship Service Livestream
Sometimes people can't make it to their physical church, but they don't want to be separated from their church community. Perhaps they're sick or homebound, or traveling to a place with no churches within their denomination. In those cases, it's nice for them to be able to watch their church service online. Video services like YouTube and Vimeo have great solutions for streaming your worship services, and those video feeds can be embedded within your website, allowing people to know exactly where to find the feed.
View Previous Services
Once you've streamed your worship service, YouTube and Vimeo will automatically archive those videos, allowing people to go back and rewatch those services. Many churches take advantage of this feature by linking to those archived videos in an "On-Demand" video page on their website. This allows you to organize those videos and make them easy to find for those who are looking.
How to Embed
Now that we've looked at what type of videos to put on our websites, you might be thinking, "Well, that's great and all, but how in the world do I embed the video on my website?" Well, it's really quite simple. Once you upload a video to your chosen video-hosting service or schedule a livestream event, you will look for either a "share" or "embed" button there that will give you some HTML code to copy and paste onto your website. You don't need to worry too much about the details of the HTML code, unless you know how to tweak it to make it fit your theme better. Both services also give you options with the embed code to adjust the size, theme, and button configuration on the video play you will be embedding. Once you paste that embed code into your website, you're good to share your work with the world!
---
Build a better church website with ease by using Church360° Unite! Pick from easy-to-use themes, page designs, groups, calendars, and more.