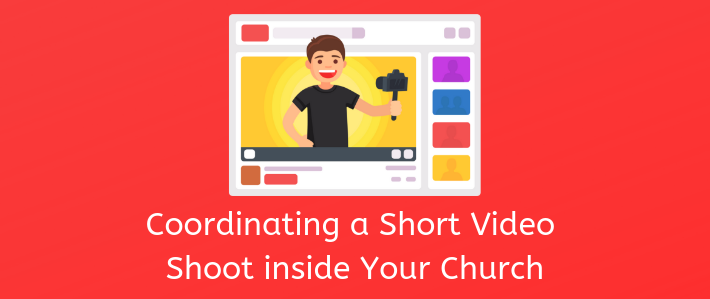 As many churches continue to see the value in social media for reaching out to their communities, it's important that we use best practices for helping our content reach more people. As many studies show, when it comes to Facebook, videos tend to be the best content to get more engagement. Because of that, it's a good idea to produce high-quality video content to share on our social media platforms.
For many church workers, this can seem daunting. You might be thinking, "I didn't go to film school. How am I supposed to create this kind of content?" It doesn't have to be as hard as many people make it sound. There are some easy steps you can take to regularly make short, high-quality videos to share on social media.
What Type of Video Will You Create?
This part of the process depends on your creativity and the people you have access to, but here are some examples of content that can be effective for raising engagement on your church's social media.
Weekly Devotionals:

This is an obvious yet practical way to get more out of the content you're already producing. Each week, pastors, teachers, and youth leaders already prepare devotions and Bible studies to present to their congregations. Why not sit these leaders down in front of a camera to present that content to a wider audience via social media?
A Bridge between Sundays:

One of the ways my church uses short videos is to create a bridge between what was preached last Sunday and what will be preached on the Sunday to come. Every Wednesday, we post a three-minute video on Facebook in which one of our pastors gives a short reminder of what we learned last Sunday and gives a preview of what we'll be hearing in the next sermon. This is an easy yet helpful way to remind members of the ways Jesus is working in their lives even when they're not sitting in our pews.
Testimonials:

Everyone sitting in the sanctuary has a story of how their faith has influenced them and how Christ continues to work in their lives. Capturing and sharing these stories can be very powerful. Not only will people want to share these videos on their own social media accounts, but these stories will also help build deeper bonds between members because they will share a part of your members' lives that others may never have heard. The hardest part of these kinds of videos is finding the stories and convincing people to share them. Many people think their story isn't that unique, but that can be part of the power of these videos. They let others know they're not alone and there are other people in the congregation who are on a similar faith journey. The videos may spark conversations and relationships that otherwise never would've happened.
Gather Your Materials
This is the part that holds many churches up. For most of us, budgets are tight and we want to be responsible stewards of our church's finances. But you don't need to go out and buy $5,000 worth of gear. Here are the few things you need to get started that cost little to no money.
Smartphone: Most of us already have a phenomenal camera in our pockets. Almost all smartphones have very high-quality cameras that shoot in HD and are familiar and easy to use.
Tripod: One of the most undervalued tools for a videographer is a tripod. If you have ever tried to watch a video that was shot without a tripod, you know how bad it can look. Using a tripod keeps your footage from looking shaky and jarring. There is a wide variety of amazing tripods out there, but a cheap one like this 60-Inch Amazon Tripod is more than enough for the short-form content you're trying to make.
Phone Tripod Mount: If you decide to use your phone and you make the great decision to use a tripod, you'll also need a way to attach your phone to the tripod. Something inexpensive like this Universal Smartphone Tripod Adapter will get the job done.
Lavalier Microphone with 3.5 mm Output: Another aspect that can make or break a video is the audio. Invest in a decent, affordable lapel microphone that plugs directly into your phone so the audio you capture with your phone will sound good.
Computer with Editing Software: If your church doesn't have a computer you can use, you may have to purchase one, which can be pricey. However, most churches these days have at least one computer around, or you can reach out to your members to see if anyone has one you can use. As far as software goes, you get what you pay for, but to get started there are still some decent options that are free.
Prepare for the Shoot
Once you know the type of video you want to shoot and what kind of gear you need, it's time to prepare for your shoot. Here's a step-by-step guide to getting ready for your shoot.
Find Your Location: When deciding on a location, there are a few details you'll want to keep in mind. You won't want to shoot in a noisy location, like a room with a loud fan. If you plan on shooting outside, you'll want to do so on a day that's not windy. These sounds will be picked up by your microphone and are not easy to get out in post-production. You'll also need to choose a location with good lighting. When it comes to video, it's always better to have more lighting. My favorite locations are ones with natural lighting, like near a window (but not in direct sunlight), as it helps to give nice even lighting.
Schedule the Shoot: We all have busy schedules, so working ahead is very helpful when trying to schedule a shoot. Find a time that works for everyone when the location you have chosen is available.
Prepare the Person You're Filming: Before you show up to the shoot, it's helpful to know what you want the person to say. You can either prep this on your own or collaborate with the person you're filming. For example, if you're shooting a testimonial video, it is helpful to send the interviewee a list of questions you'd like them to answer or a list of certain stories you want them to tell. That way, they have time to think through what they want to say. This will help them feel more comfortable sitting down in front of the camera, which can be quite intimidating if they're not used to it.
It's Time to Shoot!
When you finally reach your scheduled day to shoot, there are some things you'll want to be ready for. First, be sure the location you chose is still a good option. You may not have realized that your neighbors were starting a large construction project that morning, so it's a good idea to have a backup plan in case you need to make a last-minute location change.
It's also a good idea to get to the location fifteen to thirty minutes before the person you're interviewing. That way, you can have everything set up and ready to go when they arrive, as you want to respect their time.
You may want your video to be a certain length, in which case it will be helpful for the interviewee to have a stopwatch or timer near the camera that they can glance at occasionally. If the person you're filming is used to giving presentations like this, you should be able to jump right in and let them talk. However, if the person is a little more nervous or has a hard time choosing their words, it may be helpful to have a second phone and tripod set up recording another angle. That way, you can let the person stop to collect their thoughts, and you can cut that part out easily when you're editing by switching to the second camera.
When your interview is finished, it's always a good idea to look back through your footage and make sure the sound turned out and that you don't need to recapture anything before the person leaves. It's hard enough to work out your schedules the first time!
Move On to Post Production
Once you have finished your shoot, it's time to move on to post production. The first step is to download the video from your phone to your computer. Once the file is on your computer, open your editing software and import the files into the software. Learning to use your editing software can take some time, but there are many good tutorials on YouTube that walk through the steps. You may not be using the exact same software you see in the tutorial, but for the most part, the basics apply for whatever software you're using. When editing your video, you can add in whatever graphics, images, and text you'd like, but it's best to not go overboard as too many of these things can make the video look busy.
When you are done editing your video, export the video from your editor and upload it to whatever social media accounts you'd like. At our church, we upload all our videos to our Vimeo channel, but we also post certain videos to our Facebook page as well. Vimeo doesn't get as much traffic, but it's a great place to store and organize your videos. Facebook, unlike Vimeo and YouTube, is not made specifically for sharing videos, but the more videos you share on Facebook, the more likely it is that your posts will be shared by followers and attract discussions. The more places you share your videos, the more likely they are to be seen, and the more opportunities there are for the Gospel to be proclaimed in your community!
---
Subscribe to the blog to receive notifications about more content like this.