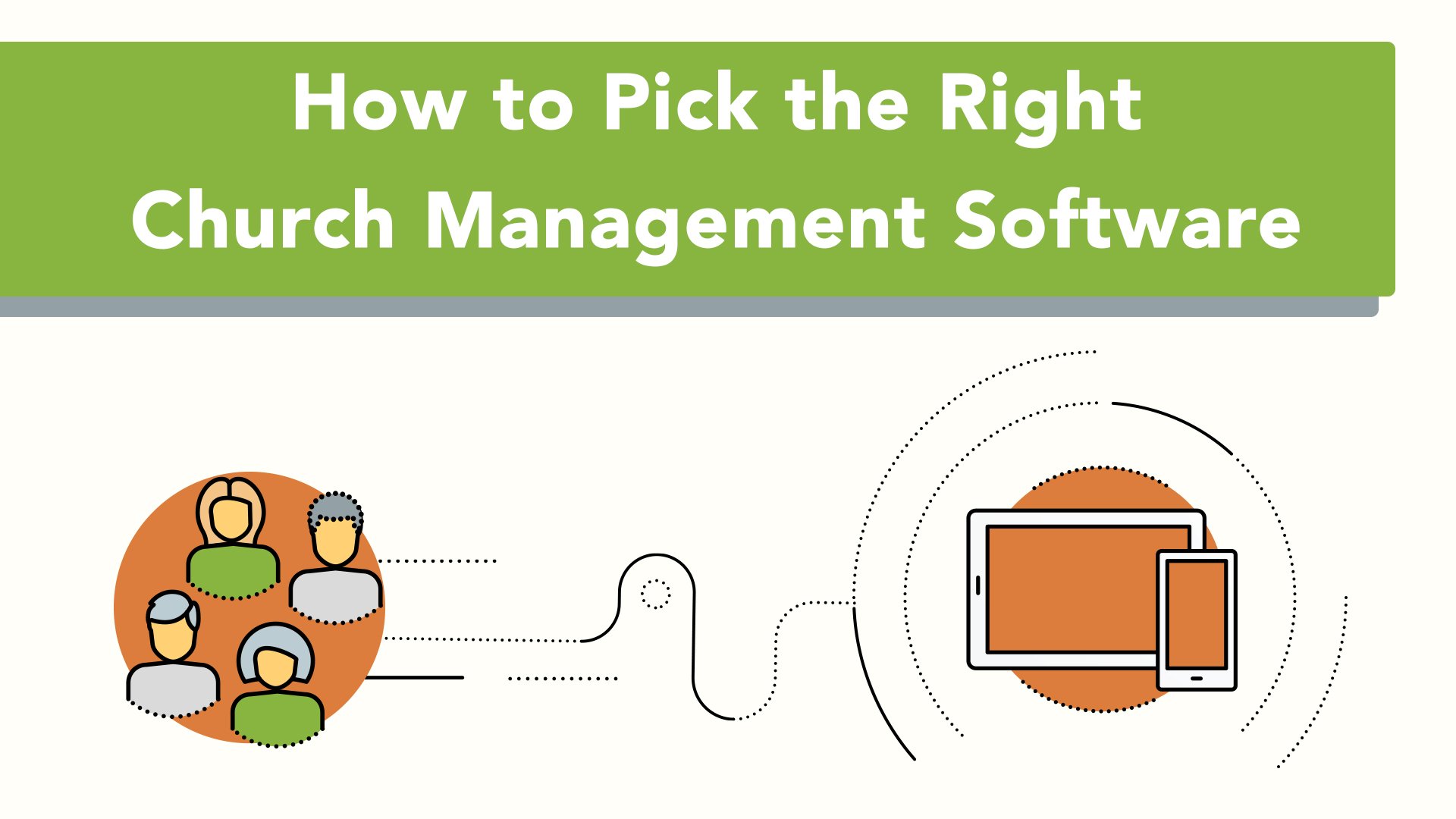 There's a good chance that "How to Pick the Right Church Management Software" wasn't a class you or your pastor took in college or seminary. Every church has its own unique needs, so every church needs to make its own decisions on what tools will make a difference in its ministry.
While those who are called to lead and work in churches are trained to have the skills necessary to shepherd a flock, they are probably not trained in how to navigate some of the modern digital tools available to churches.
To help remedy this, our team of church management software experts compiled a checklist of the most valued features to look for in a software provider so that you know no matter what you choose, you will be getting everything you need to fulfill your church's digital needs.
Four key considerations to make when choosing a software solution are flexibility, utility, adaptability, and simplicity.
Flexibility
First on our list for you to consider is whether your software can be used away from your desk. Ask yourself, "Does this software allow me to manage my church wherever God takes me?" We recommend that your software can move with you. From pastoral calls to home visits to working in an office or at home, you should be able to manage your church from anywhere.
Church Management On-the-Go
You should also be able to access your software anytime during your busy day via laptop, desktop, or phone. An Android or iPhone app makes for easy access to core features.
Online Directory
Digital contact information, including private pastoral notes, for members or visitors is vital.
Utility
Next, it's important to evaluate what digital resources your church office and congregation need to ensure your software can measure up. Asking yourself, "What important features are available to me?" or "What jobs do I need my software to accomplish?" can help shed light on what capabilities your software choice should have.
eGiving Integration
Can members and visitors donate digitally, even while away from the church? Multiple formats should be available such as a phone app or online platform.
Attendance and Funds Tracking
You will want software that can take and sort attendance by groups to keep up-to-date on the activity in your church. It should also keep detailed tracking of your mission-related income from every avenue.
Digital Essential Records
Of course, your software should track your church's mission progress such as pastoral visits and outreach. It should also input records of individual members such as Baptisms, confirmation, and weddings.
Adaptability
The next question that you should ask yourself and your team in your search for the right software product is "Can I customize this software to my congregation's wide-reaching needs?" Your management software should be able to show you who your congregation is while tracking every aspect of your unique members; you will need the information to run your church. Don't forget to look into personalized messaging features as well! Being able to communicate with specific groups of your congregants will give you the ability to engage with them based on their values, needs, and interests.
Congregation Sorting
The software should group individual members into designated households and categories such as marriages, children, and church groups.
Custom Organization
Using custom smart fields, tags, groups, and household breakdowns to keep track of families, members, and visitors is critical. You will also want to follow trends and individual priorities with information such as Sunday School attendance, volunteer participation, and staff involvement.
Personalized Text and Email Pushes
The software should engage and inform your congregation of important events, church announcements, and emergencies with SMS and email.
Simplicity
Lastly, since those who work in your church come from all walks of life, it's important to ask, "Will other users in my church be able to easily use this software?" It is important to ensure that everyone that needs access to your church management software can get it and can quickly understand how to use it without hours of training.
Staff Support
Software should allow for an unlimited number of users so individuals can manage their respective responsibilities. It should also have the ability to categorize users to limit what they can or cannot access for your privacy.
Health-of-the-Church Reporting
The software should compile insights, trends, and analytics on the overall health of your church to give a statistical snapshot of your congregation.
Online Training
Free webinars, blog posts, and a digital array of tools can show you tips and tricks to help you on your path to using your software and amplifying your ministry.
At the end of the day, we at Concordia Technology Solutions want to do everything we can to help you navigate your ministry, whether that's tailoring church management software for your congregation's needs, creating resources for church communications best practices, or researching new solutions to empower you in your mission to spread the Gospel. We work day in and day out to serve churches like yours.
---
Download our free checklist, Evaluating Church Management Software: Four Essential Questions.