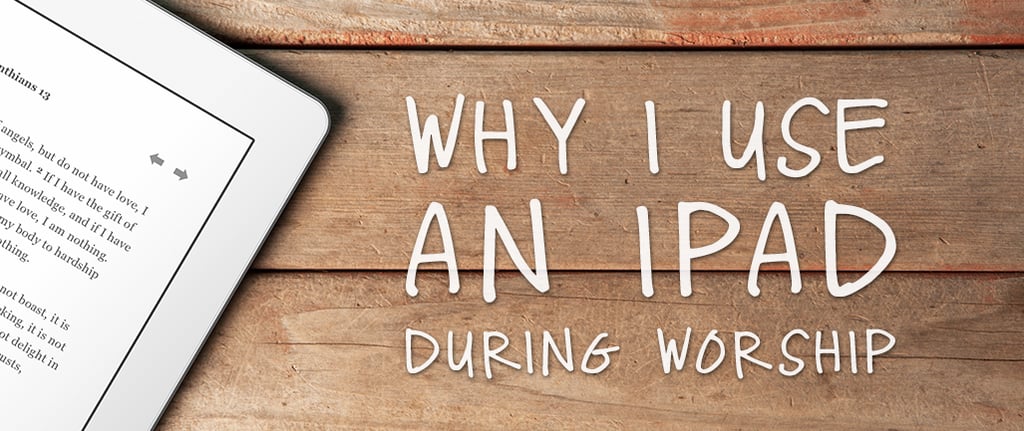 "It's already a big enough change that a pastor is using an iPad to lead service." An innocent comment, but it struck me nonetheless.
I had recently accepted a call to a church where the other pastor was retiring. I was called to be the Senior and then Sole Pastor. Talking to the soon-to-be-retiring pastor, I mentioned that I hoped to change as little as possible the first year (a new pastor is usually change enough!). And, that is when he made the above comment.
Using Technology During Worship
Varying opinions
Technology is a wonderful thing. It helps us make life easier (at least when it works correctly). I am willing to bet that few readers would be willing to trade back their cars for buggies, washers and dryers for washboards and clothes lines, vacuums for brooms only, etc.
Technology in and of itself is completely neutral. It is neither inherently good or evil. And that is why I was surprised to learn there is such a wide range of views on whether or not the pastor should use a personal technology device to lead worship.
Why I use an iPad to lead services
Obviously, from the opening sentence, you can guess where I stand. It was a simple enough decision.
My wife's uncle, a pastor on Long Island, was using an iPad to lead service way before I was. He did it in a setting that is very high church: aspergillum, all the robes (not just the alb and stole), incense, and lots of chanting. I figured if it worked in an environment like that then it would work in my more . . . relaxed setting. After about a 30-minute discussion over how he liked using it, I was convinced—if I ever got a mobile device, I would use it in worship.
Plus, now that I have a personal iPad, using it during worship has quite a few benefits:
Doing some crude mathematics, I figure I am saving around 750,000 pieces of paper over the course of my ministry, since I do not need a printed bulletin nor my printed sermon. I am not the super-greenest guy, but I do like that I am helping a few extra trees stay alive.
I can enlarge the text on the iPad screen if need be, which is nice if I take my glasses off (I imagine this will get to be more important the older I become).
Everything is in one place. There is no need to fumble around from bulletin to hymnal to sermon pages and in between. I also do not have to worry about pages getting put out of place (whether accidentally or a prank by one of the church's youth).
And, something I really like—I am not tied to the pulpit when I preach.
That last one was the tipping point for me. I like to move when I speak, and I always feel restricted in a pulpit.
Other technology in worship
Now, this is just one example of how technology can assist our worship services. Many churches have sound systems. Some even have projectors or TV monitors where the entire service can be put up on screen. This cuts down on paper and has the added benefit of being able to use pictures to help illustrate the theme of the day or season and also the sermon.
Some churches now have messaging services or Twitter accounts where the congregation can ask questions during the sermon and the pastor can answer them live. To me that is wild. I can imagine doing a series on some of the more difficult to understand texts in the Bible and answering people's questions immediately.
Two caveats
Of course, there are two huge caveats in using technology in worship.
First, have a backup plan if it does not work.

At my first congregation, we had the bulbs burn out on one of the projectors. The other projector was on life support. For about a month, we had to fully print the bulletin in case the one working projector died mid-service.


Second, you or the person using the technology needs to actually know how to run it.

That seems simple, but having trained people is a must. You would not expect your child to know how to use the lawn mower if they were never shown, would you? It is the same principle if you are going to start using an iPad or similar device in leading worship.
Be familiar with it and practice a few times before actually using it during a service. Sound boards are intimidating, even digital ones that have fewer buttons and knobs than analog boards. You really want the person sitting behind it to know what they are doing so you do not get things like mic spikes, audio muted at the wrong time, etc.
Technology as support for the pastor
Of course all this is just the tip of the iceberg when it comes to using technology in worship. There are a lot of other things that could be broken down and discussed. But, as far as a pastor using it to support his own work during a worship service, I believe technology is a wonderful thing.
---
Don't replace your ministry with technology!
Our ebook, Technology & Your Ministry, illuminates how your church can effectively use technology to increase efficiency, leaving the ministry to you.