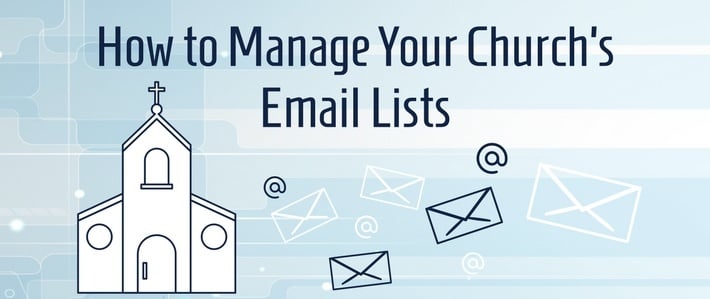 Even in the age of social media, email still proves to be more effective than social media when reaching people. In the last five to ten years, email providers, email clients, and government regulations have combined to provide better management, more personalization, and less spam for an overall better email experience. Unfortunately, many organizations (even churches) don't use email to its fullest and can end up abusing it.
The best way to leverage email is to properly manage your lists so you can provide the most relevant content to the right audiences. Here are some principles of list management to help you make the most of email communications.
Grow Your List
It's hard to have an effective email strategy if you don't have anyone to email. Growing your list may seem tricky, but here are some simple places to ask for email addresses and easily gain new ones.
Sunday Announcements
Sometimes the best way to get emails is the simplest—to ask for them. If you've never asked for email addresses or if it's been a while since you have, write a bulletin blurb, put a request in the newsletter, or ask for email addresses during the morning announcements.
New-Member Forms
Making it a standard practice to get email addresses from new members is key for long-term email effectiveness. If a field for email addresses is not on your new-member form, add it today.
Attendance Cards
Does your church take individual attendance? Include a spot on the attendance cards or in the guest book for individuals to write their email addresses.
Prayer Cards
Always ask members to include their email addresses when submitting prayer requests. Better yet, create an online form for prayer requests and make "email address" a required field.
Prune Your List
Pruning your list is almost as important as growing it. Pruning ensures that your list nevers grow stale. Remember that removing an email address from your list when a recipient requests it isn't a big deal.
Provide a Way to Opt Out
Almost every email service will require an opt-out link in the bottom of your emails because of CAN-SPAM requirements. If you don't use an email service, it might be appropriate to consider a line like this in the footer: "No longer want to receive these emails? Reply with UNSUBSCRIBE as the subject."
Create a Detailed Footer
It's a best practice to include some standard information in your footer. Provide your church's name, physical address, and why the recipient is getting the email. If you aren't using an email service, create a standard footer and save it as a signature.
Keep the List Up to Date Everywhere
Churches often have people's contact information saved in multiple places, like the email service, church management software, and the church directory database. If it's necessary to have these different sources, be sure to update all of them when someone's email address changes.
Establish Each Person's Primary Email Address
Some people have several email addresses and use them all regularly. So ask which is their primary email address and mark the other addresses as inactive. That way, you won't send them the same message in several different inboxes.
Use Your List
Your email list means nothing if you don't use it. Be sure to email responsibly; nothing will ruin your strategy more quickly than oversending or sending irrelevent messages.
Test by Thanking People for Subscribing
Send each recipient a thank-you email when they give you their email address. This is a nice way to acknowledge that you received the email address, and it helps you quickly catch bad email addresses or typos in them.
Use the List Regularly
The more regularly you send to your email list, the more habitual it will become for recipients to rely on the information in the emails.
Keep the List Private
If you're using an email service, this won't be a problem. But if you're not, make sure to use BCC (blind carbon copy) whenever you have a list of more than a few people.
Respect Recipients' Time
Emails that can be read and dealt with in under two minutes are the best kind of emails. Lengthy emails with lots of information will be ignored until the reader has more time (or they'll just be ignored completely). Keep your message short and to the point.
Don't Send Every Message to Every Person
Churches should always have more than one list. A list is just a collection of email addresses, and there is rarely a one-size-fits-all email message. Even when you invite people to the church picnic, you should have different messages for members and potential visitors.
Through the right amount of management, email can be a great communication tool for your church. Try implementing the strategies above, and leave a comment if you have any other great ideas!
---
Learn more about the use of technology in your church by subscribing to this blog!