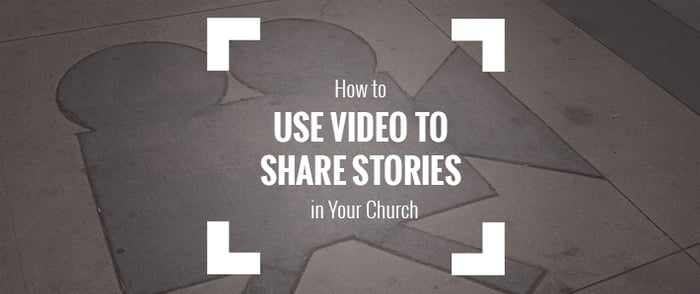 People love stories. Look around you, everywhere you turn you see a story being told. Your Facebook or Twitter feed is full of small stories from people's lives. Books, movies, music; they all tell us different stories.
As Christians, our main focus is on communicating the greatest story ever told; the story of God's redemptive work through the life, death, and resurrection of Jesus Christ.
One way that our churches can engage with members and visitors is to use storytelling to help people understand how the Gospel message intersects with their own story. Technology continuously gives churches new ways to share the message of Scripture as well as their own stories of how God is working within their congregations.
Websites like YouTube and Vimeo are all about sharing people's stories through videos. Many churches are finding this to be an extremely effective way to share their stories.
Where These Stories Can Be Used
There are a number of ways churches can use video storytelling within the context of their different ministries:
Worship Service – you can create a quick video story that introduces the focus of the service for the day or use a story to help support a point the pastor is making.
Website – you can post stories that advertise for upcoming/past events at your church or just share a video that shows visitors what your church is all about.
Classroom – you can use video in an adult Bible study or confirmation class to give a real-life example of whatever topic you are talking about.


Social Media - you can posting your videos to allow your members to share your church's stories with their followers.
Equipment You Will Need
Using video to tell stories in your church will require some equipment, but you don't need to have a million-dollar budget to get started. If you want to begin using video to tell your stories without a ton of financial strain on your church, you could start with what you already have.
Most people these days carry around pretty decent cameras in their pockets every day: smartphones. While it doesn't have all of the qualities of an expensive film camera, your smartphone can let you begin to film the stories in your congregation at little to no cost.
Eventually you may want to invest a little more in your equipment, to make the quality of your videos match the quality of the stories within your church. Fortunately, the cost and size of good film equipment has decreased considerably within the last few decades. Here's a list of some good equipment to use if you want to get some good looking videos to showcase your stories.
Camera
Canon 7D - They may look like a typical photography camera, but digital single-lens reflex (DSLRs) cameras are capable of taking such beautiful looking video, that many indie film-makers and even more well-known film-makers are taking advantage of the inexpensive yet high quality gear.
Lens
Canon EF 50mm - The Canon EF 50mm Prime Lens is a good lens for shooting in any situation (you'll just have to move around a little to get the shot you want). Many times cameras like the Canon 7D will come with a zoom lens, meaning you can zoom into what you're shooting without moving your feet. However, these lenses tend to perform poorly in low lighting situations (unless you dish out a LOT of cash).
Tripod
Manfrotto MVH500A - It may seem like the camera is the most important piece of gear for filming, but if your film is shaky, it will look pretty bad. Getting a good tripod will keep your camera nice and still while you shoot. I'm a big fan of Manfrotto, but really most tripods will get the job done.
Portable Digital Audio Recorder
Zoom H4nSP - Having good audio will go really far in improving the quality of your videos. A good audio recorder, like the Zoom H4nSP will allow you to record great stereo audio with the built in microphone or an external microphone.
Microphone
RodeLink Wireless - A wireless lavalier mic will not only give you crisp and clear audio, but will also allow you to capture the audio and film at the same time without having to hold a large boom stand.
Video Editing Software
iMovie (Mac) / Movie Maker (PC) - While there's other video editing software out there that has many more bells and whistles (my personal favorite is Adobe Premiere), free editing software, like iMovie for Mac or Movie Maker for PC will allow you to do the basics of video editing. That's probably all you will need for most videos you would do for your church.
The Filming Process
Once you have all the gear you need to begin filming the stories in your church, you will need to figure out what style of video will be most effective for the story you are trying to tell. The style you choose will depend on your specific context and subject. Here are some styles of videos to get you started:
Interview - You may want to interview a person in front of the camera and just let them tell their story. This could be out in a specific location or in a studio, in front of a white or black screen.
Documentary - Many times documentaries will utilize an interview style of storytelling. In a documentary style, you will want to record a lot of b-roll (supplementary footage) of whatever the person is talking about. That way, you can cut between the person talking and images or videos of what they're talking about. Having a good variety of shots will keep a documentary style film engaging and exciting.
Photo Slideshow - In order to promote an upcoming event or share what happened at a previous event, you may want to put together a photo slideshow. This is probably one of the easiest types of videos to create. With some good pictures and a Ken Burns effect, combined with music to fit the mood of your video, you can really show off the ways God is working through the events in your church.
Comedy - As the Skit Guys have discovered, Christianity is not void of comedy. Finding a clever or witty way to share your story can really create a buzz around your ministry. In my previous work as a youth director, I used this style of video constantly. For example, check out this video I made a few years ago with my good friend Paul to get our youth excited about our week-long service outreach event in our community.
When to Use Video
As much as you may want to, you probably won't have the time to create a good quality video for every event, sermon, or ministry in your church. Videos take a lot of time and effort to create, so you'll have to do some intentional planning.
It is a good idea to find a time to regularly meet with your church staff and lay-leadership to talk through what stories you have that would be good to share, and schedule out those videos to give you time to create them. In my opinion, quality definitely beats quantity every time.
A critical first step of this process is to talk with the people in your church and try to find these stories. Your members will have tons of great stories about how the Holy Spirit's work through the Word and Sacrament has affected their lives. The videos of these stories can really help you demonstrate the phenomenal ways that God continues to work through His Church.
---
For more content like this, subscribe to the CTS blog Technology & Your Ministry!