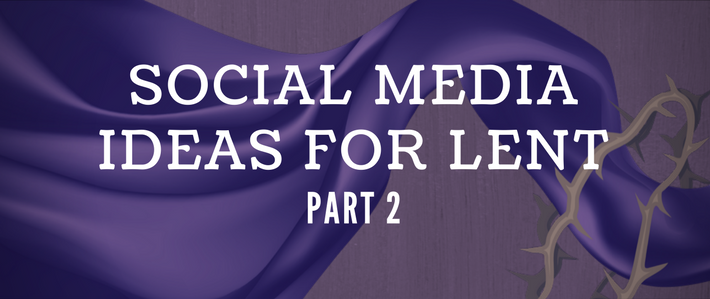 Peace in Christ Jesus! Once again, the calendar flips and it is the season of Lent. Previously I wrote about six ideas for sharing about Lent on social media. This year I am back with some more. So, without further ado, I present to you: Social Media Ideas for Lent, Part 2!
Share a Weekly Video Message
This is one I have seen a few churches do. It is different from just taking the pastor's sermon and videotaping it. (Raise your hand if you remember video tapes!) Rather, it is more akin to a fireside chat. It could be something prerecorded, edited, and then posted, or you could just as easily use Facebook Live. Because there is a lot of range, there is also a lot of flexibility. Topics could be carefully laid out with exact scripts or the pastor could do it more off-the-cuff. I have even seen a few churches do an "Ask the Pastor" video this way. Because of the nature of social media, immediate engagement might be lacking, especially if the video is done at 2 p.m. on a Monday. So, some care and preparation should be taken. With a live-question setting it is always good practice to have a few questions already queued up by soliciting questions beforehand. Don't know where to get questions? I can email you some from our anonymous question box that we have for my congregation's confirmands.
Host an Online Study
People tend to take their faith more seriously during Lent. Unfortunately, that does not mean that they suddenly have much more free time. If you're thinking about doing a special Bible study during Lent, why not do it online? This is something that could be run through Facebook or Twitter fairly easily and simply adapted to each platform. An open (or even closed) Facebook group would be perfect and could continue the conversation throughout the week without getting lost in the clutter.
Lead a Digital Pilgrimage
This idea can be tied into hosting a study. The cool thing about this is that it could be either geographic or more artistic. Some readers might want to avert their eyes here, but did you know that you can do the Via Dolorosa through Google Earth? (It does require downloading the application onto your computer.) You can also create your own "tours" for others to download. Or, you could run something through the blog page on your church's website, doing a different spot each day or week.
Have a Daily Call to Prayer
Offer online to pray for people. Send out a tweet, Tumblr post, or Facebook post asking for people to send in their prayers. You can either gather the prayer list at a certain point during the day and pray all the requests at once, or stop and pray as each new request comes in. This is also a simple way to engage the wider community outside of your church members, especially if you encourage members to share it. You never know what might happen when you take the time to pray for someone.
You could even organize volunteers to pray also. It is truly impactful when somebody lists a prayer request and a member responds, "I am praying for you right now." This is also a way to generate contacts for potential new members. If somebody asks for a prayer, be sure to follow up and see how that person is doing.
An inverse of this is to give out a daily prayer focus. It is not hyperbolic to say that the list of options is endless. One day could be for your district's president, the next for your church's school. You could take your lists of households and divide it by 40 (or 46) and so each day simply put out something like, "Today we pray for the Adams, Allen, Applehans, and Bahr families." You could even write a suggested prayer for people to pray or use one of the intercessions in Lutheran Service Book or Pastoral Care Companion.
Tell Stories of Faith
Lent is a season about repentance, about dying to sin, about dying to oneself. In an abstract sense, it is a form of martyrdom. Speaking of martyrdom, just about every Christian knows about Paul, but how many know about St. Ignatius and his powerful letter to Christians in Rome written on his way to martyrdom? Lent is a great time to highlight some of these lesser-known saints and their faithful witness to the hope they have in Jesus Christ. There are stories all over the place about people standing up for their faith or refusing to renounce it no matter what. I could tell you about two little old ladies in Russia who, as little girls and along with all the Christians (mainly Lutherans) in their village, got shipped off to Siberia for a year with no provisions because they refused to renounce their faith when the Soviet authorities demanded it. Or I could tell you stories of German Lutherans who migrated to the United States in the mid-1800s just so they could help slaves escape the American South. That's right; turns out more than a few German Lutherans made up various arms of the Underground Railroad. Or what about somebody who is battling cancer (or has in the past), and how their faith helps and in what ways it has been strengthened? These are all stories and people who could be highlighted with either in-depth articles or just brief synopses.
The devil has been attacking believers since the third chapter of Genesis. One of the ways he does it today is by getting people to think they are all alone, that nobody could possibly relate to what they are going through. Sharing these stories, or ones like them, is a great way to reach people where they are. It is also a reminder that even in the troubles of this world, including the valley of the shadow of death, there is Jesus. The ransom paid, the battle won, our Shepherd and Protector standing victorious over the grave and all the weapons of the great enemy come to naught. After all, a mighty fortress is our God.
Other Ideas?
What else can you think of or what have you seen? I am always looking for new ideas for how to share that age-old story that we shall sing together in glory.
---
Jump start your Lent social media efforts with this free graphics kit for churches.