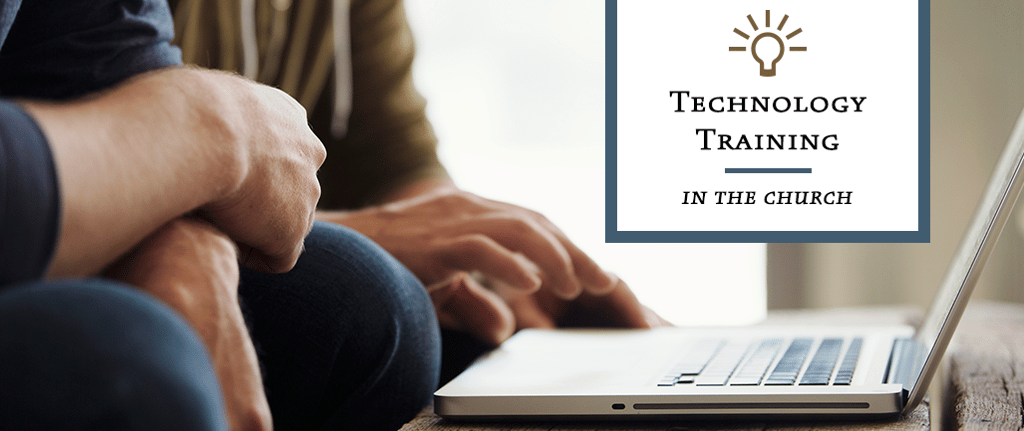 Change is hard. Change is inevitable. Embrace change. Help others embrace change.
We all know that technology changes weekly, daily, and even hourly. The way we communicate and connect with others seems to change on a dime—and sometimes in ways we would have never expected.
It is our job as communicators to connect with and communicate to an age range of tweens – 90+. Many of our members embrace the technological world and its changes. Many use smart phones, computers, tablets, can text, or video chat. But let's not forget those that are timid to change or learning new things. Technology can be overwhelming and at times even terrifying.
This past spring we decided to offer technology training sessions. Members could sign up for a 30 minute session with me, the church communicator. I offered 2 blocks of time (one on Wednesday morning, and one on Wednesday late afternoon).
We made church announcements in the bulletin offering this training time that ultimately allowed the "student" to pick the topic. (We gave examples of smartphones, tablets, computers, social media, texting, and emailing.)
The first week I had one man show up, but as the weeks passed 3-5 individuals were coming in to learn and to help each other grow!
I'd like to share my experience with change, technology, church communication, and what I learned.
Even the professionals have their limitations
Each week I met with 3-5 individuals. To be completely honest sometimes they asked me questions I didn't know the answers to, which we researched together through Google. I'd remind them, that even I had technology problems (if only they knew to what extent). That I too got frustrated with technology.
New technology isn't just for young people
Almost anyone can pick up something new with a little bit of patience and hard work. Over the months that we met, the time I set aside to help these individuals was not directly related to church communication. Yes, I made sure they were all signed up for the weekly emails, but each week they came to me with their goals. One woman wanted to learn how to set up a spreadsheet in Office. One asked me to help her delete emails and texts and help her add contacts on her iPhone. A man requested if I could help him sync his PC, iPhone, and iPad to iTunes. One desired to learn to send text messages.
To see the growth among these individuals is truly inspiring. They came to me with the desire to learn something new and to try something that might have seemed scary. After rolling up their sleeves and committing to practice all of them achieved their goals!
A man, let's call him Mark, called one morning and told me that he had never used a computer, but wanted to learn so he could email his friends and family and communicate through Facebook with his granddaughter. Over the months we met, Mark diligently worked to learn Gmail and Facebook. Each week we'd set a new goal for him to attain. Send an email to a friend. Like and comment on Facebook posts. Read the weekly church email.
Mark is currently on vacation, but one of the last times we met this summer he told me his next goal was to learn to type—touch typing. Oh, this made me so happy! To know how far he had come and to see how he still wanted to learn made my heart rejoice!
We need more encouragement
We need to encourage each other more and celebrate the small and big accomplishments. To many, each step for Mark may seem small, but for Mark were great accomplishments. I am so proud of him!
Jesus is in the details
Since this spring I've worked weekly with a small group of people who I probably would not have met otherwise. Each Wednesday I looked forward to seeing them and what challenges we'd overcome together. That first week, it started with me trying to encourage the group to learn and grow, but it ended up with them encouraging and celebrating each other! In addition to technology, we talked about life, our families, our vacations, we laughed, offered prayer requests, and talked about our love for Jesus.
Friends and blessings can be found in unexpected places
The individuals I met with initially came to me to for help, but I truly believe they blessed me more than I ever blessed them. On that first spring morning I walked into a room of strangers. I was a little nervous to see how this would all turn out. Weeks later as I returned to my desk I smiled and realized the blessings that these individuals were to me, and realized that God sent me a room of unlikely friends.
---
For more content like this, subscribe to the CTS blog Technology & Your Ministry!