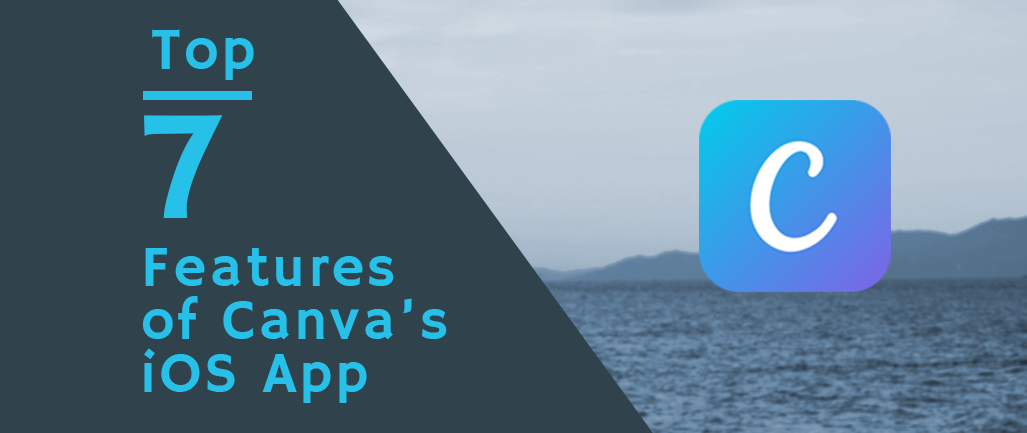 Canva brings high-quality graphic design within reach for anyone. Their on-trend designs, beautiful stock photos, and easy-to-use interface have made the web application very popular, especially among business professionals. Their iPad app has seen solid success since it came out in 2014. In July, Canva finally released a mobile app for the iPhone!
I love Canva, but these days I'm only sitting down at a computer once or twice a week. As a photographer and a mom, I spend most of my time running around with either a camera or a toddler hanging on my neck (sometimes both simultaneously). So, I often work on my phone during whatever quiet moments come my way. Seize the day, right?
There are plenty of other design tools online and available as apps. I enjoy using Fontspiration and Font Candy to design social media graphics. Both are rather limited with it comes to templates, though. The former only creates square posts, however, and the latter has just a few templates available; most are just ratios, like 16:9 or 4:3. Which brings me to my first of seven great reasons to love the Canva iOS app!
Top 7 Reasons to Love Canva's iOS App
1. Templates
Canva's app stands out from other apps because of the number of specific templates. They will take you from "I need _________" to uploading or printing the finished design in a matter of minutes.
The app features some (though not all) of the templates found on their web application. You'll see social media posts for Instagram, Facebook, Twitter, and Pinterest, as well as Facebook and YouTube covers, presentation slides, blog graphics, and print pieces like flyers and invitations. You can also switch templates without starting over by going to Layouts at the bottom of the app.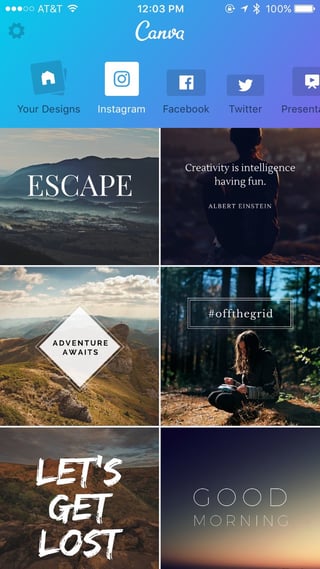 2. Photo Editing Tools
The photo editing tools are simple but familiar (especially for an Instagram user). You can apply filters, complete basic edits for photos. If you need more elaborate editing tools, try one of these editing apps.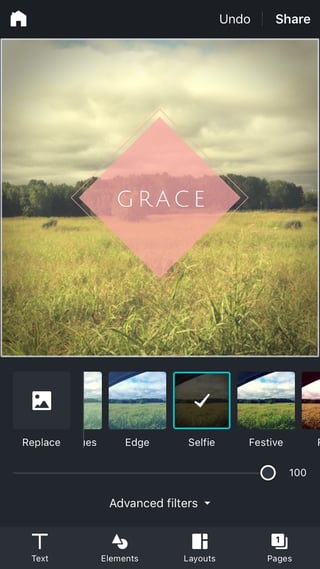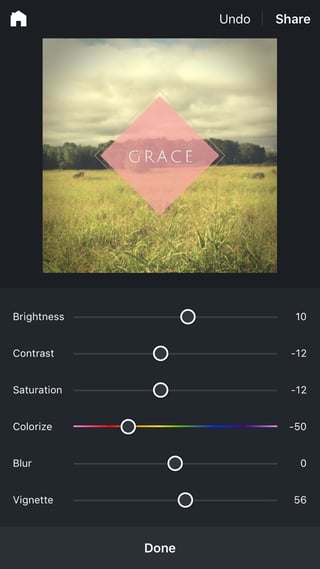 3. Stock Images
Premium items like stock photos and certain designs are still only $1 each, and you can of course add your own pictures from the camera roll. But I love that you can access quality stock images right from within the app, and at such an affordable price.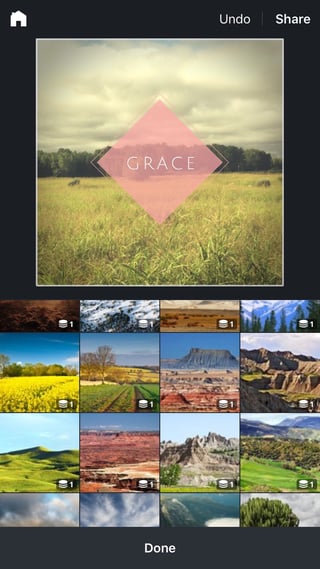 4. Color Picker
I really like how the color picker shows the HEX code of your color choice, making it easy to know if you're sticking to a predetermined color palette or match a church logo color without just guessing.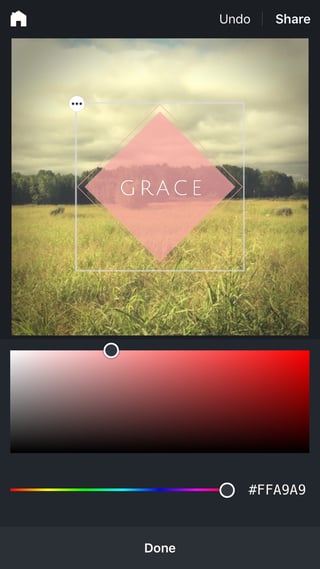 5. Design Elements
When searching through the graphics under Elements, at first I thought the selection was sorely limited. Boy, was I wrong! Try searching a key word to see what pops up.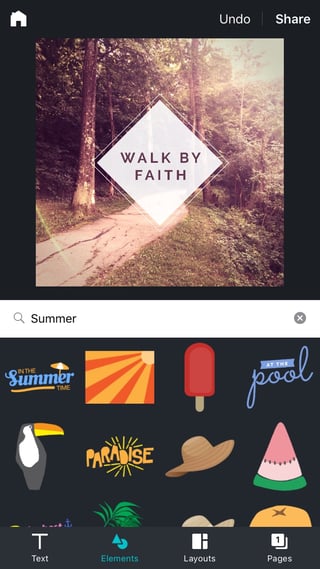 6. Fonts
When approaching text in the app, you can do one of three things. Modify the text in the template, choose a new text template, or add a new basic text box. You can choose your font, size, spacing, etc. Many, though not all, of the fonts are powered by Google Fonts.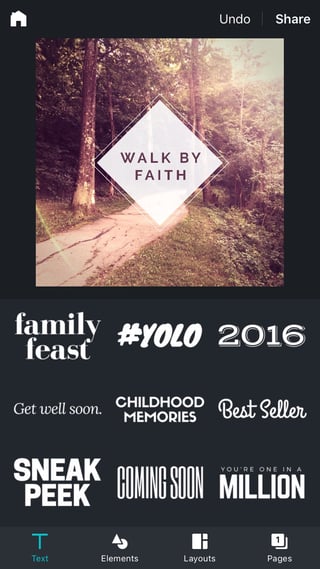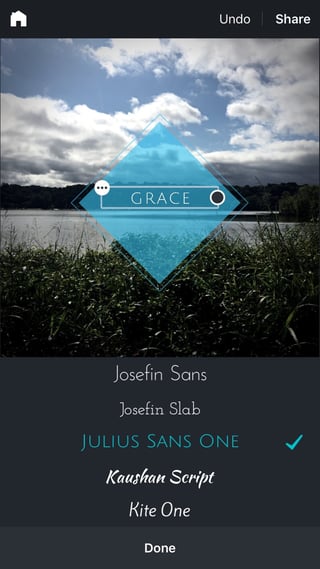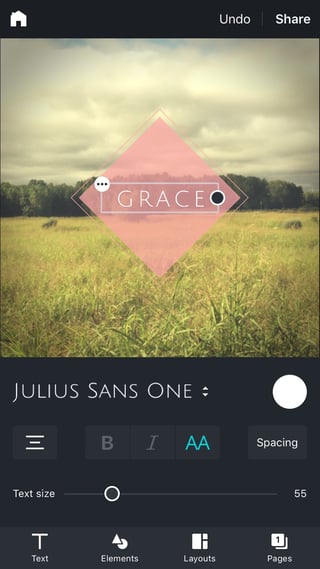 7. Speed
Canva's app excels at making mobile design fast. This article from Mashable quotes Cam Adams, Canva's chief product officer, saying, "We focused on creating a design really quickly and making it unique and post-able to social."
Because you can go from inspiration to finished design all in one place, the app can really speed up your process. Find a good design, choose an image from their stock or upload your own, adjust the image, adjust the text, add design elements, then share away. SO easy!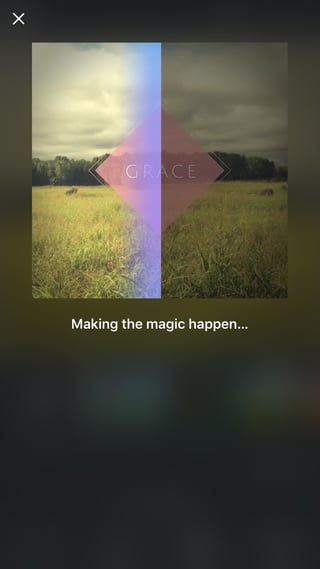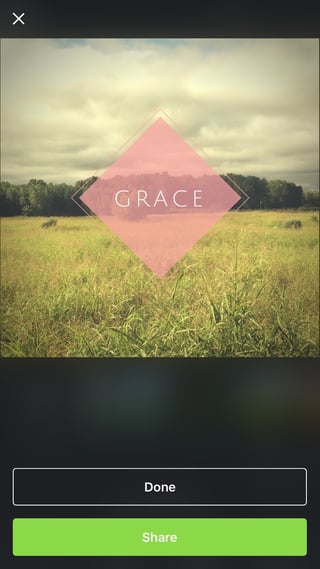 Canva for iPhone is quick, simple, and oh-so-smooth as it takes you straight from inspiration to sharing all in one place. I'd recommend trying it out!
Are there other design apps you like to use? Tell us about it in the comments!
---
For more content like this, subscribe to the CTS blog Technology & Your Ministry!