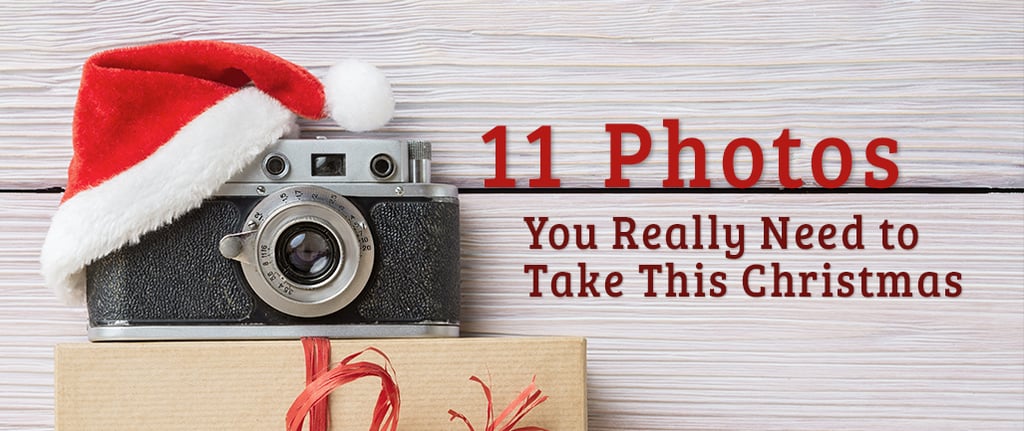 When I start working on my Christmas cards every year, I find myself wishing for a really awesome photo.
In the past, I've just bought nice cards and went with it. Last year, I forced my poor dog to wear a Santa hat (and plied her heavily with treats to get the shot).
This year, I really wanted a family photo on the front of our card. Weeks passed, things got busy, and I ended up taking a quick photo of my son in a little red hat. Super cute? Sure! But just not exactly what I'd had in mind.
While your church probably doesn't send out Christmas cards, I bet you use lots of photos on your website, on social media, and in other communications. When you put those together, do you find yourself wishing for just the right image but not having anything?
Including photos when you advertise seasonal events and worship services at your church doesn't take a herculean effort, just a little planning ahead—as in a year ahead! The pictures you take this year will be golden. The key is having a good shot list so that you think to snap the right photos when an opportunity comes along.
As you compile your shot list, try to match the pictures to your communications.
For example, plan to amp up your website to attract visitors next year with photos that help them get a picture of your service in their mind's eye. Or, entice newcomers to your women's ministry Advent by Candlelight with photos of the prettily decorated tables.
---
To get you started, here are 11 shots you can take this year to make your next-year self very happy!
1. Your church

Start by taking wide shots that capture large spaces in your church itself while it's decked out for the holiday season. For example, head up to the balcony and take a photo of the sanctuary. You can do this while it is empty, but try to capture it when people fill the pews right before service starts, too!
Next, take close ups of decorations and other details. This one is easy! Just walk around to capture details like poinsettias on the altar, greenery on the walls, or a nativity in a Sunday school classroom. You can do this while people are around or when the building is mostly empty.
2. The building
Next time it snows (if it snows in your area) head outside and snap a photo of the building exterior. If not, snap a shot of a seasonal decoration, such as the wreath on the front door that welcomes people in!
3. Crosses
While we celebrate Jesus' birth at Christmas time, we also look forward to the rest of the salvation story—to what Christ did for us on Calvary! You'll appreciate how photos with a cross help emphasize that connection.
4. Advent wreath
Photos of the Advent wreath will be perfect when you talk about your Advent services. Take a wider shot that shows an acolyte lighting the candles, or try a close up that focuses on the wreath, flames, and the colors of the candles themselves. Extra points if you can see the pews or a cross in the background of this shot!
5. Your pastor(s) in action
Show your pastor preaching from the pulpit. Don't worry—you don't have to disrupt service to capture this one. Just ask him to pose for a few pictures after a regular Sunday service. Make it seasonal by having him wear Advent vestments or including the tree or other decorations in the background.
Another idea: Take a few photos of him greeting the congregation after service!
6. Communion
Show members receiving communion. You'll want to take this picture unobtrusively with a zoom lens or ask a group to pose after service. Emphasize the holiday by capturing some of the sanctuary's decorations in the shot or by asking the group posing to wear festive clothes (think warm sweaters, red plaid, glittery gold accents . . .).
7. Before and after service

One of the unknowns for visitors is what to do before and after service. Do they hang up their coats? Or bring them to the pews? Are there coffee and donuts in between services?
Use photos to show the friendly atmosphere that exists between services. Ask members to smile pleasantly as you snap away while they talk to one another, sip coffee, or shrug on coats. A great shot would be two friends hugging and smiling as they greet one another!
8. Candlelight service
If your church holds a candlelight service every year, photos of those tiny lights in the dark can be really gorgeous. Show a large group of people in the pews or capture the moment as they light one another's candles.
9. Seasonal events
This is a big one! Many of your communications probably center around events, such as an Advent by Candlelight or maybe a birthday party for Jesus. Check out these tips on how to take great photos of events.

Think also of volunteer activities, such as the youth group serving at a soup kitchen or your members bringing in canned goods for a local food pantry. A photo of a smiling person serving the community really showcases the genuine warmth of the people your church!
Don't forget about smaller "events" that illustrate the fellowship happening in your congregation this time of year, such as a gift exchange at a small group Bible study or just members talking over coffee on a Sunday morning.

11. Music and performances
Does your church host a music performance each year? Showcase your musically gifted members! Capture the choir singing, hand bells being played, etc.
Another way to capture music in a photo is to show the title of a traditional, much-loved hymn. Try shooting over someone's shoulder to show an open hymnal. Or, take a shot of the sheet music on a piano or just with some holiday trinkets.
Another traditional performance is the Sunday School Christmas play! Who doesn't love photos of adorable kids dressed up as Bible characters? Be sure to get a parent's permission before posting pictures of minors online.
Now, two final tips:
First, try adding seasonal props or clothing to an otherwise non-seasonal shot. Pop in a poinsettia or have the people wear red plaid or a Christmas tie. But (get ready for it), here's a pro tip—while you're already set up, take a quick second shot without the seasonal flair. Now you can use that image in communications all year long!
Second, enlist the help of your members and collect the photos they take! There are some great ideas on how to do this in our blog post about Advent photo-a-day challenges.
Remember, this list is only a starting point. Use the ideas to inspire you! Capture what is genuine and wonderful about your church this season and you'll find it that much easier to pair great images with your church communications the next year.
---
What photos do you like to capture at your church? Tell us in the comments below!
Looking for more great ideas to streamline the work that happens in your church office? Download our free ebook "51 Ideas to Make Your Church Office Hum."