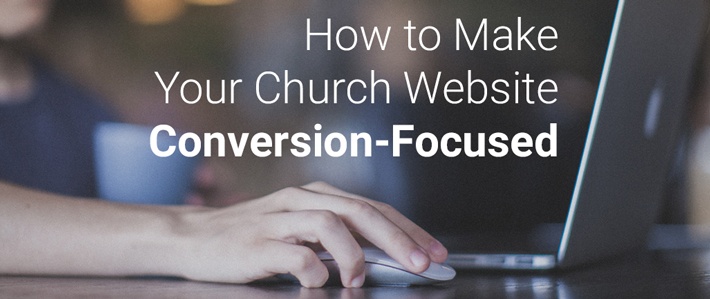 Have you ever converted anyone with your church website?
To be clear, I'm not talking about a digital altar call or anything like. I know the Holy Spirit can bring believers to faith through a variety of means, including websites, but that's not the type of conversion I mean.
In the marketing industry, a conversion is when a website visitor takes an action that leads to a business result. This could be an initial action, like adding an item to a shopping cart, or a final conversion, such as a completing a purchase.
Churches operate a little differently (ok, a lot differently) than businesses, but the idea of an online conversion is one lesson that can be applied to ministries.
Any website, whether it is for a business or a church, should have a purpose. With a purpose comes goals! Conversions lead to achieving goals, allowing you to track how successful your website is in achieving its purpose.
For example, the purpose of this blog is to show how technology can be used appropriately in ministry, and one of our goals is for our visitors to subscribe to the blog (by the way, have you subscribed to our blog yet?). The more subscribers we have, the more successful we know we are in helping people utilize technology in their church.
So, what are the goals of your church website?
Unfortunately, for many churches, a website is viewed as a necessary evil. The church has a website because someone at the church was told every church needs a website, so they find some willing volunteers to set it up and the office staff updates it as often as they can (which may not be very often). In this scenario, the goal is simply existence ("Yes, we have a website.").
But a website can, and should, do so much more than simply exist. Here are five goals a church website could have and the conversions that can be tracked.
Obtain In-Person Visitors
Probably the most common goal for church website is to attract more visitors to the church. This makes a lot of practical sense from a potential visitor's point of view. A website is a safe, non-committal way for visitors to find out more about a church and decide if they want to attend.
How do you track if your website successfully draws in visitors? First, I recommend having a specific page dedicated to potential visitors and make it very visible on your home page. Then, track the number of unique sessions that page has through a website tracking tool like Google Analytics.
Next (and this may seem overly simple) ask your visitors how they found out about your church. If your church uses attendance cards, include the question "How did you find out about our church?" for all visitors to fill out. Or, you can just ask the visitor when you engage them in conversation.
Improve Church Communications
Communicating with church members is a great use of the church website. Not only is it more convenient for church members than a church newsletter or bulletin, but a website can be used to allow members to communicate information to the church office.
Online form submissions are a great way for members to share information with the church office, and they are easily tracked conversions. Does a ministry leader want to host a meeting at church? Have them request a room through an online form. Does a member have a prayer request? Ask them to submit a form. Does the altar guild want their bake sale included in the bulletin? You get the idea.
The other benefit of online forms is that they are relatively easy to set up. If you have someone at your church who knows a little about web design, they can probably set it up for you, but there are some great do-it-yourself tools available. I recommend Google Forms or Wufoo, but a quick Google search will bring up other options too.
Encourage Community among Church Members
While communicating information to your members may feel like a common goal, encouraging members to interact with each other on your website can seem like a foreign concept.
Depending on your church website's platform, you might have the option to create a members-only side. This allows your members to view information that's not important, or appropriate, for general website visitors. It is also a hub for interactions among ministry group members outside of your church building.
A simple conversion could be to track how often members log in to your website. You can also go a bit more detailed by tracking how many are members of an online ministry group, or how many have visited the online member directory.
(Shameless plug: if your website doesn't have a members-only side, check out Church360° Unite, the church website builder from Concordia Technology Solutions.)
Increase Engagement among Homebound
Over the last few years, the older generations have become much more tech-savvy, to the point that you can almost assume your homebound members all have some sort of a device with an internet connection.
While these members may not be able to physically attend Sunday worship, you can still reach them through live streaming or recorded videos of your sermons.
Monitor these types of conversions by tracking videos views, when viewers dropped off during the video, and what they did after watching it. Include visual or verbal calls-to-action (specific requests for users to do something, like "visit ChristBakersville.org/forms to submit your prayer request") to encourage them to dig deeper into your website.
Tools like Wistia or YouTube Analytics are great for tracking this type of conversion data and seeing which videos are most effective.
Share the Gospel
Last but certainly not least, your church website can be a place where you share the Gospel. The important conversions related to this goal are not easily tracked, as the metrics are spiritual. However, there are a few ways for you to track the effectiveness of your website in communicating the message.
First, as mentioned above, unique sessions on your Gospel-centric sections of your website are a good indicator of how many people are reached. Then, check your referral sources to see if your visitors are coming from a search engine (which could indicate they are searching for more information about Christ), or if they are coming from other sections of your site (meaning they could just be your members curious about the different sections).
My recommendation for tracking this kind of conversion would be to give away something free. On each page that is meant for non-believers, put a submission form to request a free New Testament or Gospel of John. It may cost your church some money, but can you name a better use of funds than sending the Gospel to someone who is interested?

Those are just a few ideas, but the options are really endless. Look at your ministry goals and discuss how your website can support them. Take a few of the above conversion suggestions and tweak them to meet your needs. Remember, your church website can do more than just exist!
Did you like this post? Then show us by converting and subscribing to our blog!