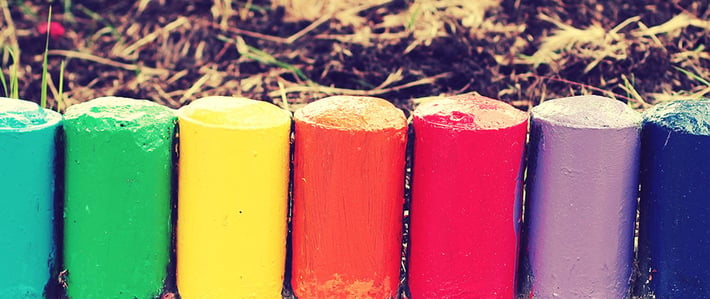 Have you ever looked at one of those color picker tools, only to feel suddenly paralyzed by indecision?
That little rainbow circle offers endless color options (literally millions). Try not to hyperventilate. When you're called on to design the church newsletter, emails, flyers, or even the website, I know the task of choosing colors can be overwhelming!
I like you. So I'm going to help you prevent those color-induced panic attacks.
Next time you face a design project, avoid wading through colors with one of my favorite methods for finding a great color scheme:
1. Arm yourself with color theory.
Color theory is such a foundational skill for art and design. Arm yourself with color theory and you'll be better equipped for the task at hand! Choose a complementary scheme with vibrant colors for a punchy design that pops. Try analogous colors in muted tones for something more sophisticated.
While digging into theory, you can also learn about the psychology of color. This knowledge really pays off, not only because you'll know more about how your choices affect the viewer, but also because you can back up your designs with more concrete reasoning than "Well, I like blue . . ."
2. Use an online color tool.
Put your knowledge into practice with an online color tool. These tools help you see combinations such as complementary and tertiary in action.
I'm a fan of Paletton, Adobe Color CC, and Coolers, but there are plenty of other color tools out there.
3. Explore color trends.
Even with knowledge and tools, you might still feel lost in a sea of options. Narrow your focus by exploring current trends.
Color trends are a major topic in the graphic design, interior design, and fashion worlds. Tap in to all that expert research by reading up! Check out this article on 2015 trends.
4. Pull colors from a photo.
Do you already have a photo in mind? Harmonize your design with the photo by pulling a color scheme right from the image. You can use the eye dropper tool in your design software, or try Adobe Capture. If you happen to use Adobe InDesign, I really like the Color Theme Tool, which automatically creates a scheme for you!
5. Steal from other designers.
It's the most time-honored method among creatives (there's even a book about it). No one creates in a vacuum! So take a look at the color choices other designers have made.
To figure out the colors you find online, use a selector tool in your web browser. Firefox includes a built-in tool called Eyedropper, or there's also an add-on tool made for both Firefox and Chrome called ColorZilla.
6. Find a predefined color scheme.
Try a predefined color scheme (trust me, it's not a cop-out!).
You can find these all over the Internet. I searched "color palettes" on Shutterstock.com and downloaded this image, which bases the colors on a photo of a Ferris wheel. Look past the image and imagine the colors in your design!
Bloggers also cover this topic all the time, so searching for recent posts with premade schemes can really pay off. Some offer tons of color combinations, some focus on palettes engineered for website conversion, while others feature trendy color options.
Even the software on your computer is a decent place to start. You can find built-in color themes to get you started in Microsoft Word or PowerPoint or in your website builder, like Church360° Unite.
And don't forget about Pinterest! You can find endless inspiring color combinations to fill your boards by searching for color schemes, color palettes, and color combinations.
7. Limit your choices.
Strong designs (generally) don't include tons of different colors. The effect can quickly turn chaotic. Choose just three or four colors to make your design job easier.
Once you do choose a combination, borrow the 60-30-10 rule from interior design. Make 60 percent of your design the dominant color, 30 percent the secondary color, and 10 percent the accent color. To imagine this, think of a men's suit. The color of the suit itself is 60 percent, the shirt color is 30 percent, and the tie is a 10 percent pop of color.

Whether you're working on a printed bulletin cover or a web page about this year's Christmas services, I hope these suggestions make choosing colors a little easier! The right colors can elevate a design and make it more effective, strengthening your message and catching the eye of members and potential visitors alike.
Remember to give yourself options when working on any design. If one combination isn't working, try another! You're bound to find a beautiful color scheme in the end.
---
For more tips on developing a style guide and branding, check out The Beginner's Guide to Communicating Your Brand for Churches.