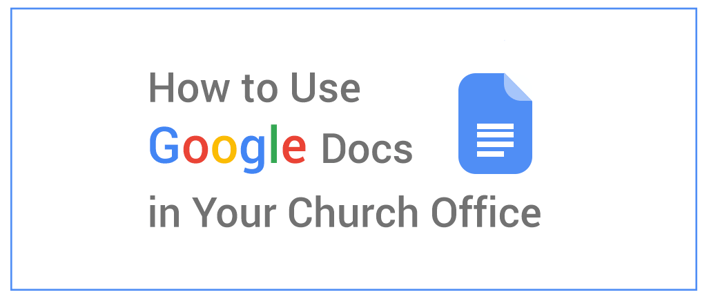 Ah, Google Docs—arguably the greatest innovation for workflow and class projects. Gone are the days where drafts were sent back and forth via email, downloaded over and over again, until, finally, the document was completed. No, these rudimentary methods are no longer needed, thanks to Google Docs.
So, what exactly is Google Docs? Essentially, it's an online way to edit, store, and collaborate on documents (lovingly called "docs" by the good people at Google). You have the option to start from scratch online, using one of Google's beautiful templates, or you can upload an existing Word document. The coolest part? Multiple people can edit the document in real time—by sharing your uploaded document with others, you can all edit it at the same time, and you can see what other people are typing or erasing, thanks to helpful cursors labeled with their names.
How can your church use this genius online program? Here are a few ways:
Easily collaborate on Bible studies, bulletins, and more
Put down the red pen—no need to mark up your bulletins or pamphlets with slashes and changes. With Google Docs, you can make those changes in-text, and your pastor or secretary can immediately view your changes. While this program doesn't replace one-on-one collaborative meetings, it can certainly speed up the editing process.
Share data, forms, and statistics
Google Docs is for more than Word documents—you can also import or create spreadsheets. Budgets, timelines, and calendars can now easily be shared and edited online. By editing these documents online, you will always see the most updated version of a document. Don't worry about security: only those who you share the document link with can see the document.
Prepare for meetings
Need to meet with your committee leader before your monthly meeting but neither of you can find a time in your busy schedules? Share a Google Doc, edit in the document, and use the comment feature to ask questions or make suggestions. Or, if possible, use their chat feature to instant message in the document and collaborate that way.
Streamline workflow
If your church has templates for certain types of documents, such as reports, memos, or proposals, share these forms with those who need them—secretaries, pastors, volunteers, committee leaders, youth leaders, and more. They can save their document as a new file and send it back to you for edits.
Of course, you can make Google Docs work for your specific church. A mega church will use Google Docs much differently than a small rural church, but the premise is the same: use Google Docs to simplify the collaboration in your church office for easier sharing and editing.
---
Interested in exploring more content like this? Subscribe to this blog, Technology & Your Ministry.