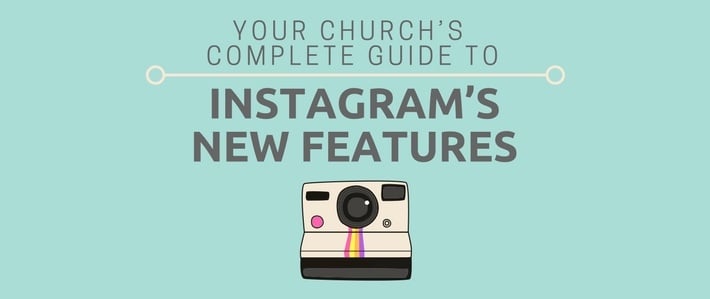 Instagram has made a lot of changes in the past two years. This photo-sharing app has come a long way from its early days of square photos, heavy filters, and jagged borders. What used to be an app that was used to share photos to other social media sites has become a standalone app that many people use as their primary social media account. Millennials and Gen Z-ers especially are locked in on Instagram rather than Facebook.
Of course, better smartphone cameras have made Instagram more appealing and convenient in recent years—now a picture is really worth a thousand words because some photos are high-quality enough to rival DSLR shots (I'm looking at you, iPhone portrait mode). Photos are now curated for Instagram—I often ask myself if a photo is "insta-worthy."
But Instagram has made a lot of other changes that have impacted how people are using the app. If you're not consistently using the app, some of these updates may have passed you by. For those of you who aren't always on Instagram, here's an overview of some of the new features that have been rolled out. (Also, can you teach me how to be less obsessed with the app? Please.)
Instagram Stories
This change is arguably one of the biggest to come to the app. If you're familiar with Snapchat, this addition is nearly identical to Snapchat's story feature.
Here's the concept: you post a photo or video to your story, where it lives for 24 hours. After that, it disappears. So you can post a photo of your bread basket at dinner before a concert, then a video of your favorite band performing, and then a photo of you with the lead singer after the show. When someone views your story, they'd view all of these in succession, getting a play-by-play of your day.
You can type and draw on the content in your story, and you can place stickers, emojis, hashtags, and your location on there as well.
For most young people, stories are a way to share moments with your friends that don't garner a whole Instagram post to themselves. But your Instagram Story is still more curated than, say, your Snapchat story, which tends to be more spur-of-the-moment and less planned out.
What this means for your ministry: Use Instagram Stories to document your church picnic or a day in the life of your pastor, or to make an announcement.
Instagram Live
Instagram Live is a perfect follow-up to Instagram Stories. Instagram Live is like Facebook Live (hence the name)—you are essentially one-way video chatting with all of your followers. While you're live, your followers can comment on your live video, asking questions or just saying hello. Your live video will appear on the Story bar at the top of your Instagram feed for 24 hours.
In my experience, celebrities and businesses are the most common users of Instagram Live. Celebrities will go live and answer fan questions or announce a new project they're working on. Businesses will go live and talk about a new software they're launching or interview a team member about an important upcoming project.
What this means for your ministry: If you have something important to say, say it live! You can talk for longer than a normal video Instagram post or Instagram Story, and you can answer questions as they come in.
New Photo Sizes
Squares be gone! When Instagram started, every photo you took or uploaded to the app would be cropped to a square. But as Instagram evolved from a casual photo posting app to a destination where photographers and content creators shared artistic photos, the square quickly became a hated feature. Sure, it kept your timeline and profile clean, but it also cropped photos in a way that often cut out important features or people from photos taken horizontally.
So, now, you can post full-size horizontal and vertical photos on Instagram. Your timeline still looks clean, as does your profile. (When you look at the thumbnails on your profile, the photos are still cropped to a square.)
What this means for your ministry: You don't have to crop your youth pastor out of your Instagram photo. Long live the group photo!
Posting Multiple Photos
One other feature that many felt Instagram was lacking was the ability to post more than one photo at a time like you could on Facebook or Twitter. So when Instagram rolled out the ability to post up to 10 photos at a time, people were psyched. You can individually edit photos in the app, but all photos are cropped to a square.
What this means for your ministry: You don't have to post six different photos in a row to show everything that happened at your event. (In fact, please don't.)
Newsfeed Algorithm
This change was controversial when it was rolled out over a year ago. Like Facebook, Instagram transitioned from a chronological newsfeed to one based on an algorithm that would order your posts based on ones the new algorithm determines you want to see the most.
You can read Instagram's official announcement, but the idea was to organize your newsfeed based on accounts you interact with so you see your friend's content before you see a post from the dude who lived next door to you six years ago.
What this means for your ministry: Probably not a whole lot, honestly. Your followers might not see your posts as often as they would have before, but this is just confirmation to not advertise an event solely on Instagram.
Comment Threads
Allowing users to reply to comments majorly cleaned up the comments section on posts. Instead of endlessly tagging people in an ongoing conversation on Instagram, replies are now threaded under the original comment.
What this means for your ministry: If you are answering someone's question, you can reply to their comment instead of cluttering up the comment section with a one-word answer.
How is your ministry using Instagram? What are your thoughts on these new features? Have they affected how you use the app?
---
Learn more about the use of technology in your church by subscribing to this blog.