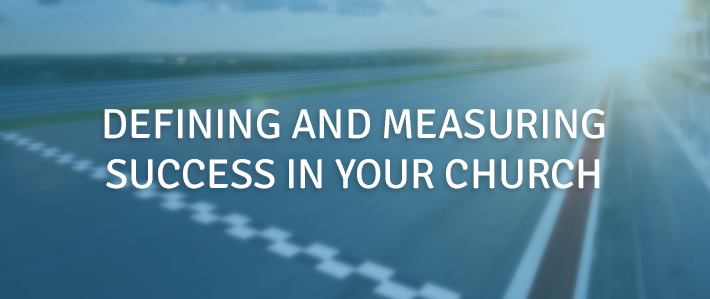 Success is one of those words that people seem to use without giving much thought to what they're saying. Whether we talk about success in a personal or collective sense, we often times use the word without knowing what we mean by it. Or worse, we know what we mean by it, but when we try to measure it, we fail to look at the right indicators.
It's important to both define and measure success as an organization, whether it's a large corporation or local congregation. When you do this, you have a common language and understanding of what you're working toward, and you'll be able to know how close you are to reaching those goals.
Defining Success
When you think about success in your congregation, what comes to mind? Do you think solely about quantitative measure, such as worship attendees, baptisms, or giving amounts? Or, do you think about more qualitative measures, like spiritual growth, depth of discipleship, or commitment to the congregation?
If you wish to understand different perspectives about what success actually means, Google "quotes about success," and you inevitably come across a number of websites with pithy quotes that may or may not have been written or spoken by the person they're attributed to. That's usually not a good place to start.
Dictionary.com lists the following definitions for the word success:
the favorable or prosperous termination of attempts or endeavors;the accomplishment of one's goals.

the attainment of wealth, position, honors, or the like.

a performance or achievement that is marked by success, as by the attainment of honors:

The play was an instant success.

a person or thing that has had success, as measured by attainment of goals, wealth, etc.:

She was a great success on the talk show.
In our ministry settings, definition #1 seems to make the most sense, in an academic sense. We want our ministries to finish projects, programs, and events well. We want to achieve our collective goals. But how do we get to a point where we can clearly understand what will happen, and when it will happen? How do we get to a place where success can be defined?
I believe it all depends on mission. If you know what the mission of your ministry is, you can more easily define success and know when it's achieved.
I suggest the following steps to define what success is in your ministry:
Review your mission, vision, values, strategic plan, and other directional statements or documents. Do they reflect where your ministry is at today and what you need to be doing?

Brainstorm, list, and discuss, with staff, lay leaders, and lay members (and other stakeholders, as necessary) of your congregation or ministry, what activities and measures are currently in place. Do they foster achieving your mission? If no, what needs to be different? If yes, are you accurately measuring them? What else needs to happen to achieve your mission?

Determine together how you will measure your goals and progress toward achieving them.
Measuring Success
Measuring success is a vital part of defining success. One can easily say what success is to them, but if that isn't measured, can success ever be reached? If I'd like to save a certain amount of money for a vacation, but never look at my savings account balance, I wouldn't know if I could actually book my trip or not.
Once you know what your goals are, you can measure them and know when success is achieved. However, depending on what your goals are, you need to consider how to measure the right things.
For example, if one of your goals is to ground your ministry more deeply in the Word, you might look at increasing Bible study attendance and small group participation. Or, you might create a survey that measures peoples' feelings about how well they know Scripture. You might tell stories about how peoples' lives have been affected by more time in the Word. Most likely, in that example, you'd want to do a combination of all three measures.
As your team determines the measures you will use and then begins to measure success, consider the following:
Who's measuring? Are individual ministry leaders handling their own areas, or is one person in the ministry the owner of this?

Do you have good data? Are you collecting helpful information?

Are you communicating progress and successes? Are your members and stakeholders aware of what's happening?

Celebrate your successes. Give thanks to God and the people involved for their work in making it happen.
As you better and more effectively define and measure success in your ministry, you'll have a greater sense of the unique ways God has gifted your ministry to benefit the Kingdom, and you'll be good stewards of the people and gifts in your ministry. And even when success can be hard to achieve because of finances, demographics, apathy, or lack of leadership, you can still celebrate how the Spirit works through God's people to create and sustain faith in Jesus.
---
Learn more about the use of technology in your church by subscribing to this blog!