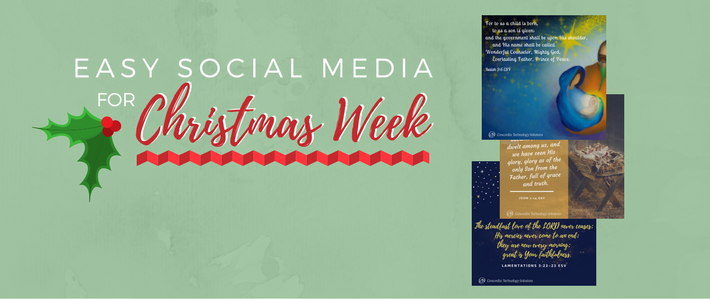 We're less than one week away from Christmas—is your social media ready?
While Christmas provides some great opportunities for your church to share the Gospel with your community, it can be a challenge to get everything done on time and still be creative. Here are three quick ways to leverage social media during the busiest time of the year.
Schedule Your Posts Now
Real life can get in the way of planning ahead, so if you've fallen out of the habit of scheduling, this would be a great time to pick it back up again.
Start with the three days you're least like to have the time to create a new post: Christmas Eve, Christmas Day, and New Year's Day. Determine what you want to post, get it ready, and schedule it now. That doesn't mean these are the only things you're going to post that week; these are just the most important, so get them finished now. To help you out, we're providing free images for each of these days. You can download them at the end of the post!
Share a Live Video
Live video has been available on social media for about two years now, so while it's no longer new, it's still quite valuable. Live video is engaging, prioritized by algorithms, and free. It also gives you more freedom to make mistakes, and if you're a perfectionist like I often am, that's the best thing for you during a busy week.
The opportunities for a live video are endless during the Christmas season. You can talk about the different worship opportunities and service times, show the lighting of the Advent candles, feature the pastor's Christmas Eve sermon, or show your members serving Christmas breakfast at the local community center.
I know that presenting a live video might be nerve-wracking at first, but take it from an introvert like me—the more you do it, the easier it gets. If you're new to live videos, check out our post on making live videos stress free.
Add to Your Church's Story
Stories is an increasingly popular feature of social media that is quickly making the rounds across the different platforms. Right now, the feature is really big on Instagram and Snapchat.
Stories are series of photos or short videos on which you can include text, graphics, and emojis. They are displayed sequentially and disappear after a day. For many users, they have become the casual update about daily activities while posts have become reserved for the most important updates.
Christmas is a great time to test out stories for your church if you haven't already. Not only are there plenty of activities and events to document, but the visuals are strong and meaningful and all point to the greatest story ever told, the gift of our Lord Jesus Christ.
---
Download free social media graphics to share the true meaning of Christmas.