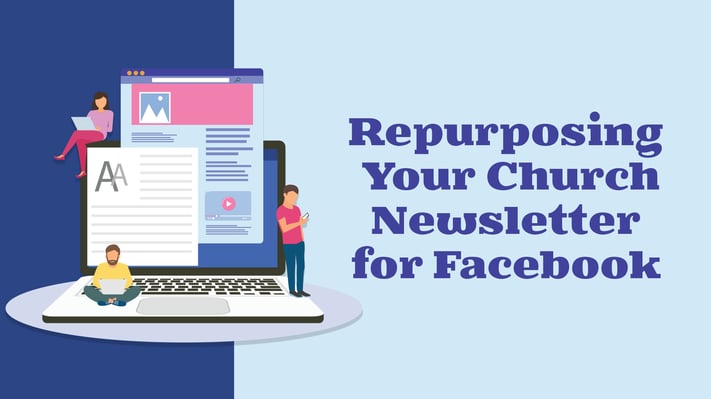 As you work on your church's social media plan, making the most out of the content you already have should be on the top of your mind in order to get the most out of your limited time in the church office. Facebook is a wonderful social media platform to transition your print or emailed newsletter to a new digital format without much additional effort from yourself or your office staff. Additionally, much of your congregation is already on Facebook, and developing ways for them to engage with the congregation and stay informed is crucial.
You can reach more people through your online content by utilizing the features Facebook gives users to see the latest information as it comes out. Read below to see some of the ways you can transform your church's newsletter to easy and efficient social media posts.
Assessing What You Have
As you begin this process, look at what you already have in your newsletter. For example, if you are advertising a potluck or annual bake sale, you may have a graphic built up and a small paragraph written about the details. If you have those pieces, you already have the first few components of you new Facebook post. If not, there are plenty of free websites, such as Canva, that can help you easily create something appealing for your graphic.
A Helpful Tip: Social media users are drawn to familiar faces in the posts they see. Pictures from earlier events in your church will give your posts more personality and make for a great graphic.
In addition to a traditional post using a small paragraph and image, consider making a thirty-second video of your pastor inviting everyone to this event. Spend some time looking over what was written in the newsletter, and consider how you can adapt that into a short recorded message. Your pastor can either read word for word what was said or he can make it personal by speaking from his own experience with the event. Either way, this type of format is great for Facebook and is easy to adapt for Instagram Reels as well.
Be prepared to recirculate this information a few times before an event so people are sure to see your post and add it to their calendar.
Integrate Sign-Up Links
A useful feature of social media is the ability to add direct links in your posts on most sites like Facebook. If you would like your members to sign up to bring specific foods to the potluck, give them a link to an Excel sheet or website to do so. This same process can be done to add a link to an online prayer request page or an email to send requests to. Use this feature to help streamline events and make sign-up more convenient for you and your congregants by eliminating or reducing a step of the process. People can also easily stay up to date via an online portal rather than relying on a paper sign-up sheet.
A Helpful

Tip:

Use this as an outreach tool as well! Planning a VBS program that was announced in your newsletter? Create a sign-up for those outside your church to receive email information about the upcoming program to help increase your attendance.
In follow-up posts, remind your congregants to update the spreadsheets if their sign-up has changed in any way so that you are prepared with the most up-to-date information possible.
Prayer Request Posts
Another great way to take your newsletter to social media is with a weekly prayer request update. This will look significantly different from something like an event post that does not happen as frequently, but the basic set up of the posts are the same.
Prayers from your congregation continue to change, and it's good to change how that content is delivered on Facebook so that it doesn't get lost in the feed. One way to do that would be create a graphic template to use twice a month and a short prayer video to use on alternate weeks. Your pastor can record himself going through a short prayer for everyone in your congregation, similar to what he does during service. This is a wonderful way to interact with your congregation on social media and remind them that their pastor takes time out of his day to pray for them.
To help boost engagement, encourage your congregants to post their prayer requests—or to offer their own prayers for those mentioned—in the comments.
Helping Your Congregation Acclimate to This Change
It is important to remember that each church and congregation is different and what works in one place will not work in the same way somewhere else. If your church body does not utilize social media much, this will be a process that takes longer to implement and see engagement on. Regularly check what you have been doing to see if it is creating real change. A willingness to evaluate your page and pivot as necessary will give you the opportunity to serve your people in a new way.
Continue to remind your congregation about these social posts regularly. Perhaps post a small blurb in the print newsletter as well to help bridge that gap and move people toward your social media pages.
Finally, encourage your congregation to go to Facebook and turn on notifications for your posts. For your members, this is as easy as going to the drop-down menu marked by three ellipsis points (...) or three lines on the top of your church's page and selecting the little bell icon. By doing this, they will be able to see what is going on in your church, upcoming events, reminders, and other news that you are sharing in real-time. If your members don't want the notifications, simply liking your page (or becoming a member if it's a group) will show them your posts in their Facebook feeds.
---
Win back more time for you and your church office staff so you all can spend more time doing what you do best: focusing on growing your ministry. Sign up to receive the ebook below.