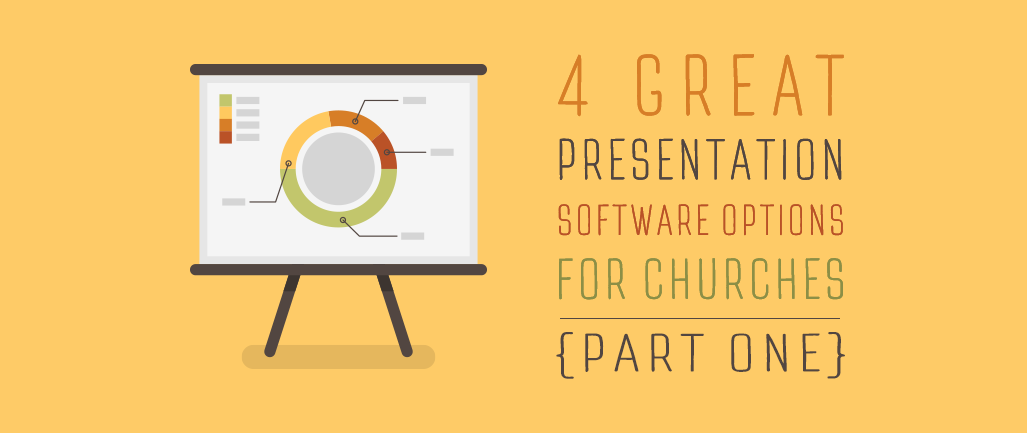 Ok, so you have decided that you are going to start using screens in church. You had the conversation on where best to place them, projectors verse large screen TVs, etc. Now, all you have to decide on is what presentation software you want to use.
Here is the great news: there are lots and lots of options! Here is the bad news: there are lots and lots of options!
Due to lack of space and time this two-part series will look at the four most common platforms out there: PowerPoint, Keynote, MediaShout, and ProPresenter. What should guide your decision is what you want to do right now and where you plan on taking presentations in the next 3–5 years.
Just make sure to read some blogs or have some training over what makes good slides and what makes bad slides. Remember, you added screens to help facilitate and lead the congregation in worship, not to distract and detract.
The Basics: PowerPoint and Keynote
Let us start with the basics: PowerPointand Keynote. If you are using Apple products, you are able to use Keynote for free. However, Keynote is not available for Windows. With Macs you also have the option to use PowerPoint, either by installing the software or by using PowerPoint online. If you have a Windows-based PC, then your only basic option is PowerPoint.
Pros:
The winning thing with both of these options is price and simplicity of use. The whole Microsoft Office Suite can be purchased for a severe discount through their non-profit program (for which churches qualify). More information on that can be found at techsoup.org. And, of course, Keynote is free for Macs.
Since Keynote can import PowerPoint slides, both of these platforms can be used with Lutheran Service Builder. With a simple template, all your slides can be formatted to look how you want them to with a few clicks of the mouse. If using CCLI songs or the like, you will have to create your own slides. There is no need to reinvent the wheel every service; simply save the songs separately and copy/paste them into the services that you want to use them.
Simplicity of use? What can be easier than entering presentation mode and then clicking the "next" button until the end of the presentation?
Cons:
While both Keynote and PowerPoint have severely beefed up what they can do they are also still just the basics. In other words, they have their limitations. In presentation mode, both platforms limit how many slides in advance can be seen by the person running your presentation.
Also, neither program allows you to make in corrections to a slide in presentation mode. That means if there is a typo the presentation must be exited out of, the typo fixed, and then the presentation started again. Not something that is quick and easy to do in the middle of a worship service.
Conclusion
At the end of the day these two programs are the most familiar. That makes it easy to train volunteers and very affordable. Both are fairly easy to master which makes it easier for less tech savvy staff/volunteers to put the presentations together. For these reasons, these are the platforms I would recommend for a smaller church.
Look for Part 2 Coming Soon!
We'll take a look at MediaShout and ProPresenter in my next post. Some of you might by crying out, "What about EasyWorship, or Prezi, etc.?" I wanted to limit the software to the most popular and ones I have some experience with, otherwise this would be a never ending series.
---
Want to receive notifications about more content like this? Subscribe to this blog, Technology & Your Ministry.