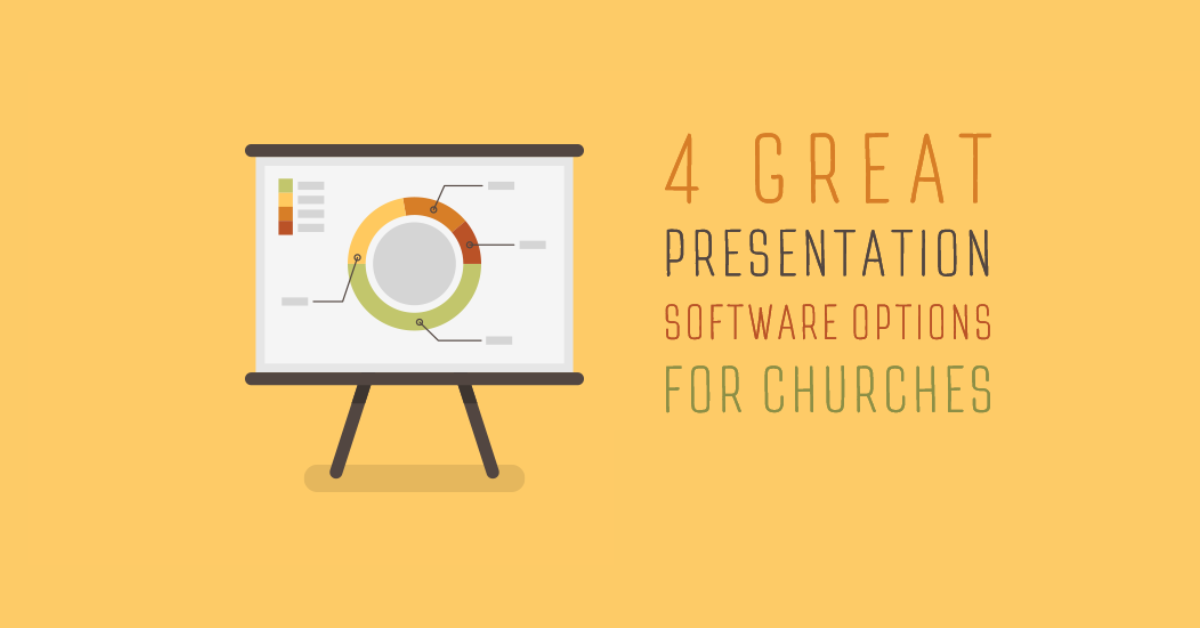 Ok, so you have decided that you are going to start using screens in church. You had the conversation on where best to place them, projectors verse large screen TVs, etc. Now, all you have to decide on is what presentation software you want to use.
Here is the great news: there are lots and lots of options! Here is the bad news: there are lots and lots of options!
In this post we will look at the four most common platforms out there: PowerPoint, Keynote, MediaShout, and ProPresenter. What should guide your decision is what you want to do right now and where you plan on taking presentations in the next 3–5 years.
Just make sure to read some blogs or have some training over what makes good slides and what makes bad slides. Remember, you added screens to help facilitate and lead the congregation in worship, not to distract and detract.
Comparing PowerPoint and Keynote
Let us start with the basics: PowerPoint and Keynote. If you are using Apple products, you are able to use Keynote for free. However, Keynote is not available for Windows. With Macs you also have the option to use PowerPoint, either by installing the software or by using PowerPoint online. If you have a Windows-based PC, then your only basic option is PowerPoint.
Pros of Keynote and PowerPoint
The winning thing with both of these options is price and simplicity of use. The whole Microsoft Office Suite can be purchased for a severe discount through their non-profit program (for which churches qualify). More information on that can be found at techsoup.org. And, of course, Keynote is free for Macs.
Since Keynote can import PowerPoint slides, both of these platforms can be used with Lutheran Service Builder. With a simple template, all your slides can be formatted to look how you want them to with a few clicks of the mouse. If using CCLI songs or the like, you will have to create your own slides. There is no need to reinvent the wheel every service; simply save the songs separately and copy/paste them into the services that you want to use them.
Simplicity of use? What can be easier than entering presentation mode and then clicking the "next" button until the end of the presentation?
Cons of Keynote and PowerPoint
While both Keynote and PowerPoint have severely beefed up what they can do they are also still just the basics. In other words, they have their limitations. In presentation mode, both platforms limit how many slides in advance can be seen by the person running your presentation.
Also, neither program allows you to make in corrections to a slide in presentation mode. That means if there is a typo the presentation must be exited out of, the typo fixed, and then the presentation started again. Not something that is quick and easy to do in the middle of a worship service.
Comparing MediaShout and ProPresenter
Both MediaShout and ProPresenter are hitting in the big leagues. These are software programs that are used for professional presentations like band concerts and sporting events and not just Sunday morning worship only allow that is still their main target demographic. So, in that vein they pack a lot of punch. You will be able to do things in these programs that you cannot do (or do easily) in Keynote or PowerPoint.
Hardware: MediaShout vs ProPresenter
ProPresenter is Mac and Windows capable so what type computer you use is not as big a factor as it used to be. That being said, if you plan on doing a lot of video play back, a Mac would be a better choice over a Windows PC, because Macs come pre-installed with more codecs. Codecs are small pieces of software that are needed to decode video files. PC's usually do not support as many video formats right out of the box. The last thing you want is to be desperately trying to find the right codec download at the last minute so you can play a video.
Another factor is that ProPresenter 6 does not have all its module add-ons available for both Mac and Windows yet. Most are available for Mac only while some are available for both Mac and Windows. Yes, I know Macs are more expensive but you also get what you pay for. Just something to keep in mind.
If using a Windows PC ProPresenter recommends Windows 8 Pro with Windows Media Center or Windows 10. Windows 7 is not guaranteed to run the software nor is it supported by ProPresenter 6.
MediaShout is PC based only. Now, that does not mean it cannot run on an Apple PC. But, you would need to purchase, install, and run a Windows mirroring program, like Parallels, in order to run it on a Mac. That is something I have never really been a fan of due to various issues and problems that can arise. Also, doing so adds to the overall cost. MediaShout 6 can be run and is supported on Windows 7, Windows 8/8.1, and Windows 10.
Capabilities of Media Shout vs ProPresenter
Would it be bad of me to say "too many to list?" Sorry, I cannot break down every capability difference otherwise this would turn into a book. But, let me cover a few basic ones.
Both MediaShout 6 and ProPresenter 6 can pull songs directly from CCLI and automatically puts them into slides. Not only that, they keep those songs in your library. That means all you have to do is a quick search in your music library and viola you have the song ready to go. One thing of note is that MediaShout 6 already has 2,500 public domain songs built into it.
Both software programs run motion backgrounds.
Both work with Planning Center Online, something that many churches are starting to use for working with their contemporary worship services.
Both have built in Bible versions (MediaShout 67 free; ProPresenter 46 free, 21 paid ($15 each)). MediaShout has the ability to show two different versions at the same time, not something that I could find with ProPresenter. This is great if you have a multilingual congregation.
Both can import PowerPoint slides. This means that they will both work with Lutheran Service Builder. ProPresenter can also import Keynote presentations since it can work natively on a Mac.
Media Shout can do inline editing. This means you can edit the slide without having to enter into an edit mode. This is great for fixing typos.
Finally, ProPresenter actually has a mobile app that can be downloaded and used to run a presentation if connected through the same wifi the computer is on. That is huge for me as a pastor because that means I can control my sermon slides and not have to rely on the A/V guy to know when I might want a certain slide up. I have had more than one volunteer either not pay attention or get locked into the sermon and forget to advance a slide. Either way, this eliminates that issue. Another thing that the app can do is send messages to the ProPresenter operator. That means if your nursery people need to call for the parents of a child that is in the sanctuary they can send a message to the ProPresenter Operator and they can put the message up on the screen.
In terms of raw capability ProPresenter really shines. It can just do more than MediaShout. Now, some of those things might require purchasing one of the add-ons. But, ProPresenter can go into more layers on its presentations than MediaShout.
Ease of Use: MediaShout vs ProPresenter
Now, this is one of the major factors when considering any software, let alone something that a volunteer might use. The great news is that while each software's interface might look daunting at first to those use to PowerPoint or Keynote they are actually simple to use. MediaShout 6 even has a "Volunteer Mode" that it advertises.
The other thing is that both companies that make MediaShout and ProPresenter have tons of short tutorials on their websites(ProPresenter/MediaShout that show how to do different things.
That all being said, if the person that puts all this together is somebody who struggles with PowerPoint, Keynote, or Lutheran Service Builder you are going to need somebody else to come in and do it, or you will have to do it. Either way this eliminates those with no to low computer skills.
Which One for You?
Which one is best for you and your church? That I cannot answer.
It really depends on the quality and skills of your volunteers and workers. Also, it is going to depend on your budget. Make sure you go in with eyes wide open.
But, here is the truly great news: both MediaShout and ProPresenter can be demoed before purchasing. You read that right. You can try out each software package before making a purchase. MediaShout 6 has a 30-day free trial while ProPresenter is perpetually free with all functions but displays a watermark on the output screen until purchased.
---
Want to receive notifications about more content like this? Subscribe to this blog, Technology & Your Ministry.