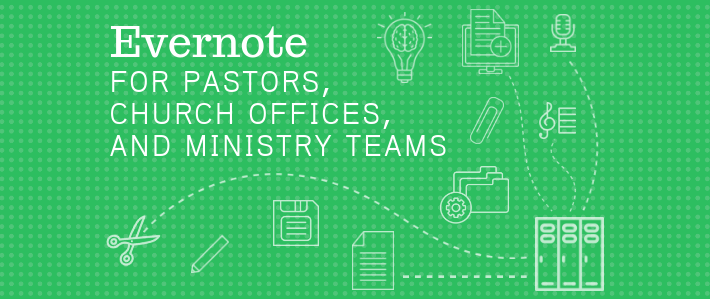 Before computers became integrated with our lives, the big office complaint was about paper. A good deal of our communication and information storage involved paper. How to store that information, share that information, and avoid being buried in that information was a daily challenge.
I know—it still is.
While we might deal with less paper than previous generations, we're bombarded with more information and communication than ever before. We have a completely different kind of clutter and the same need. How do we keep it all straight?
Evernote to the Rescue
Evernote starts with the simplest of concepts, something we understand: a notebook. Just like your high school locker, Evernote stores your notes inside several notebooks that you create, and you use the notebooks to organize the information you collect.
Only That Locker Is a Super-Duper Cloud Locker
Evernote works across multiple devices. You can use it on up to three devices for free or subscribe to Evernote Premium for more flexibility.
Log in to Evernote on the web from your computer or install the app on your desktop so you can use it even when you are offline. And of course, there are apps for tablets and smart phones. Wherever you are, you can save the information you encounter and access it whenever you want.
What You Can Do in Evernote
Evernote provides multiple ways to create a note. Type a note like any other text document, draw a note with your finger, record an audio file, take a picture, or save an article or PDF. Evernote works with multiple formats and saves them in whichever notebook you choose. Then, set a reminder, attach a file, or share notes via email.
Evernote lets you organize all this information in a myriad of ways. Here's an overview of the many things you can do in Evernote:
Tag notes. Then sort them topically within your notebook.
Share notes. And use the chat feature or email to have discussions about what's in the note.
Take pictures. Within the app, take pictures of white boards, people, workflows, book covers, etc. Store them in the right notebook, and tag them so you can find them by subject or event.
Record voice memos. When you don't have a way to write something down, it won't get forgotten. It'll go in the notebook.
Email yourself. Evernote provides a special email address so you can email stuff and save it directly to your notebooks, even without ever opening Evernote.
Use Evernote's Web Clipper extension in web browsers. With the click of your mouse, save an article or a web page, or create a screenshot. Any time you open a PDF in your web browser, an Evernote button will appear, so you can quickly file the document away in the right notebook without downloading it to your Downloads folder and then trying to find the right place to store it. Tag it with the right subject name so it comes up when you search, instead of getting forgotten and lost forever in the abyss of your hard drive.
Genius Ways Evernote Can Help a Pastor
There are some great ideas out there about how pastors can use Evernote. The first six bullet points on this list are from ProPreacher's article "5 Awesome Ways Evernote Makes a Pastor's Life Easier."
Clear your desk. Scan documents, file them into notebooks, and tag them to find them more easily. If something is time bound, set a reminder to deal with it. Forward relevant documents to boards or an office assistant. (Evernote integrates with several phone scanner apps, too.)
Save receipts. Scan receipts and email them to your Evernote email address. You can even add them to a notebook and add tags to find them easily through the subject line. For example, CPH Receipt @receipts #theology #commentary would save your receipt as a note called "CPH Receipt" in your Receipts notebook and tag it with "theology" and "commentary" so you can find it easily.
Record meeting notes and minutes. Save these in a notebook and easily find them.
Pull up e-reader quotes and highlights. If you use Kindle, you can go to Kindle.Amazon.com and pull up every highlight and note you have made. You can copy and paste those to your Evernote, file and tag them, and reference them by topic at any time.
File quotes and illustrations. Tag them by subject (e.g., #heaven, #adultery, #lawgospel), author (#Luther, #Augustine, #CSLewis), or liturgical season or date (#Pentecost17, #Epiphany, #CircumcisionOfOurLord).
Archive your sermons. Copy and paste them. Easily access them.
Create slide shows. You can use this feature if you have Evernote Premium. So if you use slides in your sermons, Bible studies, or presentations, this is something to check out.
Sort your research. File away articles, websites, and the rest of your important research with Evernote Clipper.
Communicate with your team. Evernote allows you to share notes and hold conversations about them.
Back up your brain. Face it—you forget things. That one meeting, that new member's name, or your wife's birthday. Set a reminder for dates, and save pictures and names together to review them. Keep a prayer list. Create checklists to make sure things get done.
How Evernote Can Help Your Entire Team Work Together
Evernote goes with you on whatever device you are using, giving you increased flexibility for any project. You can also share notes with others. This means you get increased consistency, shared responsibility, and better communication.
Here are some ways Evernote can come in handy when you're working with your team:
Maintain supply lists. Have separate lists for the office, the bathrooms, and the kitchen.
Create workflows. This is especially helpful for big events and workdays. Instead of starting over from scratch each time, document everything you do when putting an event together, and revisit it when you debrief after the event. Then use the list next time to give the next project a head start.
Coordinate weekly for service preparations. Visualize this: The music director sends in choir information within Evernote tagged with the date. The pastor gives his sermon a title, also tagged with the date. The secretary gathers the prayer list and announcement information in a note—also tagged with the date. Why, you can search those tags and put together service resources quickly! If you have questions, you can chat with the sender or the whole team and get your information quickly.
Keep lists of hymns or songs. Instantly access music the congregation likes that isn't in the hymnal.
Store maintenance records and important documents. This idea comes from Chris Green's blog. These documents are the things that get lost when positions change, because everyone has a different way of saving and storing documents in a word processor. Scan important documents, and put them in a specific notebook in Evernote. Then everyone can find them. You can even include information about where to find the originals in the file cabinet.
Create to-do lists. Everyone has to-do lists. Make checklists in Evernote, share them, and save them as templates.
Create and store meeting notes. As Ministry Nuts and Bolts suggests, your notes will all be in one place, easily accessible and searchable.
---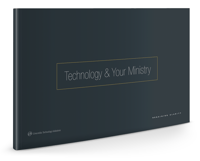 Hear more ways to how to use technology to make your ministry more efficient in our free ebook.