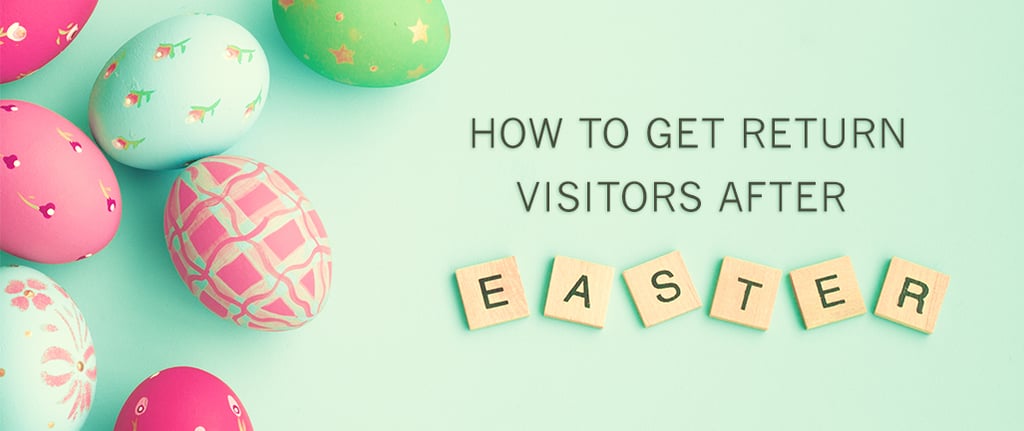 I'm not a big fan of many holidays, but I love Easter.
There's something special about transitioning from the deep sadness of Good Friday and the quiet of Saturday to the joyful celebration of the Resurrection on Easter Sunday. It is, quite literally, the most exciting thing in the world; it is the gift of salvation won for us by Jesus Christ.
That's why I waited until after Easter to share this post. On Easter morning, our attention is best focused on the empty tomb, not on church attendance or figuring out how to reach visitors in the weeks and months ahead.
However, it is the joy of Easter that motivates us to focus our attention on visitors today. Easter Sunday is a wonderful day to celebrate the Resurrection, but as Christians, we know that this is not a one-day celebration. We have been given the message of the forgiveness of sins and eternal life to share year-round.
The days right after Easter are a great time to reach out to your church visitors. You know that they have heard the message of the Gospel. Now you can show them how it is a free gift for every day in their lives.
What follows is a simple plan for how your church can follow-up with your Easter visitors. These are neither revolutionary ideas, nor do they guarantee return visits, but they are good reminders of things that can easily be overlooked during the busyness of this season.
Compile a List of Your Visitors
This seems likes it might be standard practice, but I am continually amazed at how many churches still do not take individual attendance, settling for just a total head count.
I've heard the arguments:
"We're such a small church, I know everyone who attends."
"We're such a large church, we don't have time to enter it into the database each week."
"Our church used to take attendance, but not everyone filled out the attendance card, so we couldn't get a good number."
"People don't want us to track their attendance; they feel like 'Big Brother' is watching them."
And lastly, the famous "We've never done it that way before."
The benefits gained by taking individual attendance far outweigh any negatives. By taking individual worship attendance, your church obtains:
Names and contact information for your visitors
Insight into the worship trends of your members
Quicker notifications when individuals change their worship patterns
Historical context for the future ministry leaders of your church
If you have not taken individual attendance in the past, I recommend you start right away, even if it is just with the information you have acquired yesterday. Did you take offerings? Anyone who gave with a check or an offering envelope can be identified and marked as attended. Did you offer communion during the service? Speak with the pastor and those who assisted with communion and ask who they saw attend. Did you post any new event sign-ups or accept any registration forms yesterday? Review those to see who signed up.
While this may seem like a bit more detective work than you might normally do, your goal is to identify those who require a follow-up.
Assign the Right Follow-Up
Whether you have accurate attendance records or are working to acquire them, there are three main types of visitors who attend worship on holidays, and each requires a different type of follow-up.
Family of Members
It is quite common for relatives to attend worship on Easter Sunday. Many, if not most of them, are from out of town or have a church home of their own. It is those who don't fit in either category who should receive a follow-up, which means your first step is to speak with the family members who do regularly attend your church.
Ask them if they think their relatives would appreciate a follow-up, and if so, get their recommendation on who should do it. They might volunteer themselves, or they may suggest the pastor. They may just leave it up to you. Regardless, you should follow their recommendation because 1) they are closest to these individuals, and 2) appropriate follow-up with encourage them (and others) to invite family in the future.
Infrequent Attending Members
All churches have them: members who only attend on Christmas and Easter. I've heard them called "Cheaster Christians" or "C&E Members," and while they may frustrate you during the summer months when your attendance numbers don't justify two services, they are still more engaged then those who don't attend at all.
Use this opportunity to thank them for attending and make sure they know they are welcome to attend any time of the year. While these follow-ups are best done by a pastor or an elder, follow-up by other members (who won't take a heavy-handed approach) could make those members feel welcome as well.
New to Your Church
Easter is a common time individuals who don't normally attend decide to try a new church. The reasons they choose to attend can vary greatly. Maybe they are new to the area, or maybe they just became parents and feel obligated to bring their kids to church. Who knows, maybe they have brand new spring clothes and needed an excuse to wear them. The reasons don't matter as much as the fact that they attended, heard the Gospel, and now present a great opportunity for further follow-up and conversation.
I shared some ideas on how to connect with this type of visitor in a similar post right before Christmas,but the important thing to remember is to make sure they feel welcome. Many non-Christians think they have to "clean up" before they are accepted in a church. It is our privilege as Christians to share Good News that the Gospel is for all people, regardless of who they are or what they've done.
Give a Timely Invitation
Whether you are reaching out to a member's relative, a long-time delinquent member, or a brand-new visitor, be sure to end the follow-up with a specific invitation. Any attempt to make people feel welcome will not feel genuine without a true invitation.
This invitation does not have to be to next Sunday's worship service, although that is not a bad option. In some cases, it may be more appropriate to invite someone to a Bible study, fellowship event, or even next month's confirmation service.
After you invite them, let them know that you'll be there and will be excited to see them. If they know there will be at least one person who knows their name and is looking for them, they'll be much more likely to take you up on your invitation.
Well, there you have it, a few easy steps to get your Easter visitors to return. Easy, right? Far from it, but if you put in the effort, it will be worth it. Remember, we rely on the Holy Spirit to work faith in the hearts of each individual, so our responsibility is minimal. This is just an opportunity to be like those who saw the empty tomb and hurried back to share the good news that He is risen!
---
Keep track of all your member and visitor information for easy follow-ups with Church360° Members!