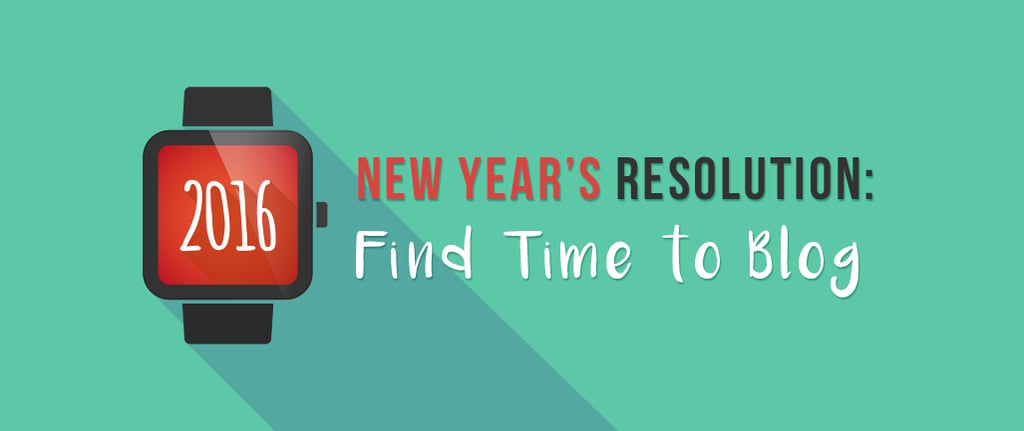 Today is the very last in 2015. As the clock turns over into the new year, what ministry efforts are on your mind for 2016?
If you do not already have a church or pastoral blog, consider putting one near the top of your list! "I, (state your name), do hereby resolve to blog as a ministry effort in 2016."
Well done. I'm proud of you.
Of course, it's one thing to make a New Year's resolution and entirely another to follow through Here are 5 ideas that can help you finding time to maintain a church or pastoral blog in 2016.
A pastor's time should be well-spent. Between shut-in visits, sermon writing, and staff meetings, your time is filled with important tasks. If you truly believe in your blog's value and its benefits however, make it a priority!
Of course, getting organized to optimize your time can help, but this also might mean delegating tasks or giving up other commitments. It's up to you to make the call as to whether a blog is worth your time.
If you've decided that a blog is worth it (good choice!), but still aren't convinced you have enough time, try these ideas:
1. Upload your weekly sermon
You've already written it! You can quickly add to the basic text of your sermon by uploading an audio or video as well. To interest the people who already heard it at Sunday's worship service, try whipping up a brief commentary or including an expanded version of your sermon outline.
2. Have someone else transcript your sermon
If you don't have the time to transcript your sermon audio, Justin Smith of ChurchSEO recommends SpeechPad, a site that transcripts your audio or video file for you and charges $1 per minute of talking. Upload actual video (if your website host allows it) or upload it YouTube and embed it on your site.
3. Ask your staff for help
If you're only posting sermon notes, ask your church office staff post it weekly for you. They can also coordinate with the volunteer or worker who handles the recording equipment each week to get the audio or video files of the sermon and then upload them. By delegating this part of the process, you'll save time while still adding regular content to your blog.
4. Write something short
Remember, blog posts don't need a structured introduction, body, and conclusion. They don't even need to be a specific length! When a good topic comes to mind, just focus on a main idea and write out your thoughts like a journal. Here a few ideas on how to polish your writing once you've jotted something down. Linking to relevant information elsewhere online that you'd like your readers to see can also help extend a short post.
5. Feature guest bloggers
If you're still not convinced, try featuring guest bloggers in between your own posts. Ask retired pastors, local pastors, other church workers, or gifted members to write relevant posts. Give a specific word count and strict deadline to keep them on track. Make sure you read every post before it's published to ensure it's theologically sound and supports your church's beliefs.
If you really want a blog in 2016, it comes down to making time. Dedicate an hour to write, an hour to edit, and half an hour to post and promote it.
Happy new year, everyone!
---
This blog post is an excerpt from our ebook "Why Pastors Should Blog." Download the free ebook by clicking the button below!