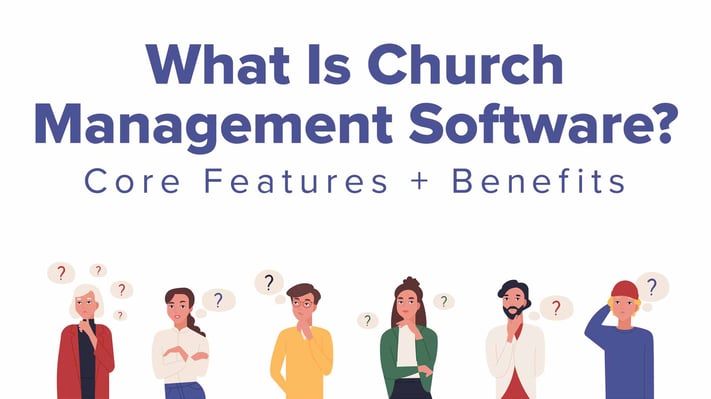 One of the biggest challenges churches often face is organizing their members' information, communications, and giving. While there are many free solutions out there, utilizing a church management software is the best way to keep information organized and secure.
But what exactly is a church management software? How do you know if it's right for your church? And what types of solutions do they provide to your church office and staff? Let's dive into the basics of this software and how it can help your church!
What Is Church Management Software?
Church management software (CMS) is a web-based or desktop application that allows churches to organize membership data, track finances, and communicate with members. It allows your church office to streamline your backend operations.
What Are the Core Features of Church Management Software?
Most church management software options have the same core features that allow you to optimize and organize information in a way that makes it usable for your church. When picking the right option for your church, make sure it can help you with the following office tasks.
Church Records
As a church, the most important part is your members! Keeping accurate records of your members' information is paramount to understanding the people who call your church home. Organizing contact information—including email addresses and phone numbers—is important for accurate communications (which we'll address later).
Within these church records, keeping a timeline of interactions and updating contact information allows you to understand their involvement and note follow-ups from pastors or elders.
Attendance
Keeping track of your members' attendance allows you to accurately report data to your district, board of directors, or church council. A church management software allows you to easily export the necessary attendance data you need for reports or updates.
Additionally, you can monitor the attendance of individual members to understand when you should follow up to check in on them.
Communications
One major feature of a great church management software is the ability to communicate with your members on both an individual and mass scale.
Send out email newsletters to your entire membership list, or notify a specific group of an upcoming event. You can also send text messages or voice messages to your members' phones, which allows you to communicate last-minute changes, like a canceled service because of snow.
eGiving
Most church management softwares have eGiving integrations and the ability to accept and process your online offerings within the software. eGiving has many benefits for both churches and members. For members, eGiving simplifies their weekly giving, allowing their contribution to be automatically withdrawn at the cadence of their choosing. For churches, it can allow for more accurate budget predictions and steady giving.
Offering
Although there is a rise in the popularity of online giving, many members still give their offerings to the church in the form of cash or check in offering envelopes. These physical forms of giving need to be tracked alongside your eGiving tithes, which is why most church management softwares also feature an offering entry feature.
This feature allows you to track all offerings given by members, no matter the format. Meticulously tracking your offerings allows you to give an accurate report to your church council and members.
What Problems Do Church Management Software Solve?
If you're struggling to manage multiple Excel spreadsheets, communications softwares, and giving platforms, utilizing a church management software will streamline your processes and make it easy to integrate many backend aspects of your church into one easy-to-use software. Your administrative team and volunteers will be able to more easily do their jobs.
Additionally, you can be more assured that your members' data is safe. Managing your members' contact information in an Excel spreadsheet is not as secure as a dedicated church management software, which has extra log-in protections in place.
---
Are you excited to see how using church management software can make your church operations more streamlined, systematic, and secure? Sign up for a free demo of our cloud-based church management software, Church360° Members, and see for yourself!