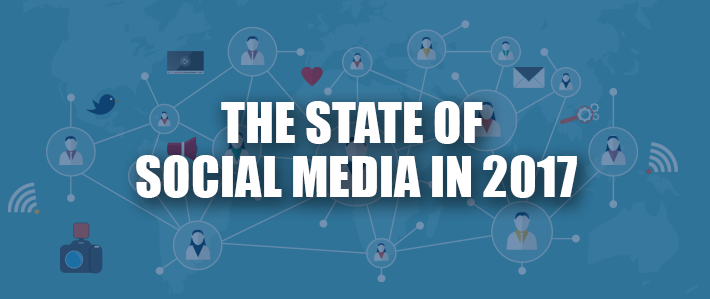 If there's one constant in the world of technology and communication, it's that things change. This is especially true when you have technologies that involve communication and where rapid development is rewarded with public interest, market share and, hopefully, profit. It's probably not a surprise, then, that the landscape of social media continues to shift rapidly, and it's easy to get lost in the details. Whether you're a church beginning to dip your toe in the social media world or a seasoned professional trying to discover the next right thing to focus on, it's important to have a high level view of the terrain going forward.
Facebook
Where are they today?
With over a billion daily users, Facebook is the single largest social media platform in the western world. While networks like Weibo might predominate in China, where Facebook is banned by the government, it's still the biggest social network for many of our readers. When it premiered, Facebook's demographic was focused squarely on college students, but as time has gone on the focus has widened and today users of every age from around the world are engaged in sharing material on Facebook.
The one demographic that Facebook appears to be struggling with, though, is in reaching younger audiences. Because of privacy laws in the US, children under 13 cannot have Facebook accounts, but even once they reach that magic age they're simply not engaging with Facebook in the same way that their parents and grandparents are. They have accounts, but prefer to engage in other social networks like Instagram. Since Facebook also owns Instagram, this has caused less concern than it might otherwise have done.
Going in to 2017, a solid Facebook strategy should focus on creating original content (not resharing content from others) that uses images and video for maximum effect. Facebook spent much of 2016 pushing Facebook Live video, and continues to give those posts a content boost so they appear in more timelines than non-Live posts. While the exact system is a guarded secret, Facebook also seems to heavily favor original content that uses images, particularly images without a great deal of text on them. Resist the urge to slap a caption over your image and use the text portion of your post to give context to your photos. As always, the best photos for engagement are ones of real people doing real things that matter. Our eyes are instinctively drawn towards faces, so consider using shots of your congregation in action to help promote your next event.
What's next?
Predicting the future is always a bit scary, because there's so many possibilities and most of them are wrong. One often overlooked piece of the puzzle for Facebook, though, is its acquisition of virtual reality pioneer, Oculus. Look for Facebook to begin to leverage technologies and insights gained from the fledgling VR world to create augmented reality experiences going forward that integrate many of the current Facebook technologies into a single ecosystem. I'm not sure we'll see that in 2017, but I'm sure we're going to see it.
Facebook has the best current combination of technologies to create the persistent, connected, immersive virtual worlds of science fiction. Rollout of many of these technologies may well be limited less by the technologies available and more by the comfort of the consumer to sacrifice privacy for connectivity. (Remember Google Glass?)
Twitter
Where are They Today?
Twitter is the world's largest chatroom. Because of its 140 character limit, Twitter has been exceptionally easy to use via mobile devices, giving it market penetration in places where broadband internet services are expensive or non-existent. One of the key wow-factors of Twitter are the number of famous people who make use of it and the potential for interaction directly with their fans. Leaving politics aside, the way that President Elect Trump has used Twitter to effectively sidestep the media has been incredibly effective. You can, of course, agree or disagree with what he's saying, but you're getting the message directly from him without a reporter or newscaster in between.
The challenge for Twitter is the same one it's always been: how to turn a profit. With active users plateauing at the 300 million mark, Twitter has in recent months signed deals with the NFL, NBA and is looking for others to build on their network and deliver live video feed from sporting and other events as a part of the platform. It's an aggressive move, and one that may well pay off. Coming from a company that spent the first part of 2016 in a tailspin, it's quite a difference.
Having said that, there's still much talk of a prospective buyout, with few suitors lining up for the conversation, so Twitter's gambling a lot on an uncertain future. My personal bet is that by 2022 Twitter is sitting beside MySpace at the Social Network retirement home.
Churches seeking to engage with Twitter should first spend some quality time listening to the tweets around their community. Look for recurring themes and problems where the Church might be able to reach out and care for folks in need, and be willing to engage the conversation. The more you approach Twitter with the intent to get your point across, the less likely you are to be heard. If you're going to engage on Twitter (or any social platform to some degree), be willing to lose control of your message a bit. Controlled messages are boring messages!
What's Next?
Twitter's future is uncertain at this point. As they continue to seek a buyer, they're in a strange place of having a solid, minimally profitable system, but not realizing their full potential. Watch for Twitter to continue to embrace its strengths in the mobile market, but look for some sort of clear vision as to what the next step is in their corporate communication. As the great philosopher Yoda once said, "Always in motion the future is."
Instagram
Where are They Today?
Instagram is strictly an image sharing service, but landed at precisely the right moment when mobile devices and ubiquitous cameras made taking great photos easy for everyone. It skews heavily towards younger users, often becoming more popular than Facebook for teens. While they've added the ability to post videos, images remain the primary content type. Given their joint ownership, it's not a surprise that Instagram's algorithms and interactions borrow heavily from Facebook. Strategies which work well on one often work well on the other.
What's Next?
Look for further personalization options in the near future for Instagram. A late December update brought location stickers to the Instagram Stories feature, but it's still a pale imitation of Snapchat's geofilters. To stay competitive Instagram will need to expand its library of stickers as well as continue to find ways for users to express themselves through their photos. My personal prediction is that we're not going to see a lot of innovation from Instagram in the next several years as Facebook pursues the dual strategy of using Instagram to feed into Facebook as users age as well as pursuing the next disruptive shift in social communication. (More on that under Emerging Networks below.)
YouTube
Where are They Today?
YouTube is the web's biggest failing success story. In terms of users and interaction, there's nothing that even comes close. 2015-16 saw the rise of the YouTube star as users like PewDiePie, Michelle Phan and Markiplier developed significant followings and leveraged them into personal income streams. Their popularity has inspired spin off video games, books, makeup lines and other products.
YouTube itself, however, has yet to turn a significant profit. The platform continues to follow Google's model of offering content for free in exchange for minimalist advertising, but is struggling to find a balance between consumer demand for uncensored content and the preferred content guidelines of its advertisers. Recent efforts to create a YouTube Red subscription based service with original content point to a further lack of clarity on the part of executives on the overall vision for the service.
With incoming competition from Facebook Live and other video sharing sites, it's hard to recommend that congregations invest deeply in YouTube. It's not going away, but the next several years will bring changes to its model that may make it difficult to use effectively.
What's Next?
The next step for YouTube is profit. Unfortunately that's the phase that's continued to elude the company, and the last several efforts at it have lacked a clear path forward. Going in to 2017 look for YouTube to continue to leverage its demographic research to target video advertising and for the company to struggle to figure out its relationship with some of the bigger channels. There's a model here that works for everyone, but it's going to take some time to sort it out.
Snapchat
Where are They Today?
Snapchat is continuing to grow, with 100 million daily active users, but it remains something of an elusive platform for marketing. Because much of the interaction is person to person, there's no easy way to reach people outside your immediate circle. Snapchat Stories may offer some room for innovation, but often the best use for Snapchat is going to be communicating with those who are already connected to you. Chances are if you need to use Snapchat then you're under 25 and already doing it.
The company has recently introduced Spectacles, which are connected glasses that allow users to quickly snap 10 second videos of whatever they happen to be watching and post directly to Snapchat. It's an interesting idea, but a bit gimmicky for a long term business model. We'll see if anyone's still talking about them in June.
What's Next?
Look for Snapchat to continue to improve their geofilters and image overlays, as well as making larger investments in short form videos. These are obvious continuations of their current strategies, but it's not wise to change a working model.
Reddit
Where are They Today?
Reddit styles itself the "Front Page of the Internet" and certainly works as a social aggregator for links, pictures and original content. Rather than being based around individual relationships like Facebook or Twitter, though, Reddit concentrates its content around topics through the creation of subreddits for any imaginable topic.
Reddit continues to struggle with the tension between desiring to promote free speech and create a place for people to connect around the things they're passionate about and the need to maintain a more family friendly image for prospective advertisers. In recent years they've made headlines by banning subreddits centered around child pornography, racism, and invasions of privacy. Despite these efforts, however, advertisers continue to be wary and Reddit struggles to turn a profit.
Complicating things further, recent months have brought in to question the integrity of much of the site's moderation team, with the CEO of Reddit editing the posts of several users without leaving evidence behind. This has caused users to question the value of the platform as a venue for free speech, given that one can never affirm whether a post has been modified. For more info, check out the CEO's statement. Be warned that he drops the "F"-bomb in his introductory tl:dr. (Too Long; Didn't Read.)
What's Next?
It's hard to say what's next for Reddit. The ongoing scandals have not helped make it an attractive platform for advertisers, but it remains one of the most active and up to date places to get information on the web, especially concerning major world events. Reddit live threads are posted during major events like terrorist attacks and users provide commentary and reporting often on par with or better than traditional media outlets. Reading Reddit today is a bit like looking at two weeks from now's Facebook content.
Emerging Networks
There's hundreds, if not thousands, of emerging social networks vying for attention, but most are destined to be niche services at best. The landscape of social media today is largely solidified, and it's going to take something massive to change it. The next Facebook won't be Facebook and it won't look anything like it. It's going to look like something we haven't seen before and will meet a need or provide a level of immersion that we don't even know we're missing. That's terribly vague, but, honestly, if I knew the details I'd go ahead and create it myself and retire to a small Caribbean island. What it means for churches, though, is that we can safely ignore most of the emerging networks for right now. There's innovation out there, but nothing on radar is disruptive enough to really shift the landscape.
---
If you liked this post, subscribe to our blog and receive notification about new posts!