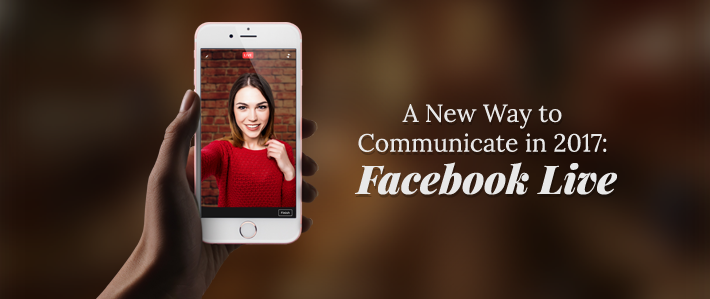 As we head into a new year, we reflect back on our successes and failures of the previous year, and we look forward to new opportunities in the year to come. As church communicators, that involves evaluating our forms of communication and their effectiveness, as well as looking for new ways to reach more people with the comfort and joy of the Gospel message.
As Facebook encourages more and more people to use Facebook Live, we can explore the ways in which this new tool can assist us in our proclamation of that Gospel message.
Streaming Services
As discussed in a previous post, live streaming your worship service can be a difficult task. However, Facebook Live can take some of the struggle out of the process. With the use of a good camera, like the Mevo live-event camera, you can effortlessly film and upload your service directly to Facebook, all from your smartphone or tablet. With a little bit of work, you can even embed your live video from Facebook onto a page in your church website. This simple setup will allow people a window into your sanctuary, if for some reason they can't be there in person.
What's Happening in the Church Office
The church office can be a pretty exciting place (sometimes), but not all of your members get the chance to experience what goes on in the church between Sundays. Use Facebook Live to show off how awesome your church secretary is or introduce the new youth director by asking him a few questions about himself. Using live video can keep your church staff involved in your members' daily life and routine.
Upcoming Events in the Church
Have an event coming up that you'd like to get people to come to? Share a live video about the event. If you can come up with a creative way to tell people about your event (giant obnoxious props always make things better), it might draw their attention in more than an image with the details on it. You can still share the details of the event, like time and location, in the description of the video.
Bible Study

One of my favorite ways for churches to use Facebook Live is for encouraging greater biblical literacy. For many people, waking up, sitting down at the kitchen table with coffee, and jumping on Facebook is a pretty normal thing. We get our news, we see what our friends and families are up to, and we're reminded of our upcoming events on Facebook. Why not add Bible study to the list?

It's so easy for pastors or church workers to set up their smartphone and film themselves reading through a passage of Scripture and giving a short devotion on the verses. Who knows, maybe it will become someone's new morning routine!
---
For other helpful ideas and topics, visit the CTS Blog Technology & Your Ministry.